Wellington artist Robèrt Franken was born in 1946 in The Hague, into a family with a long and rich artistic heritage. He grew up in the studios of Mesdag, connected with the Panorama Mesdag Museum, and is a sixth-generation artist.
Franken has lived in the Wellington region since the late 1960's. Robèrt Franken and his work have travelled extensively, with exhibitions in Switzerland, The Netherlands, Australia, New Zealand, Japan, and China over many years. His works are also held in numerous national and international collections, including Wellington's very own Te Papa.
Franken works in a wide variety of mediums, such as glass engraving, ceramics, mosaic and oils. He was responsible for the sparklingly, colourful mosaics at the bottom of shallow ponds between the old Town Hall and the Michael Fowler Centre. His works have been described as Surrealist, but Franken walks to much an individual path to be pigeonholed so easily.

To illustrate this point, here are a couple of quotes from Franken which clearly demonstrate his unwavering commitment to following his own unique artistic path. "As an artist, one tries to invent a language for which I have no words." and "Perhaps the true measure of an artist is their ability to see things differently, to redefine reality."
We are thrilled to be interviewing Franken about his practice and, in particular, his new show Reflections in a pond which just opened at the PATAKA Art + Museum in Porirua. Reflections in a pond runs until the 20th of March. If you can't make it out to Porirua, Franken regularly exhibits at the  Walrus gallery in Wellington.
Follow this link for details of Reflections in a pond at PATAKA Art + Museum, and here for details about the Walrus gallery.
We are absolutely thrilled to announce that you can watch our interview with Robèrt Franken below! Or, if you are more a podcast fan, there is also a podcast version of the interview. We wish to extend our heartfelt thanks to Robèrt Franken for his time and giving us such a fabulous interview.
Franken: "My special thanks to Jonathan and Alice Milne for being my sponsor over the past 25 years as Artist in Residence at the Learning Connextion, and to Michelle Homer at Walrus Gallery for my Framing and hanging my works."
All photographs used in the video and displayed above are © Robèrt Franken (All rights reserved).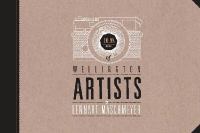 10.98 seconds of Wellington artists / Maschmeyer, Lennart
"Wellington, like any other place, is made unique by its people. And Wellington is made a unique place especially by its community of artists. Inside these pages are photographs of musicians on stage or painters at work, capturing both their artistic and private sides. Altogether, the amount of time captured by photographs in this book adds up to just over ten seconds, as is the title. "…an intelligent, empathetic and unique record of the contemporary artistic community within the Wellington region." -Avenal McKinnon (Director New Zealand Portrait Gallery)" (Adapted from Catalogue)