Suffrage Day  is a special  day in New Zealand's history. Sunday 19 September 2021 is Suffrage Day / White Camellia Day.

Why is Suffrage Day celebrated?
On the 19th of September 1893, New Zealand became the first nation in the world to grant women the right to vote. This year marks the 126 anniversary of women winning the right to vote in New Zealand. The white camellia was the symbol of the suffragists.
Did you know? November 28th 1893 was the day New Zealand women voted for first time.
What is Suffrage Day?
Suffrage Day provides an opportunity for people to celebrate New Zealand's suffrage achievements and look for ways to benefit women.
How do we commemorate this day?
Wearing a white camellia. Why? These flowers were worn by people supporting women's right to vote in New Zealand.
Wear a The Suffrage 125 symbol. Why? The symbol draws on historical colours and icons adopted by women's suffrage petitioners and presents them in a contemporary form. 


Where can I find information about the suffragettes and and Suffrage Day?
Hindsight : pivotal moments in New Zealand history.
Four pivotal events in New Zealands history, (Women's suffrage, Springbok tour, Dawn raids  and Rainbow warrior), are examined through a variety of source materials and commentary that enlivens the event and describes its impact on our society and growth as a nation. Hindsight is a resource for all schools and libraries. These topics are linked to the social sciences and history syllabus Years 7-11. An authoritative and engaging text, with high visual appeal. Buyers will be given access to download resources from our website, that will be updated as required. (Catalogue).


The book of gutsy women : favourite stories of courage and resilience.
Hillary Rodham Clinton and her daughter, Chelsea, share the stories of the gutsy women who have inspired them–women with the courage to stand up to the status quo, ask hard questions, and get the job done. Ensuring the rights and opportunities of women and girls remains a big piece of the unfinished business of the twenty-first century. While there's a lot of work to do, we know that throughout history and around the globe women have overcome the toughest resistance imaginable to win victories that have made progress possible for all of us. That is the achievement of each of the women in this book. So how did they do it? The answers are as unique as the women themselves. […] Edie Windsor, Diana Nyad, Rachel Carson, Chimamanda Ngozi Adichie, Mary Beard, Wangari Maathai, Harriet Tubman, Malala Yousafzai — to us, they are all gutsy women — leaders with the courage to stand up to the status quo, ask hard questions, and get the job done. (Adapted from Catalogue). Also available as an eBook.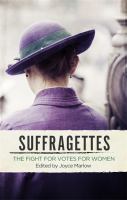 Suffragettes : the fight for votes for women.
'Queen Victoria is most anxious to enlist everyone who can speak or write to join in checking this mad wicked folly of women's rights, with all its attendant horrors, on which her poor sex is bent'. 1870. It was a bloody and dangerous war lasting several decades, won finally by sheer will and determination in 1928. Drawing on extracts from diaries, newspapers, letters, journals and books, Joyce Marlow has pieced together this inspiring, poignant and exciting history using the voices of the women themselves. Some of the people and events are well-known, but Marlow has gone beyond the obvious, particularly beyond London, to show us the ordinary women – middle and working-class, who had the breathtaking courage to stand up and be counted – or just as likely hectored, or pelted with eggs. These women were clever and determined, knew the power of humour and surprise and exhibited 'unladylike' passion and bravery. Joyce Marlow's anthology is lively, comprehensive, surprising and triumphant.' (Catalogue).


Hidden heroines : the forgotten suffragettes.
The story of the struggle for women's suffrage is not just that of the Pankhursts and Emily Davison. Thousands of others were involved in peaceful protest–and sometimes more militant activity–and they includes women from all walks of life. This book presents the lives of 48 less well-known women who tirelessly campaigned for the vote, from all parts of Great Britain and Ireland, risking ridicule and condemnation from family and friends. They were the hidden heroines who paved the way for women to gain greater equality in Britain. (Catalogue).


Rise up, women! : the remarkable lives of the suffragettes.
"Between the death of Queen Victoria and the outbreak of the First World War, while the patriarchs of the Liberal and Tory parties vied for supremacy in parliament, the campaign for women's suffrage was fought with great flair and imagination in the public arena. Led by Emmeline Pankhurst and her daughters Christabel and Sylvia, the suffragettes and their actions would come to define protest movements for generations to come. From their marches on Parliament and 10 Downing Street, to the selling of their paper, Votes for Women, through to the more militant activities of the Women's Social and Political Union, whose slogan 'Deeds Not Words!' resided over bombed pillar-boxes, acts of arson and the slashing of great works of art, the women who participated in the movement endured police brutality, assault, imprisonment and force-feeding, all in the relentless pursuit of one goal: the right to vote. A hundred years on, Diane Atkinson celebrates the lives of the women who answered the call to 'Rise Up'; a richly diverse group that spanned the divides of class and country, women of all ages who were determined to fight for what had been so long denied. Actresses to mill-workers, teachers to doctors, seamstresses to scientists, clerks, boot-makers and sweated workers, Irish, Welsh, Scottish and English; a wealth of women's lives are brought together for the first time, in this meticulously researched, vividly rendered and truly defining biography of a movement."–Dust jacket cover. Also available as an eAudiobook.

Click here for more books about suffragettes.