All of us will surely know by now that we are in Orange, as we have been at this traffic light level for pretty much all of December so far. I'm sure that as avid library users you will already know all about visiting the library under Orange – wear your mask and scan your vaccine pass or exemption if you're over twelve – but I feel there is more to be explored around the orangeness of Orange than mere alert levels.
In controversial Orange news, I have learned through this recent Spinoff article that while the Covid Traffic Light system uses the colours Red, Orange, and Green, the official colours of the literal physical traffic lights that are liberally spotted around our country are Red, Green, and Yellow.
Look at these traffic lights! This is an instructional picture from the Waka Kotahi website accompanied by the instructional caption "A yellow signal means the lights will soon turn red". This is very interesting since it is extremely clear that the coloured circle in the centre traffic light is so obviously orange. Like, they made the picture, if they're calling it yellow why not make the picture yellow as well?
Anyway, while the certainty that orange is orange and yellow is yellow may be falling out from under our feet, let me return to my original subject of Orange in general.
I think Orange is an excellent colour. It's such a happy colour, it's the colour of the sun's rays shining on the iconic Chelsea Golden Syrup Tin, and it's great for hi-vis vests if you're a cyclist, contractor, or builder.
Speaking of Golden Syrup, let me bring your attention to a rather orange book:
Edmonds cookery book.
The Edmonds cookbook is a classic, it fits right in here with that orange cover, and it contains a recipe for a Golden Syrup Steamed Pudding. What's not to like?!
Golden Syrup Steamed Pudding is also a perfect Christmas pudding. Just saying.

In search of other Orange activities to keep you occupied over the summer, I've trawled through our vast selection of elibrary resources, but unfortunately not many of them really scream Orange.
We do have a fantastic language-learning service called Mango Languages, a name that just promises orangeness but in actual fact doesn't deliver much Orange, even in the logo. Still, if you don't let lack of actual orangeness get in the way of perceived orangeness you could give it a go!
We do have some other actually-orange things in the library that could get you excited…
…while you're sitting back in the sun, enjoying your Golden Syrup pudding, what better thing to do than get into a good book?
Here's a selection of books that I've grouped together simply based on the orange-ivity of their covers. There's a wide range of genres here, from New Zealand fiction to romance to classic literature to adventure, but they're all Orange! Which one are you most interested in?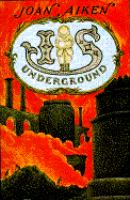 Is underground / Aiken, Joan
"Bound to keep a promise to her dead uncle, Is travels to the mysterious north country to find two missing boys, one of them a prince, and to discover why so many children in London are disappearing." (Catalogue)

Felix ever after / Callender, Kacen
"Felix Love has never been in love, painful irony that it is. He desperately wants to know why it seems so easy for everyone but him to find someone. He is proud of his identity, but fears that he's one marginalization too many– Black, queer, and transgender. When an anonymous student begins sending him transphobic messages, Felix comes up with a plan for revenge. He didn't count on his catfish scenario landing him in a quasi-love triangle." ( Adapted from Catalogue)
Also available as an eBook

Perfect on paper / Gonzales, S.
"Seventeen-year-old Darcy Phillips, a bisexual girl who gives anonymous love advice to her classmates, is hired by the "hot" guy at school to help him get his ex back. When Darcy is caught in the act of collecting letters from locker 89– out of which she has been running her advice service– she is blackmailed into becoming his personal dating coach. If word gets out that Darcy is behind the locker, some things she's not proud of will come to light. What could go wrong?" (Adapted from Catalogue)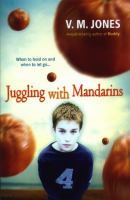 Juggling with mandarins / Jones, V. M.
"Thirteen-year-old Pip finds a talent he never dreamed he had, and is determined it will remain one area of his life his domineering dad can't touch. Somehow, Pip must find the courage to confront his father and claim the right to live his life on his own terms." (Adapted from Catalogue)
And mandarins are basically smaller superior oranges anyway.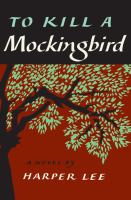 To kill a mockingbird / Lee, Harper
"A young girl growing up in an Alabama town in the 1930s learns of injustice and violence when her father, a widowed lawyer, defends a black man falsely accused of rape." (Catalogue)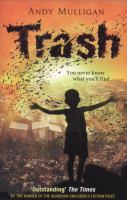 Trash / Mulligan, Andy
"Three friends. Raphael, Gardo and Rat. Living on a heap of trash, a lifetime of sifting rubbish. One day they find something extraordinary – a deadly secret. From that moment they are hunted without mercy. With danger snatching at their heels, the boys are chased from the city's dirty gutters to its wealthy avenues. But they can't run for ever. They need a miracle." (Catalogue)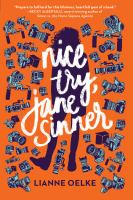 Nice try, Jane Sinner / Oelke, Lianne
"Jane Sinner, a 17-year-old dropout, sets out to redefine herself through a series of schemes and stunts, including participating in a low-budget reality TV show at her local community college"– Provided by publisher." (Catalogue)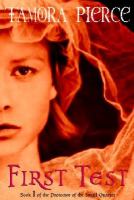 First test / Pierce, Tamora
"Ten-year-old Keladry of Mindalen, daughter of nobles, serves as a page but must prove herself to the males around her if she is ever to fulfill her dream of becoming a knight." (Catalogue)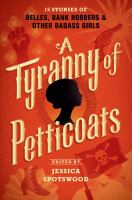 A tyranny of petticoats : 15 stories of belles, bank robbers & other badass girls
"From pirate ships off the coast of the Carolinas to the peace, love, and protests of 1960s Chicago, take a thrill ride through history with American girls charting their own course. They are monsters and mediums, bodyguards and barkeeps, screenwriters and schoolteachers, heiresses and hobos." (Adapted from Catalogue)

Bridge of Clay / Zusak, Markus
"Upon their father's return, the five Dunbar boys, who have raised themselves since their mother's death, begin to learn family secrets, including that of fourth brother Clay, who will build a bridge for complex reasons, including his own redemption." (Adapted from Catalogue)

And if you've made it this far, I hope that by now I've managed to remove or weaken the exclusive association of Orange with Covid. I'm sure that you'll be simmering with rage over the officially-yellow traffic lights, off to bake a tasty snack, diving deep into an Orange read, or some other Orange-related activity!