Did you know that Aotearoa has a week dedicated to recycling? Of course we should be recycling all the time, but it's good to have a reminder about what we can do to care for the taiao. Recycling Week runs from the 18th-24th of October, with each day being dedicated to challenges to encourage us to re-think our waste minimization and recycling behaviours. To get us inspired, here are some awesome recycling initiatives from around the world!
There are machines in Colombia where you can recycle your tin, glass and plastic bottles in exchange for public transit credits. Imagine paying for the bus with bottles! You could literally collect other people's littering and profit from it. Then you'd be both a tidy kiwi, and a kiwi with a topped up Snapper card, Incredible!
Barcelona had a issues with cooking oil being poured down the drain and clogging the pipes (sound familiar?). City officials tackled this problem by giving away free "Olipots" for people to collect their used oil in, while also setting up collection spots for people to dispose of their oil around the city. The collected oils are then recycled into a biodiesel.
ReTuna Återbruksgalleria, in Sweden, is the world's first recycling mall! Here, old items are given new life through repair and upcycling. Everything sold is recycled, reused or has been organically or sustainably produced. Visitors to the mall can also easily drop off donations, which are then sorted into what can be repaired and resold or donated to somewhere the item will be useful.
Scientists in South Korea have invented a t-shirt that could be used to charge your phone! Specifically, the fabric of the t-shirt generates electricity as it bends and flexes and "a person wearing a shirt tailored from the material only has to move around to power a small screen or other electronic devices" .  This process is possible through the utilising of Triboelectricity, electricity generated by friction. If you want to know more, click through to the article because this goes over my head very quickly. It has been a minute/decade since I did NCEA Physics. Most importantly, this invention would be very handy for long Pokémon GO missions (is Pokémon GO still relevant and cool? Please let it still be relevant and cool. I need this). 
Keen to take the next step in your recycling? Here's a little book list to send you on your way. 🙂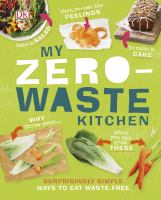 My zero-waste kitchen : easy ways to eat waste free / O'Rourke-Jones, Ruth
"Looking to live sustainably without overhauling your life? My Zero-Waste Kitchen shows you how to put the three R's – reduce, reuse, recycle – into practice in the kitchen.  (Adapted from Catalogue)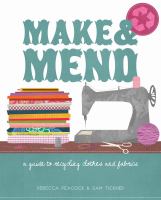 Make & mend : a guide to recycling clothes and fabrics / Peacock, Rebecca
"Welcome to Make & Mend! This book shows how, with a little knowledge and a little creativity, you can make a wide range of fantastic items from those old clothes and fabrics you can't bear to throw away. Full of projects, from aprons to curtains, bags to jewellery, we show you how to turn a bag of scraps into wearable, beautiful and personalised items." (Adapted from Catalogue)
Remade vintage jewelry : 35 step-by-step projects inspired by lost, found, and recycled treasures / Bush, *Co-Co Nichole
"Transform vintage finds and broken objects into pieces to treasure with Remade Vintage Jewelry." (Catalogue)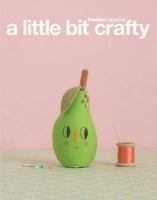 A little bit crafty
"A little bit crafty is a nifty collection of 39 DIY ideas from creative types across Australia and New Zealand. With an emphasis on recycling, cheap and easy materials, and projects that can be done in an afternoon, it's chock full of sweet, clever and slightly oddball crafts that'll make you smile and keep your hands happy, too." (Catalogue)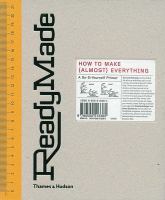 ReadyMade : how to make (almost) everything : a do-it-yourself primer / Berger, Shoshana
"For people who like to make stuff, who see the flicker of invention in everyday objects, this quirky 'how-to' volume contains design projects ranging from water-bottle lounge chairs and ladder shelving to shopping bag rugs and denim dog beds." (Catalogue)
The upcycled T-shirt : 28 easy-to-make projects that save the planet – clothing, accessories, home decor & gifts / Montilone, Jenelle
"Did you know the average American throws away more than 68 pounds of clothing each year? Join the revolution to reduce your carbon footprint—one T-shirt at a time! Widely known for her recycling efforts, environmental crafter Jenelle Montilone will show you how to upcycle tees into fun and fanciful quilts, accessories, toys, and gifts for the whole family. (Adapted from Catalogue)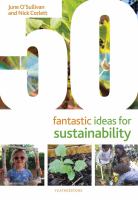 50 fantastic ideas for sustainability / O'Sullivan, June
"Teach children to reduce, reuse, recycle, repair and be respectful with 50 fun activities for encouraging environmental sustainability. From creating butterfly feeders with food scraps, to turning old kitchen equipment into beautiful planters or bringing broken crayons back to life, these original ideas encourage practitioners to see the potential for creativity and fun using and reusing everyday, easy-to-source items, some of which might have otherwise gone to waste. Enhance children's creativity, cognitive development and motor skills through indoor and outdoor activities that are enjoyable, educational and environmentally friendly. (Adapted from Catalogue)