Dear readers, we understand that you are people who care about things. We are also  people who care about things — things like racism, climate change, the environment, mental health, LGBTQ+ rights, art and poetry. The absolute wizards who buy books for our collections — those to whom we humble blog administrators must show all due deference — have certainly not stopped buying the good stuff during this whole pandemic situation. Here's a selection of recently-added non-fiction for you to really sink your teeth into.
Stamped : racism, antiracism, and you. / Reynolds, Jason
"A book about race. The construct of race has always been used to gain and keep power, to create dynamics that separate and silence. This remarkable reimagining of Dr. Ibram X. Kendi's National Book Award-winning Stamped from the Beginning reveals the history of racist ideas in America, and inspires hope for an antiracist future. It takes you on a race journey from then to now, shows you why we feel how we feel, and why the poison of racism lingers. It also proves that while racist ideas have always been easy to fabricate and distribute, they can also be discredited." (Catalogue)
Stuff that's loud : a teen's guide to unspiralling when OCD gets noisy. / Sedley, Ben
"Do you have thoughts that seem loud? Do your worries spiral out of control and then suck you in? Do intrusive thoughts show up and make you scared of doing certain things – or not doing things – a certain way? Do you ever get a feeling like something bad might happen? Does this loud stuff make you feel alone, or worse, crazy?
First, you aren't alone – even if it sometimes feels that way. And second, you are not crazy. But you might be struggling with obsessive compulsive disorder (OCD). And while OCD can be difficult, you don't have to let it have power over you. Instead, you can live a life full of meaning, great relationships and joy with the help of this book. Life doesn't have to stay stuck any longer." (Catalogue)
Pandemic : how climate, the environment, and superbugs increase the risk / Goldsmith, Connie
"How close are we to having another worldwide health crisis? Pandemic epidemiologists have identified one they believe is likely to happen in the next couple decades: the flu. Learn about factors that contribute to the spread of disease by examining past pandemics and epidemics, including the Bubonic Plague, smallpox Ebola, HIV/AIDS, and Zika. Examine case studies of potential pandemic diseases, like SARS and cholera, and find out how pathogens and antibiotics work. See how human activities such as global air travel and the disruption of animal habitats contribute to the risk of a new pandemic. And discover how scientists are striving to contain and control the spread of disease, both locally and globally." (Catalogue)
Have pride : an inspirational history of the LGBTQ+ movement / Caldwell, S. A.
"Have Pride gives an honest, chronological account of how life has changed for LGBTQ+ people and sheds light on the people that brought about this change. The heartfelt stories of LGBTQ+ revolutionaries are better understood as you realise what a revolutionary act it was to live openly as an LGBTQ+ person. In this book there is no hiding from the dark chapters of history and the persecution people faced for being true to who they were. But like Fred Rogers' mother suggested, "Look for the helpers. You will always find people helping", Have Pride highlights the LGBTQ+ heroes who 'helped' others, pushed for change and inspire pride in ourselves and our history." (Extract from publisher review)
Hypnopompia: the thoughts of dawning minds : Re-draft's 19th collection of writing by New Zealand's young adults
The 19th in the brilliant Re-Draft series, Hypnopompia brings together New Zealand's very best young writers in yet another dazzling collection. Wake up to the new world as seen by the most talented of our post-millennial writers. The 80 young writers featured in the collection have grown up with the century and Hypnopompia is their very woke report card on its perplexities, perils, passions and never ending variety. At times funny, at times dark, always engaging, their stories and poems are never less than perceptive and open-eyed. (Publisher summary)
Imaginary borders / Martinez, Xiuhtezcatl
"Pocket Change Collective is a series of small books with big ideas from today's leading activists and artists. In this installment, Earth Guardians Youth Director and hip-hop artist Xiuhtezcatl Martinez shows us how his music feeds his environmental activism and vice versa. Martinez visualizes a future that allows us to direct our anger, fear, and passion toward creating change. Because, at the end of the day, we all have a part to play." (Catalogue)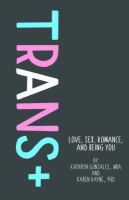 Trans+ : love, sex, romance, and being you / Gonzales, Kathryn
"Trans+ is a growing-up guide for teens who are transgender, nonbinary, gender-nonconforming, or gender-fluid. This book explores gender identity, gender expression, gender roles, and how these all combine and play out as gender in the world. Includes chapters on medical, health, and legal issues as well as relationships, family, and sex." (Catalogue)