In an ideal world, International Women's Day (March 8th) would be marked with parades! A public holiday! Cakes with Gloria Steinem's face on them! Gender equality and the deconstruction of the patriarchy!
While we aren't quite there yet (although many of our libraries will be having a rather nice display to mark the occasion), it's essential to remember how far we've come, and what better way to do that than by highlighting some of the fearsome female pioneers who have helped create the world we live in today?
Now, we can all agree that incredible figureheads and trailblazers like Malala Yousafzai, Jacinda Ardern, Whina Cooper, Michelle Obama, Audre Lorde, Chimamanda Ngozi Adichie (I could go on for days) have been integral role-models for gender equality, but what about some of the more obscure female scientists, writers, activists and politicians from the annals of history? Have you ever heard of Ching Shih, a woman who was the most successful pirate in history?  How about Hatshepsut, the forgotten female pharaoh of ancient Egypt? Or Artemisia Gentileschi, one of the finest Baroque Italian painters, renowned for her depictions of women slaughtering their abusers? These women have forged life as we know it, and it's high time we gave them a bit more credit.

Teen trailblazers : 30 fearless girls who changed the world before they were 20 / Calvert, Jennifer
"This fascinating book features 30 young women who accomplished remarkable things before their twentieth birthdays. Visually compelling with original illustrations, this book will inspire the next generation of strong, fearless women.. — Amazon.com." (Catalogue)

Phillis Wheatley
Let's start with Phillis Wheatley (c. 1753-1784) shall we? It's definitely time we did, since Phillis Wheatley could well be considered one of the founding minds of America. Despite being enslaved at around 8 years old, Phillis Wheatley's first collection of poetry, Poems on Various Subjects, Religious and Moral, was the first book written by a Black woman in America. Read that again, and ask yourself why Phillis Wheatley isn't included in every single history or english class you have ever taken.
Hypatia of Alexandria
In the film biopic based on Hypatia of Alexandria (c. 355-415 CE), the titular character is played by Rachel Weisz and if you've never been obsessed with Rachel Weisz then you have never lived. This film made me cry on and off for three hours, prompted a change in my entire worldview, and made me break up with my ✨terrible✨ ex. Not only was Hypatia one of the greatest mathematicians, astronomers, and philosophers in Ancient Greece, but she was widely regarded as a genius, and once shut down an overzealous suitor by waving a bloody tampon (or historically accurate equivalent) in his face while spitting intellectual fire. No notes.
Ching Shih (born Shih Yang)
Ching Shih (1775-1844) was a sex-worker turned piracy powerhouse. She started off strong by agreeing to marry a notorious pirate commander (Zheng Yi) on the condition that she receive 50% of his earnings and partial control of his pirate armada (the Red Flag fleet). And boy oh boy did she turn that fleet around. Not only did she implement laws such as instant execution for assaulting a female captive, but she led the Red Flag fleet to victory over the entire Qing Dynasty navy, frequently plundered British and French coloniser ships, and created an entire empire of piracy. Move OVER Jack Sparrow (speaking of – Ching Shih served as the inspiration for Mistress Ching, one of the nine pirate lords in the third Pirates of the Caribbean movie). For more highly interesting information on the bona fide queen of pirates, check out the WCL collection and this cinematic masterpiece from Puppet History…

Keen to know more? There are literally millions of extraordinary women who have shaped the world we live in today, and whose names and stories should be living in our heads rent-free.
To get started, why not check out the National Women's History Museum, read about the history of suffragettes attacking famous paintings with meat cleavers, learn about some  of the most infamous female serial killers (because we support women's rights and women's wrongs), or just have a good browse through a few choice picks from our collection: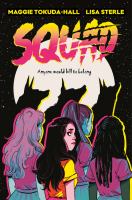 Squad / Tokuda-Hall, Maggie
"Becca moves to an upscale Silicon Valley suburb and is surprised when she develops a bond with girls who belong to the popular clique – and even more surprised when she learns their secrets"– Provided by publisher." (Catalogue)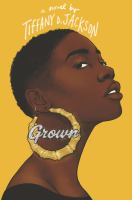 Grown : a novel / Jackson, Tiffany D
"When legendary R&B artist Korey Fields spots Enchanted Jones at an audition, her dreams of being a famous singer take flight. Until Enchanted wakes up with blood on her hands and zero memory of the previous night. Who killed Korey Fields?"– Provided by publisher." (Adapted from Catalogue)

Stepsister / Donnelly, Jennifer
"Isabelle is one of Cinderella's ugly stepsisters, who cut off their toes in an attempt to fit into the glass slipper; but there is more to her story than a maimed foot, for the Marquis de la Chance is about to offer her a choice and the opportunity to change her fate–there will be blood and danger, but also the possibility of redemption and triumph, and most of all the chance to find her true self." — (Source of summary not specified)" (Catalogue)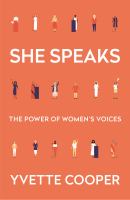 She speaks : the power of women's voices / Cooper, Yvette
"A powerful celebration of brilliant speeches by women throughout the ages, from Boudica to Greta Thunberg […] countless brave and bold women have used their voices to inspire change, transform lives, and radically alter history." (Adapted from Catalogue)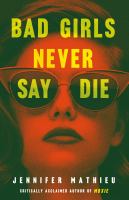 Bad girls never say die / Mathieu, Jennifer
"1964. Houston, Texas. Evie Barnes and all her friends are the sort who wear bold makeup, laugh too loud, and run around with boys. Most of all, they protect their own against the world. They're the bad girls. When Evie is saved from a sinister encounter by a good girl from the "right" side of the tracks, every rule she has always lived by is called into question." (Adapted from Catalogue)

Rules for being a girl / Bushnell, Candace
"It starts before you can even remember: You learn the rules for being a girl … Marin has always been good at navigating these unspoken guidelines […] Marin's future seems bright — and her young, charismatic English teacher, Mr. Beckett, is always quick to admire her writing and talk books with her. But when "Bex" takes things too far and comes on to Marin, she's shocked and horrified […] But Marin isn't about to back down. As things heat up at school and in her personal life, Marin must figure out how to take back the power and write her own rules." (Adapted from Catalogue)

Doing it! : let's talk about sex / Witton, Hannah
"Sexting. Virginity. Consent. The Big O … Let's face it, doing it can be tricksy. I don't know anyone (including myself) who has sex all figured out. So I've written a book full of honest, hilarious (and sometimes awkward) anecdotes, confessions and revelations. And because none of us have all the answers, I've invited some friends and fellow YouTubers to talk about their sexuality, too.  "–Publisher information." (Adapted from Catalogue)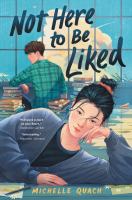 Not here to be liked / Quach, Michelle
"Eliza Quan is the perfect candidate for editor in chief of her school paper– until ex-jock Len DiMartile decides on a whim to run against her. Suddenly her vast qualifications mean squat because inexperienced Len just seems more like a leader. When Eliza's frustration spills out in a viral essay, she finds herself inspiring a feminist movement she never meant to start […]" (Adapted from Catalogue)
100 nasty women of history / Jewell, Hannah
"100 fascinating and brilliantly written stories about history's bravest, baddest but little known 'nasty' women from across the world […] From 3rd-century Japanese Empress Jingu to 20th-century British social reformer Octavia Hill, these are the women who were bold and powerful, but maybe put people (men's) backs up by being so […]" (Adapted from Catalogue)

Moxie : a novel / Mathieu, Jennifer
"Vivian Carter is fed up with a high school administration that thinks the football team can do no wrong. Fed up with sexist dress codes, hallway harassment, and gross comments from guys during class. But most of all, Viv is fed up with always following the rules. Her mom was a tough-as-nails, punk rock Riot Grrrl in the '90s, and now Viv takes a page from her mother's past and creates a feminist zine that she distributes anonymously to her classmates. She's just blowing off steam, but what she has started is nothing short of a girl revolution." (Catalogue)

We set the dark on fire / Mejia, Tehlor Kay
"Dani must question everything she's worked for as she learns about the corruption of the Median government"– Provided by publisher." (Catalogue)

Bad girls throughout history : 100 remarkable women who changed the world / Shen, Ann
"The 100 revolutionary women featured in this illustrated book were bad in the best sense of the word: they challenged the status quo and changed the rules for those who followed. From ancient times through present day, from pirates to artists, scientists to spies, these courageous women achieved unprecedented feats and left a permanent mark on human history."–Back cover." (Catalogue)