Look, I get it. Sometimes you just need someone to tell you what books to read. I understand that! There's a lot of books out there — entirely too many to count — so the intrepid librarians behind our illustrious eBook collection on OverDrive and Libby have undertaken to sort these books into comprehensive, yet easily-digestible lists for your convenience. One such list in the Teen Reading Room is the LGBTIQ+ Teen Reads list, which has recently doubled in size thanks to the efforts of our mystical and talented library gremlins! Make sure to keep checking in as new lists are being worked on all the time.
This list pulls together a veritable panoply of the best of the best in LGBTIQ+ authors and titles for young adults — that's you! Here are some of my current faves from this selection: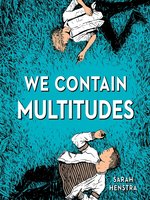 We Contain Multitudes, Sarah Henstra (Audiobook)
This beautiful book, told as an epistolary story (through letters and diary entries) is a classic oppposites-attract romance set in a Minnesota high school. You may have to suspend your disbelief a little at the premise of this story (letter-writing pen pals in high school? In 2019? Sure, Jan), but give it some time. The characters are deftly drawn, the storytelling by turns cerebral and intensely emotional, and the language absolutely to die for. Plus it was my sister's favourite read of 2019. Give it a whirl!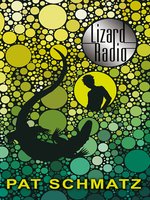 Lizard Radio, Pat Schmatz (ebook)
I totally dig this oddball dystopian coming-of-age novel (with lizard-people aliens!) wrapped in layers of mysticism, cyber-tech, and explorations of gender identity. Kivali is a "bender," a young person who doesn't conform to the extremely rigid gender culture of the all-powerful Gov's future society, sent to mandatory rewiring in a gruelling CropCamp with other nonconforming teens. From all quarters, Kivali is faced with the question — who are you? — a question she refuses to take at face value, and challenges in different ways throughout the book. A must-read for nonbinary teens everywhere!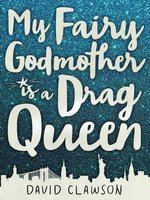 My Fairy Godmother is a Drag Queen, David Clawson (ebook)
This book is a super sweet modern fairytale — a kind of Cinderella for the modern sensibility. It has its moments of darkness, sure, and like many of the mainstays of queer literature some of its musings on issues of sexuality, family, money and stability, and self-doubt will hit home a little too squarely for some. But where My Fairy Godmother is a Drag Queen really shines, for me, is in its lighter moments — how a random encounter with a drag queen can sweep joy into your world; how getting swept off your feet by sudden, unexpected romance can feel easier and lighter than breathing. This book is a celebration of all things glitter and warmth, and it invites you to the party every time.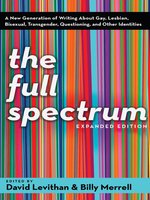 The Full Spectrum, David Levithan (ebook)
This is a Very Cool and Most Timely collection of poems, essays, and stories written by young adults and teens from across the LGBTQIA+ spectrum. The writings cover a massive range of topics — coming out, dealing with family (supportive and not so much), navigating friendships that suddenly seem to have taken on a new dynamic, questions of faith and identity, and much more. Plus it's all been pulled together by none other than the legendary David Levithan, and rad queer poet Billy Merrell, whose 2017 novel Vanilla is also a Must Read for fans of poetry and queerness.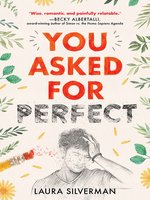 You Asked for Perfect, Laura Silverman (ebook)
Ya okay so this book is just painfully, beautifully relatable on so many levels. Perfectionist attitude towards school keeping you down in terms of life? Check. So worried about the future that you're losing your grip on what's happening right now? Check. Queer and stressed? Yep, that's one big ol' checkeroon. But don't worry friends, all is not lost, because books like this are here to save the day! As the wonderful Bill Konigsberg puts it in his back-cover review, "[the book] hit me straight in the heart."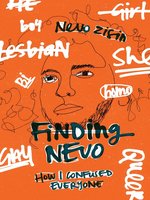 Finding Nevo, Nevo Zisin (ebook)
This powerful autobiography should be a required read for anybody to whom questions of identity are important. I can't put it any better than the OverDrive description, so let me quote from it: "Meet Nevo: girl, boy, he she, him, her, they, them, daughter, son, teacher, student, friend, gay, bisexual, lesbian, transgender, homosexual, Jew, dyke, masculine, feminine, androgynous, queer. Nevo was not born in the wrong body. Nevo just wants everyone to catch up with all that Nevo is." Read it now!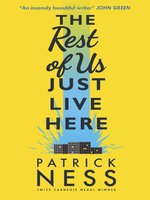 The Rest of Us Just Live Here, Patrick Ness (ebook)
Patrick Ness's trademark poetic and slightly oblique style is really brought to bear in this sci-fi deconstruction to end all sci-fi deconstructions. What if something remarkable and improbable is happening in your town (dark and mystical forces colliding; people's family members disappearing in the woods; extra-terrestrial beings descending from the Great Beyond to wreak terror and destruction, only to be stopped at the last minute by an ordinary teen who just happens to be the only one with the power to stand up to what may or may not be the gods of old made manifest in this realm), but you're not the Chosen One? You're just a background character (in most books like this, you'd be among the first to go, possibly before we even got to hear your tragic backstory) and you'd really like it to stay that way. You're not trying to save the world, you're just trying to make it through the day without embarrassing yourself too much. This book's queerness is part of its fabric without being the main focus — you should read it anyway, because it's Just That Good, Folks.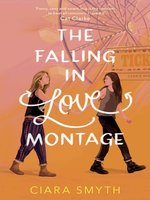 The Falling in Love Montage, Ciara Smyth (ebook)
This novel balances tongue-in-cheek witticisms with clear-eyed sincerity in an absolutely gorgeous way. Saoirse, 17, dealing with many issues in her life beyond her recent breakup with her ex, Hannah, meets Ruby, one of the most instantly loveable characters of any in books on this list. Ruby believes in true love, you see, and invites Saoirse to make a rom-com out of their lives together, complete with long, meaningful glances on Ferris wheels, 'spontaneous' skinny dipping late at night, and yes, a falling-in-love-montage just like in the movies. Not that the book is all bubbles and soft lens filters, but definitely one to curl up with under the covers, wearing out your face from all the smiling.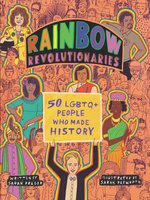 Rainbow Revolutionaries, Sarah Prager (ebook)
The LGBTIQ+ Teen Reads curated list doesn't just include fiction, but a great amount of nonfiction as well. This is a compelling collection of autobiographies covering the lives and times of 50 very rad and very revolutionary queer people spanning continents and centuries, who have left some indelible mark on culture, society, and what-it-means-to-be-queer-ness at some point in their lives. The people discussed range from the super well-known (the Frida Kahlos, Alan Turings, and Harvey Milks of this world) to the less well-known, at least in Western pop culture (Maryam Molkara, Nzinga, Al-Hakam II, and Tshepo Ricki Kgositau, to name a few), all  accompanied by Sarah Papworth's striking and energising art and Sarah Prager's concise and, at times, searing descriptions.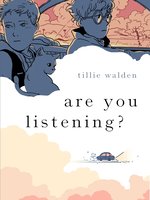 Are You Listening?, Tillie Walden (ebook)
I had to end this selection with one of my absolute favourite reads in recent months — Tillie Walden's atmospheric, surreal, breathtaking ride of a graphic novel in Are You Listening? I don't want to spoil too much of the story, but prepare yourself for a real emotional rollercoaster, and one of the most arresting and most genuine depictions of a moment of real human connection that I can remember seeing in a book (or anywhere else, for that matter). I read this one in a single sitting, oblivious to the world around me, and to be honest I can't imagine anyone putting it down before the end. Do yourself a favour and pick this one up as soon as you can — you definitely won't regret it.