So, you're an artist. Or a writer. Or both. Or neither — maybe you just like looking at stuff and reading stuff and want to know more about how it works! Maybe you're into comics, or manga, or general illustration, or live drawing, or all of the above. Maybe, just maybe, you're wanting to find out how you can take your passion for drawing or writing and turn it into your life's work, your livelihood, your source of creative (and financial) nourishment. Or maybe you just want to sit in on a conversation with two very cool and talented people and be swept away by their wit and craft.
Regardless of which category you fit into above, we have the event for you: Talk and Draw with Tara Black and Dylan Horrocks, Saturday 17 April, 1.00pm at Johnsonville Library at Waitohi Community Hub. Part workshop, part overview, part conversation — join us for what promises to be a fabulous, informative, and entertaining event, with two of the biggest names in New Zealand comics.
---
If you don't know Tara Black, you should — she is one of the most distinctive and unique graphic artists working in Aotearoa. Alongside her excellent webcomics (I'm particularly partial to The Blue Fury, in which the ghosts of Janet Frame and Katherine Mansfield get their kicks out of haunting a first-year English teacher) and her extremely weird and cool new book This is not a pipe (VUP, 2020), Tara is known for doing live illustrations of events around Wellington City. I reckon that's a pretty awesome way to make a living.
---
The Eisner Award-winning Dylan Horrocks, of course, is one of the most talented and versatile cartoonists working in the scene today. His works range from the meta-comic tour-de-force that is Sam Zabel and the Magic Pen (VUP, 2014) to the iconic Hicksville (Black Eye Comics, 1998), which I choose to believe draws some inspiration from my own home town of Hastings, which may have been briefly known as Hicksville in the early 1870s, with a healthy dose of work on the Batman and Batgirl comics in the early-mid 2000s.
Come along and join us for this Most Ambitious Crossover Event In Comic Book History (okay not really, but it will still be really cool!), and of course check out Tara and Dylan's books below!
---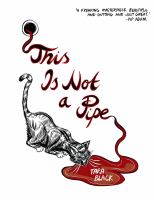 This is not a pipe / Black, Tara
"I've decided to document my life in pictures. It's hard to draw the pole, because of the pole. Beth has a pole through her arms. This is not a metaphor. A metaphor would be a lot less inconvenient. On the other side of the room, Kenneth is creating a new religion. He thinks narrative is the operating principle of the universe. He also thinks he's the hero of Beth's story. Beth is worried he's going to leave her. The creatures living in the pole may have stolen her cat. Tara Black's comic is surreal, dark, sad, perversely joyful, and if you bet someone they couldn't find another book remotely like it, you would win. It's a little bit about being married to Kenneth. It's a little bit about losing your cat. It's definitely not about the pole." (Catalogue)

Hicksville : a comic book / Horrocks, Dylan
"World-famous cartoonist Dick Burger has earned millions and become the most powerful man in the comics industry. However, behind his rapid rise to success, there lies a dark and terrible secret, as biographer Leonard Batts discovers when he visits Burger's hometown in remote New Zealand. One of the best graphic novels of the past decade." (Adapted from Catalogue)

Incomplete works / Horrocks, Dylan
"Daydreams, fantasy, true love, and procrastination feature strongly in this selection of Dylan Horrocks's shorter comics running from 1986 to 2012. It is both the chronicle of an age and a portrait of one man's heroic struggle to get some work done." (Catalogue)

Sam Zabel and the magic pen / Horrocks, Dylan
"Cartoonist Sam Zabel hasn't drawn a comic in years. Stuck in a nightmare of creative block and despair, Sam spends his days writing superhero stories for a large American comics publisher and staring at a blank piece of paper, unable to draw a single line. Then one day he finds a mysterious old comic book set on Mars and is suddenly thrown headlong into a wild, fantastic journey through centuries of comics, stories, and imaginary worlds. Accompanied by a young webcomic creator named Alice and an enigmatic schoolgirl with rocket boots and a bag full of comics, Sam goes in search of the Magic Pen, encountering sex-crazed aliens, medieval monks, pirates, pixies and–of course–cartoonists. Funny, erotic, and thoughtful, Sam Zabel and the Magic Pen explores the pleasures, dangers, and moral consequences of fantasy." (Adapted from Catalogue)