The release of season three of Sex Education on Netflix is the perfect opportunity to introduce some of the more educationally risqué books in our collection. While the fabulously jumpsuited Dr. Jean Milburn is an absolute trove of knowledge, unfortunately we can't go to her with all our own nitty-gritty queries. Thankfully, we do have our local libraries! So, in place of the good Doctor, let's get into some of the enlightening tomes we have on offer:
Looking for something specific? Want to know more but afraid to ask? Check out more topics and how to find them in the library using the Dewey Decimal System:

As librarians, we're here to help, not judge. Always feel free to ask for more information at your local library.
Sex : an uncensored introduction / Hasler, Nikol
"Sex: An Uncensored Introduction provides honest, in-depth information about sex, sexual orientation, masturbation, foreplay, birth control options, and protection against disease. This revised and updated edition includes updated information about everything from STIs to new sex-related legislation as well as brand new sections on sexting, online dating and safety, and sex-related bullying of all kinds […]" (Catalogue)

The pride guide : a guide to sexual and social health for LGBTQ youth / Langford, Jo
"Jo Langford offers a complete guide to sexual and social development, safety, and health for LGBTQ youth and those who love and support them. Written from a practical perspective, the author explores the realities of teen sexuality, particularly that of trans teens, and provides guidance and understanding for parents and kids alike." (Catalogue)

Vagina : a re-education / Enright, Lynn
"For centuries, the vagina has been made mysterious, neglected, mutilated or mocked, and as a consequence few people know much about it. In Vagina: A Re-Education, acclaimed journalist Lynn Enright charts the story of this crucial organ, encompassing fertility and hormones, pain and arousal, sex education and more." (Catalogue)

Let's talk about it : the teen's guide to sex, relationships, and being a human / Moen, Erika
"A graphic novel about sex, sexuality, gender, body, consent, and many other topics for teens"– Provided by publisher." (Catalogue)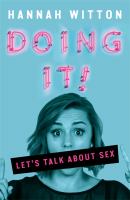 Doing it! : let's talk about sex / Witton, Hannah
"Sexting. Virginity. Consent. The Big O … Let's face it, doing it can be tricksy. I don't know anyone (including myself) who has sex all figured out. So I've written a book full of honest, hilarious (and sometimes awkward) anecdotes, confessions and revelations. […] We talk about doing it safely. Doing it joyfully. Doing it when you're ready. Not doing it. Basically, doing it the way you want, when you want. So. Let's do this … "–Publisher information." (Adapted from Catalogue)

The hormone diaries : the bloody truth about our periods / Witton, Hannah
" […] From first periods to first coils, pimples to hot-water bottles and PCOS to endometriosis, The Hormone Diaries is your essential companion on the hormone rollercoaster. Filled with Hannah's insights, fascinating research and those priceless crowdsourced stories, it's the reassuring hug we all need. At least 50 per cent of the world has to deal with this stuff – it's time we started talking about it." (Adapted from Catalogue)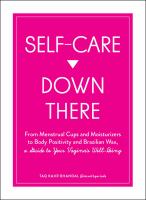 Self-care down there : from menstrual cups and moisturizers to body positivity and Brazilian wax, a guide to your vagina's well-being / Bhandal, Taq Kaur
"Get the lowdown on how to take care of your nether regions with this fun and frank guide focused on helping you maintain your private parts. Covering everything from everyday cleanliness to internal and external safe health advice as well as tips regarding the groom-or-not-to-groom debate and sex-friendly good habits to practice, Self-Care Down There will help you keep your private parts in tip-top shape while expressing the true you! […] "– Provided by publisher." (Adapted from Catalogue)

They/them/their : a guide to nonbinary and genderqueer identities / Young, Eris
"Showing what life is like as a nonbinary or genderqueer person, this book explores relationships, mental and physical health, language use and identity and appearance, providing advice for nonbinary people and how friends and family can support them."– Publisher's description." (Catalogue)

Written on the body : letters from trans and non-binary survivors of sexual assault and domestic violence
"Written by and for trans and non-binary survivors of domestic violence and sexual assault, Written on the Body offers support, guidance and hope for those who struggle to find safety at home, in the body, and other unwelcoming places. This collection of letters written to body parts weaves together narratives of gender, identity, and abuse. It is the coming together of those who have been fragmented and often met with disbelief. The book holds the concerns and truths that many trans people share while offering space for dialogue and reclamation. Written with intelligence and intimacy, this book is for those who have found power in re-shaping their bodies, families, and lives." (Catalogue)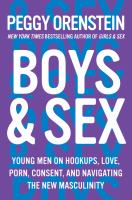 Boys & sex : young men on hookups, love, porn, consent, and navigating the new masculinity / Orenstein, Peggy
"[…] Today's young men are subject to the same cultural forces as their female peers. They are steeped in the distorted media images and binary stereotypes of female sexiness and toxic masculinity which shape how they, too, navigate sexual and emotional relationships […] Orenstein takes an unprecedented look at the myriad factors that are shaping boys' ideas of sex, girls, and masculinity […]"– Provided by publisher." (Adapted from Catalogue)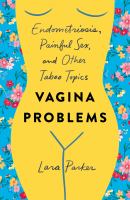 Vagina problems : endometriosis, painful sex, and other taboo topics / Parker, Lara
"[…] Less than a year before, [Lara Parker] received not only the diagnosis of endometriosis, but also a diagnosis of pelvic floor dysfunction, vulvodynia, vaginismus, and vulvar vestibulitis. Combined, these debilitating conditions have wreaked havoc on her life, causing excruciating pain throughout her body since she was fourteen years old […] With candid revelations about her vaginal physical therapy, dating as a straight woman without penetrative sex, coping with painful seizures while at the office, diet and wardrobe malfunctions when your vagina hurts all the time, and the depression and anxiety of feeling unloved, Lara tackles it all […]"– Provided by publisher." (Adapted from Catalogue)