Well that crept up on us – the winners of the NZ Post Children's Book Awards have just been announced! The overall winner of the Margaret Mahy Book of the year prize went to The Boring Book by Vasanti Unka! The Boring Book also won its category of Best Picture Book.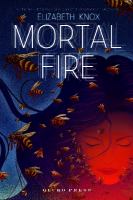 The winner of the young adult category was Mortal Fire by Elizabeth Knox! I know we have a number of Elizabeth Knox fans among our readers – hurrah!
"Mortal Fire is an incredibly well-written and engaging book. The story is like a jigsaw that slowly slots together and leaves the reader satisfied but haunted by the events and the characters. It is a book that operates on a supernatural, fantastical level, while still containing the core young adult material about finding out who you are," says Barbara Else.
The other winners were Dunger by Joy Cowley (Junior Fiction), The Beginner's Guide to Hunting and Fishing in New Zealand by Paul Adamson (Non-fiction), A Necklace of Souls by R L Stedman (Best Debut) and The Three Bears…Sort Of by Yvonne Morrison and Donovan Bixley (Children's Choice). We have all of the winners in our collection – click on the links above to reserve them!