Friends, family, acquaintances, we are all gathered here today, June 1st, to commemorate the passing of our beloved Dinosaurs. Truly they were the best of us, I mean, they were huge awesome bird-lizard things that were like super cool. Dinosaurs have been an inspiration for many of us, from becoming an obsession for us in our younger years, to never leaving that obsession, to those silly suits that people can buy that just make everything better. Unfortunately our beloved Dinosaurs were so cruelly taken away from us by some meteors, though that may have been for the best considering how squishy humans are and how big Dinosaurs were. The Dinosaurs' legacy is continued by their descendants, birds, who are neat. I mean, have you seen geese? They put the "terrible" in "terrible lizard".
Now, to say a few words is one of the T-Rex's fierce relatives:

via GIPHY
Thank you for your wise words, Sir Cluckington.
But let us not be swamped in sadness, Dinosaurs wouldn't have wanted us to live in sorrow for their loss. I mean, technically Dinosaurs probably wouldn't have wanted anything besides food, but hey, let's be poetic. Let us celebrate their lives, their radical coolness, rather than their deaths. For why focus on the fact they are dead and fossilised, but for the brightness they spark in our hearts.
So, in remembrance, this Dinosaur Day, June 1st, let us look at all the cool media about dinosaurs.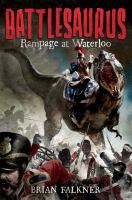 Battlesaurus : rampage at Waterloo / Falkner, Brian
"In this alternate history, Napoleon wins at Waterloo by unleashing a secret battlefield weapon–a legion of giant, carnivorous dinosaurs imported from the wilds of the Americas–and only fifteen-year-old Willem Verheyen stands in the way of the emperor's plan for world domination." (Catalogue)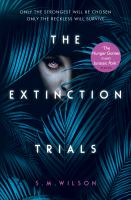 The extinction trials / Wilson, S. M.
"Stormchaser wants to escape her starved, grey life. Lincoln wants to save his dying sister. Their only chance is to join an expedition to a deadly country to steal the eggs of vicious dinosaurs. If they succeed, their reward is a new life filled with riches. But in a land full of monsters – both human and reptilian – only the ruthless will survive. Jurassic Park meets The Hunger Games in this epic new series." (Catalogue)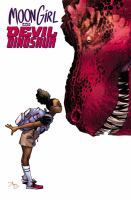 Moon Girl and Devil Dinosaur [1] : BFF / Montclare, Brandon
"Lunella Lafayette is an inhuman preteen genius who wants to change the world! THAT JOB would be a lot easier if she wasn't living in mortal fear of her latent inhuman gene. There's no telling what she'll turn into — but Luna's got a plan. All she needs is an Omni-Wave Projector. Easy, right? That is, until a red-scaled beast is teleported from the prehistoric past to a far-flung future we call … today!" (Adapted from Catalogue)
Reptil : brink of extinction / Blas, Terry
"Reptil — the dinosaur-powered graduate of Avengers Academy — is on the brink of extinction! In the wake of his grandfather's worsening health, Humberto Lopez has taken a step back from crimefighting to focus on his family. Perhaps it's a sign that he should give up on becoming a hero and finally come to terms with his parents' mysterious disappearance… or perhaps not! When a mysterious figure ambushes Humberto, what unravels will shake the core of everything that Reptil thought he knew about his past. And it will either change the course of his future – or end it forever!" (Adapted from Catalogue)
Dinotopia : journey to Chandara / Gurney, James
"After many years of searching, artist James Gurney has discovered a never-before-seen journal by the nineteenth-century explorer Arthur Denison in a used bookstore. Denison's previous travel accounts, published as Dinotopia: A land Apart from Time and Dinotopia: The World Beneath, introduced a lost island where dinosaurs and humans live together in peaceful interdependence. Now Professor Denison and his saurian companion, Bix, set out on a perilous journey to the long-forgotten empire of Chandara." (Adapted from Catalogue)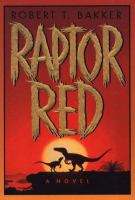 Raptor Red / Bakker, Robert T
"A pair of fierce but beautiful eyes look out from the undergrowth of conifers. She is an intelligent killer. So begins one of the most extraordinary novels you will ever read. The time is 120 million years ago, the place is the plains of prehistoric Utah, and the eyes belong to an unforgettable heroine. Her name is Raptor Red, and she is a female Raptor dinosaur. The life of a lady dinosaur in the prehistoric swamps of Utah. When her mate is killed on a hunting expedition she teams up with her sister, a mother of three, and the novels follows their struggle to eat and survive in a dangerous world." (Adapted from Catalogue)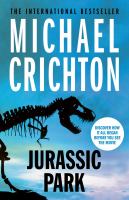 Jurassic Park / Crichton, Michael
"Before seeing Jurassic World film this June read the original, multimillion copy number 1 bestselling thriller that inspired the first major motion picture Jurassic Park. On a remote jungle island, genetic engineers have created a dinosaur game park. An astonishing technique for recovering and cloning dinosaur DNA has been discovered. Now one of mankind's most thrilling fantasies has come true and the first dinosaurs that the Earth has seen in the time of man emerge. But, as always, there is a dark side to the fantasy and after a catastrophe destroys the park's defence systems, the scientists and tourists are left fighting for survival…" (Adapted from Catalogue)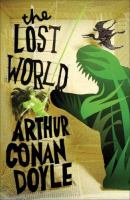 The lost world / Doyle, Arthur Conan
"The Lost World is a novel released in 1912 by Sir Arthur Conan Doyle concerning an expedition to a plateau in the Amazon basin of South America where prehistoric animals (dinosaurs and other extinct creatures) still survive." (Catalogue)
Bermuda / Layman, John
"There's a region in the Atlantic Ocean where planes disappear, ships are lost, and traveling souls go missing… never to be heard from again. And there's an island within this place, mysterious and uncharted, untouched by time and civilization, where all who are lost end up. Bermuda lives here. She's a normal, everyday 16-year-old girl, who just so happens to live in an otherworldly dimension swarming with dinosaurs and pirates! It's made her scrappy, and a survivor, and it's the only life she's ever known… until today. Bermuda's discovered something on her island that will either open a doorway between her world and ours… or destroy them both!" — page 4 of cover" (Catalogue)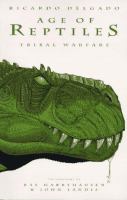 Age of reptiles : tribal warfare / Delgado, Ricardo
"More real life' adventures from the days of the dinosaurs. This series tracks the fortunes – and misfortunes – of a family of Ceratosaurs as they try to survive the rigors of the Jurassic era.'" (Catalogue)

The virtual realities trilogy / Carmichael, Claire
"Andy Tremain has a terrifying ability. Using virtual reality, he can create monsters from his unconscious mind. And he's obsessed with dinosaurs. A psychiatrist in the United States promises a cure but when Andy and his brother and sister realise they are prisoners rather than guests in Dr Kaplan's luxurious desert complex, Andy's dream becomes a nightmare. When his powers change and reality itself begins to shift and tear, Andy is so dangerous that society clearly cannot afford to let him live. So the terror continues…" (Catalogue)