Folks! Friends! Fellow humans living on this nice crispy earth! 
The year is 2023. The global is warming, the 1 are %ing and things are looking iffy… Enter the Soft Apocalypse! It's time for us to give capitalism the finger, and return to our humble roots as a pastoral society that bakes bread and sings Kumbaya way too often. AKA my escapist daydream when the Stresses of Life get a bit too much (my Soft Apocalypse plan includes joining a commune and keeping chickens).
Welcome to Episode 2 of Soft Apocalypse for Beginners, where we will be embarking on a journey of Learning to Look After Ourselves Even if the World is Ending (and saving the bees while we're at it)!
And what better skill to start off with than cooking? After all, it's not a proper Soft Apocalypse unless there's snacks. In honour of this, today I will be sharing with you my holy trinity of recipes for all possible occasions, along with some books to eat them with (this is a library after all).
Fun Fact: The following recipes cover the three primary food groups (Garlic, Breakfast, and Noodles).
First and foremost: Evil Pasta. Thus named because of the unethical quantity of ✨butter✨ and the nasty little way I cackle when it's ready to eat. (Also butter should be in quotation marks because the two-headed calf poem made me cry and now ya girl is plant-based.) To make your evil plate of evil pasta, slice up an enormous number of white button mushrooms and fry 'em in a pot/pan/type of thing along with chef's choice amount of minced garlic and lots of "butter". Do this until the mushrooms are all lil and crispy. Feel free to add some sliced tomato here, again it's up to you. This is your evil pasta now. Mix the lil crispy mushrooms into the desired amount of cooked pasta (I would recommend using those tiny little elbow pasta pieces), and top with some nice avocado. Make a nasty little cackle and then it's ready to eat.
Second and secondmost: Oogy-Boogy It's Cold Outside Porridge. Don't be alarmed, but the following recipe includes a fruit. I'm not going to take you through the ins and outs of making porridge because that's not Hip Teen Blog Vibes, so I'll say it really fast. Oats + Twice as much milk (let's go soy – think of the cow poem) + Nice little shake shake of cinnamon + One grated apple + A touch of vanilla essence. Boil in a pot until Good, then eat topped with brown sugar and a splash more milk.
Third and finally: Sticky Lime Noodles. Thus named because it's stïcky. Slice up some carrots, courgette, and bok choy ✨julienne style✨ then fry it all in a nice little pan. Add a little minced garlic. Add two packets of cooked, unseasoned two-minute noodles (that's right, we're classy). Add two tablespoons of both lime juice and soy sauce. Add one teaspoon-ish of honey. Add a nice dusting of chilli powder. Stir it all up. Adjust according to taste. Make sure it's looking stïcky. Put it in a bowl, find the eating utensil that makes your heart sing and then Eat It.
There you have it: Cooking 101 for the Soft Apocalypse. Keen to know more or keep reading? Why not head down to your local library branch to get your greedy little (oven) mitts on some of these delicious books from the WCL collection:
---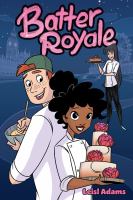 Batter royale / Adams, Leisl
"In this fun graphic novel, a talented young chef is selected to participate in a baking reality show and finds herself mixed up in spicy competition, bitter rivalry, and sweet romance." –author's website." (Catalogue)
With the fire on high / Acevedo, Elizabeth
"Ever since she got pregnant during freshman year, Emoni Santiago's life has been about making the tough decisions, doing what has to be done for her daughter and her abuela. Then an opportunity presents itself to not only enrol in a culinary arts class in her high school, but also to travel abroad to Spain for an immersion program. Emoni knows that her decisions post high school have to be practical ones, but despite the rules she's made for her life – and everyone else's rules that she refuses to play by – once Emoni starts cooking, her only choice is to let her talent break free." (Adapted from Catalogue)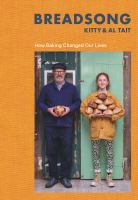 Breadsong : how baking changed our lives / Tait, Kitty
"'If you had told me at 14 when I couldn't even get out of bed with depression and anxiety that three years later I would have written a book I would never have believed you. But here it is – the story of the Orange Bakery. How I went from bed to bread and how my Dad went from being a teacher to a baker. " — Publisher's description." (Adapted from Catalogue)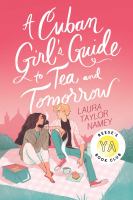 A Cuban girl's guide to tea and tomorrow / Namey, Laura Taylor
"After graduation, everything Lila Reyes had planned for her life fell apart. Her worried parents make a new plan for her: Spend three months with family friends in Winchester, England, to relax and reset. But with the lack of sun, a grumpy inn cook, and a small town lacking Miami flavor (both in food and otherwise), what would be a dream trip for some feels more like a nightmare to Lila. Until she meets Orion Maxwell. " (Adapted from Catalogue)

Vegan fakeaway : plant-based takeaway classics for the ultimate night in / Beskow, Katy
"We all love a takeaway. It's one of life's little pleasures, and a great way to try food from around the world in the comfort of our own homes. From All-in-one biryani or Sesame spring rolls, to Sicilian-style pizza, Falafel flatbreads and Chilli burritos, there's something for every Friday night feast." (Adapted from Catalogue)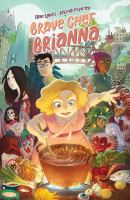 Brave Chef Brianna [1] / Sykes, Sam
"Brianna Jakobsson has big cooking dreams, and when her ailing father, a world-renowned chef, poses a challenge to his only daughter and fifteen sons, she seizes the opportunity.  Thing is, the only place she can afford to set up shop is in Monster City. Her menu is full of weird delicacies, her kitchen is run by a half-bird harpy, and her dining room is filled with skeleton businessmen. Add on the nefarious Madame Cron, some highly competitive siblings and Brianna's plate is literally… full." (Adapted from Catalogue)

Somewhere between bitter and sweet / Kemp, Laekan Zea
"As an aspiring pastry chef, Penelope Prado has always dreamed of opening her own pastelería next to her father's restaurant, Nacho's Tacos. But her traditional Mexican-American mom and dad have different plans. Xander Amaro Is a new hire at Nacho's. For him, the job is an opportunity for a chance at a normal life, to settle in at his abuelo's, and to find the father who left him behind. When both the restaurant and Xander's immigrant status are threatened, he will do whatever it takes to protect his new found family and himself. " (Adapted from Catalogue)

The complete cookbook for young chefs
"Want to bake the most-awesome-ever cupcakes? Or surprise your family with breakfast tacos on Sunday morning? Looking for a quick snack after school? Or maybe something special for a sleepover? It's all here. Learn to cook like a pro – it's easier than you think." (Adapted from Catalogue)

A phở love story / Le, Loan
"Bảo would describe himself as steady and strong: his grades are average, his social status unremarkable. He works at his parents' phở restaurant – as his parents' fifth favorite employee. Linh Mai would describe herself as a firecracker: stable when unlit, but full of potential for joy and fire. She dreams of pursuing a career in art, while working practically full-time at her family's phở restaurant. Bao and Linh have never even had a class together – but after a chance encounter, sparks fly. Can this relationship survive their families' feud? — adapted from jacket." (Catalogue)

Cheeky treats : brilliant bakes and cakes / Charles, Liam
"When you bake you want the results to be mouth-watering and jaw-droppingly good. You want gasps of awe followed by silence as your friends and family munch their way through your genius creations. No one understands this better than Liam Charles, aka Cake Boy, the breakout star from Great British Bake Off 2017. Who else could bring you a Caramel Peanut Millionaires Shortbread, an Oreo Chocolate Brownie Freakshake or a Christmas Dinner Pie?" (Adapted from Catalogue)

Chinese takeaway in 5 : 80 of your favourite dishes using only five ingredients / Wan, Kwoklyn
"Kwoklyn Wan is back with 70 classic Chinese dishes that use only five ingredients. All your favourites are here – from Tom Yum Soup to Prawn Toast, Sweet Chilli Salmon and Lemon Chicken, Sweet and Sour Pork Balls or Beef in Oyster Sauce, Aubergine Fritters and Chilli Ginger Crispy Tofu – and all use only five key ingredients." (Adapted from Catalogue)

Diet for a changing climate : food for thought / Mihaly, Christy
"Explore the vast world of unexpected foods that may help solve the global hunger crisis: weeds, wild plants, invasive and feral species, and bugs! You'll visit a cricket farm, learn recipes for dandelion pancakes and pickled purslane; and discover facts about climate change, sustainability, green agriculture, indigenous foods, farm-to-table restaurants, and how to be an eco-friendly producer, consumer, and chef. " (Adapted from Catalogue)