Ah, sweet sweet education. We at the library endorse education, it is what makes us a library. Yay, learning things. Yay expanding our brain. Yes, education is indeed good.
…
…
Okay, I think that got them off my scent. This is terrible, we have to go back to schooool and wooork and uniiii and it is the worst. February is coming, which means our precious holiday time is swiftly coming to an end. For some strange reason, time does have to move forward and we do have to return to our normal lives, being productive members of society and whatnot.
But all is not lost.
The library, which yes is a source of knowledge and words and facts, has multiple facets. We've discovered this fantastic way to escape reality: stories. But I do not come to you bearing the moral teaching boring stories you are forced to study for school, no! I give you fantasy! What better way to deal with the crushing truths of the so called "real world" when we can engage in the amazing imaginative stories of impossible things.
So do not weep at your looming fate, simply ignore it, and focus on the cool dragons and magic and stuff. That will make everything better.
The assassination of Brangwain Spurge / Anderson, M. T
"Uptight elfin historian Brangwain Spurge is on a mission: survive being catapulted across the mountains into goblin territory, deliver a priceless peace offering to their mysterious dark lord, and spy on the goblin kingdom — from which no elf has returned alive in more than a hundred years. Brangwain's host, the goblin archivist Werfel, is delighted to show Brangwain around. They should be the best of friends, but a series of extraordinary double crosses, blunders, and cultural misunderstandings throws these two bumbling scholars into the middle of an international crisis that may spell death for them — and war for their nations. Witty mixed media illustrations show Brangwain's furtive missives back to the elf kingdom, while Werfel's determinedly unbiased narrative tells an entirely different story." (Catalogue)
Alanna : the first adventure / Pierce, Tamora
"Eleven-year-old Alanna, who aspires to be a knight even though she is a girl, disguises herself as a boy to become a royal page, a learning many hard lessons along her path to high adventure." (Catalogue)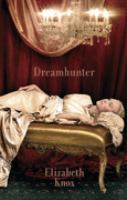 Dreamhunter / Knox, Elizabeth
"A fantasy set in a Victorianesque society where a select few people have the ability to travel into The Place. The Place is a parallel world where dreams can be caught and brought back to the real world, where they are 'performed' for audiences. Some dreams can heal, some entertain and others are more sinister. At the centre of the story are fifteen-year-old cousins Laura and Rose, both children of famous dreamhunters, who are expected to follow in their parents' footsteps. Suggested level: secondary." (Catalogue)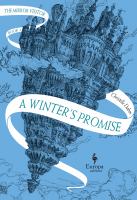 A winter's promise / Dabos, Christelle
"Plain-spoken, headstrong Ophelia cares little about appearances. Her ability to read the past of objects is unmatched in all of Anima and, what's more, she possesses the ability to travel through mirrors, a skill passed down to her from previous generations. Her idyllic life is disrupted, however, when she is promised in marriage to Thorn, a taciturn and influential member of a distant clan. Ophelia must leave all she knows behind and follow her fiancé to Citaceleste, the capital of a cold, icy ark known as the Pole, where danger lurks around every corner and nobody can be trusted. There, in the presence of her inscrutable future husband, Ophelia slowly realizes that she is a pawn in a political game that will have far-reaching ramifications not only for her but for her entire world." (Catalogue)
Blood scion / Falaye, Deborah
"Fifteen-year-old Sloane can incinerate an enemy at will; she is a Scion, a descendant of the ancient Orisha gods. But under the brutal rule of the Lucis, her identity means her death. Her mother knew as much. She disappeared trying to hide Sloane's truth. Sloane, too, has hidden her abilities, but on her fifteenth birthday, she is conscripted into the Lucis army. Once taken, Sloane must not only conceal her power but overcome the bloody challenges of Lucis training. But if she can infiltrate the Lucis, she could destroy her enemies … Sloane rises through the ranks and gains strength but, in doing so, risks something greater: losing herself entirely and becoming the very monster she abhors." (Catalogue)
Spellslinger / De Castell, Sebastien
"How do you survive a mage's duel without magic? Kellen's about to risk everything: His family, his home, even his own life….When you're a Jan'Tep initiate approaching your sixteenth birthday, you'd better be ready to prove your worth as a mage. Either that or have a miracle on the way. And Kellen isn't counting on either. He knows he'll need a few tricks up his sleeve to avoid disgracing his family and becoming a Sha'Tep servant. So when a sassy, straight-talking traveller arrives in town, Kellen is all ears. Ferius Parfax is jaded but worldly, an exile who lives by her wits and the three decks of cards she carries. She can't teach him to spark his bands and access the seven magics, but with the hand that Kellen's been dealt, he knows he needs all the help he can get." (Catalogue)
The novice / Matharu, Taran
"Fletcher was nothing more than a humble blacksmith's apprentice, when a chance encounter leads to the discovery that he has the ability to summon demons from another world. Chased from his village for a crime he did not commit, he must travel with his demon to the Vocans Academy, where the gifted are trained in the art of summoning. […] Fletcher will find himself caught in the middle of powerful forces, with nothing but his demon Ignatius to help him. As the pieces on the board manoeuvre for supremacy, Fletcher must decide where his loyalties lie. The fate of an empire is in his hands …" (Adapted from Catalogue)
Falling into Rarohenga / Matuku, Stephanie
"It seems like an ordinary day when Tui and Kae, sixteen-year-old twins, get home from school — until they find their mother, Maia, has disappeared and a swirling vortex has opened up in her room. They are sucked into this portal and dragged down to Rarohenga, the Māori Underworld, a place of infinite levels, changing landscapes and some untrustworthy characters. Maia has been kidnapped by their estranged father, Tema, enchanted to forget who she really is and hidden somewhere here. Tui and Kae have to find a way through this maze, outwit the characters they meet, break the spell on their mother, and escape to the World of Light before the Goddess of Shadows or Tema holds them in the underworld forever." (Catalogue)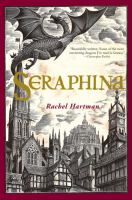 Seraphina / Hartman, Rachel
"In a world where dragons and humans coexist in an uneasy truce and dragons can assume human form, Seraphina, whose mother died giving birth to her, grapples with her own identity amid magical secrets and royal scandals, while she struggles to accept and develop her extraordinary musical talents." (Catalogue)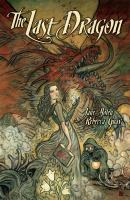 The last dragon / Yolen, Jane
"Two hundred years after humans drove the dragons from the islands of May, the last wyrm rises anew to wreak havoc, with only a healer's daughter and a kite-flying, reluctant hero standing in its way." (Catalogue)
Frogkisser / Nix, Garth
"Talking dogs. Mischievous wizards. An evil stepstepfather. Loads and loads of toads. Such is the life of a Frogkisser…Princess Anya needs to see a wizard about a frog. It's not her frog, it's her sister's. And it's not a frog, it's actually a prince. A prince who was once in love with Anya's sister, but has now been turned into a frog by their evil stepstepfather. And Anya has made a 'sister promise' that she will find a way to return Prince Denholm to human form…..So begins an exciting, hilarious, irreverent quest through the Kingdom of Trallonia and out the other side, in a fantastical tale for all ages, full of laughs and danger, surprises and delights, and an immense population of frogs…" (Catalogue)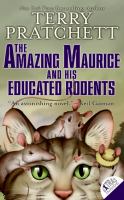 The amazing Maurice and his educated rodents / Pratchett, Terry
"A talking cat, intelligent rats, and a strange boy cooperate in a Pied Piper scam until they try to con the wrong town and are confronted by a deadly evil rat king." (Catalogue)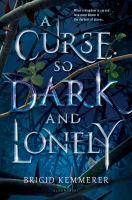 A curse so dark and lonely / Kemmerer, Brigid
"Prince Rhen, the heir to Emberfall, was cursed to repeat the autumn of his eighteenth year; he could only be saved if a girl fell for him. But at the end of each autumn he turned into a vicious beast hell-bent on destruction… and destroyed his castle, his family, and every last shred of hope. Washington, D.C. native Harper Lacy's father is long gone, her mother is dying, and her brother constantly underestimates her because of her cerebral palsy. When she is sucked into Rhen's cursed world, Harper doesn't know where she is or what to believe. As Rhen regains hope, they learn it will take more than a broken curse to save Harper, Rhen, and his people from utter ruin." (Catalogue)
Wicked lovely / Marr, Melissa
"Seventeen-year-old Aislinn, who has the rare ability to see faeries, is drawn against her will into a centuries-old battle between the Summer King and Winter Queen, and the survival of her life, her love, and summer all hang in the balance." (Catalogue)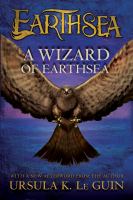 A wizard of Earthsea / Le Guin, Ursula K.
"Ged was the greatest sorcerer in all Earthsea, but once he was called Sparrowhawk, a reckless youth, hungry for power and knowledge, who tampered with long-held secrets and loosed a terrible shadow upon the world. This is the tale of his testing, how he mastered the mighty words of power, tamed an ancient dragon, and crossed death's threshold to restore the balance." (Catalogue)
The rithmatist / Sanderson, Brandon
"More than anything, Joel wants to be a Rithmatist. Chosen by the Master in a mysterious inception ceremony, Rithmatists have the power to infuse life into two-dimensional figures known as Chalklings. Rithmatists are humanity's only defense against the Wild Chalklings – merciless creatures that leave mangled corpses in their wake. Having nearly overrun the territory of Nebrask, the Wild Chalklings now threaten all of the American Isles. As the son of a lowly chalkmaker at Armedius Academy, Joel can only watch as Rithmatist students study the magical art that he would do anything to practice. Then students start disappearing; kidnapped from their rooms at night, leaving trails of blood. Assigned to help the professor who is investigating the crimes, Joel and his friend Melody find themselves on the trail of an unexpected discovery – one that will change Rithmatics, and their world, forever." (Catalogue)