This September 27th – October 3rd is Mental Health Awareness Week, an annual campaign run by the Mental Health Foundation. Here's a little more about this year's theme, taken from the official MHAW website:
This year's theme is take time to kōrero/mā te kōrero, ka ora – a little chat can go a long way.

This MHAW is all about connecting with the people in our lives and creating space for conversations about mental health and wellbeing. Whether it's checking in with a mate, having a kōrero over some kai or saying hello to a stranger, a little chat can go a long way. 
 The Mental Health Foundation has dedicated each day of this week to a different activity , with the aim of fostering wellbeing.  Why not give them a go, see if you notice any changes in your own life? 🙂
RĀHINA | MONDAY : Reconnect with someone you care about.
RĀTU | TUESDAY : Get outside in nature with someone.
RĀAPA | WEDNESDAY : Have a kōrero about Te Whare Tapa Whā 
RĀPARE | THURSDAY : Connect through kindness.
RĀMERE | FRIDAY : Come together and reflect.
On a related note, there's a brand new hang-out space in the CBD of Te Whanganui-a-Tara called Commonspace! Designed as "a living room for the city", Commonspace has been created as a "central place of being and belonging, learning and connecting, through de-siloing knowledge and cross-pollinating disciplines, holding whanaungatanga for a younger inner city community to connect more consciously." From movie nights, craft clubs, live album listening parties, a radio station and more; Commonspace is a lovely new place for youth to hang out, learn and create art!
I am definitely a person who has struggled with their mental health, and I am so stoked to see that this kind of discussion is becoming more common in our Aotearoa! To celebrate this fantastic week, here are some books that might be helpful for your own mental health journey 🙂
The mental health and wellbeing workout for teens : skills and exercises from ACT and CBT for healthy thinking / Nagel, Paula
"This easy-to-understand, engaging guide arms teens with healthy thinking habits and coping strategies for staying on top of their mental health. Readers are given the tools to build their own personalised mental health 'workout' to boost their emotional resilience and well-being. (Adapted from Catalogue)

Your brain needs a hug : life, love, mental health, and sandwiches / Earl, Rae
"Imbued with a sense of humor, understanding, and hope, Your Brain Needs a Hug is a judgment-free guide for living well with your mind.  Witty, honest, and enlightening, this is the perfect read for feeling happier and healthier and learning to navigate life without feeling overwhelmed or isolated" (Adapted from Catalogue)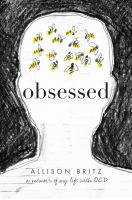 Obsessed : a memoir of my life with OCD / Britz, Allison
"Fifteen-year-old Allison lived a comfortable life in an idyllic town. She was a dedicated student with tons of extracurricular activities, friends, and loving parents at home. But after awakening from a vivid nightmare in which she was diagnosed with brain cancer, she was convinced the dream had been a warning.  This memoir tracks Allison's descent and ultimately hopeful climb out of the depths" (Adapted from Catalogue)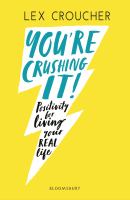 You're crushing it / Croucher, Lex
"Sometimes life can be pretty amazing. But other times it feels like: A. Your heart and stomach have been steamrolled into a grisly organ pancake B. You are being put through an emotional spiralizer that creates human courgetti C. Both of the above. You're a courgetti pancake No, Instagram filters won't make it look any better.  An honest, thoughtful and hilarious survival guide for young people by social media sensation, Lex Croucher. (Adapted from Catalogue)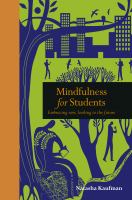 Mindfulness for students : embracing now, looking to the future / Kaufman, Natasha
"Life can be tough. With decisions to make at such a critical time, from subject choices to new colleges and universities, careers and relationships, it's easy to feel weighed down. What's more, there is the pressure to gain good grades, to find a good job, to be a good person. From a young age we are taught the significance of a solid education and a fruitful career, yet with such an emphasis on academic and monetary success we often fail to prioritise a healthy mind. Leaving the security of home and adjusting to new-found independence can be an exciting transition. It can also be unsettling. It is vital to know how to deal with life's many challenges and triumphs emotionally. Practising mindfulness can equip you with the skills to do this." (Catalogue)
---
If you need to talk to someone else:
Free call or text 1737 for support from a trained counsellor, or feel free to reach out to the below organisations.
Lifeline
0800 543 354
Free text 4357 (HELP)
Youthline
0800 376 633
Free text 234