Calling all foodies, brace yourself for the most epic food event of the year where you can eat, drink and be Welly! Wellington on a Plate (WOAP) has arrived once again full of culinary goodness of all things food and beverage all throughout the month of August!

What is Wellington on a Plate?
Wellington on a Plate is an event in August where you can Eat, Drink and Be Welly with hundreds of Festival Events, Festival Dishes that showcase the best of Wellington region's ingredients, suppliers and producers, Creative Cocktails and all the Burgers you could munch your way through. 

How can you celebrate?
Eat your way around Wellington. Click here for more information about WOAP eateries.
Craft your visit by choosing from over 140 events, with everything from hands-on masterclasses to multi-course degustations and everything in between. Click here for more information about the events.
Create your own burgers, drinks and culinary goodness in the comfort of your own home, with the help of the following books:

Cook up a storm the Welly and Kiwi way with:
The great New Zealand cookbook.
"Featuring over 200 recipies, from tried and true classics to contemporary cuisine that reflects New Zealand's ethnic diversity and fresh local produce, the Great Zealand Cookbook is a unique celebration of kiwi cuisine. Eighty of New Zealand's finest cooks, chefs and bakers let us into their homes and their hearts as they share their favourite recipes they make for people they love. Each recipe is accompanied by stunning original photographs shot entirely on location that truly capture the essence and nature of this beautiful country of ours. Cover artwork by renowned New Zealand artist Dick Frizzell." (Catalogue)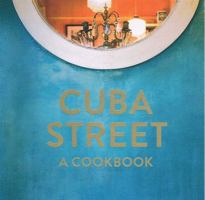 Cuba Street : a cookbook.
"Cuba Street – a cookbook celebrates the flair and flavours of Cuba Street, the colourful heart of Wellington's café scene. Take a gastronomic journey up the street and enjoy and eclectic mix of recipes, provided by over twenty of your favourite bars and eateries. They've given up their secrets, published here along with interviews, profiles and more. This book is an absolute must for foodies, locals and visitors to Wellington. It offers a unique insight into Wellington's best-loved district, its heritage, hospitality, and the people who make it so special." (Catalogue)
The Cuba Street project.
"Cuba Street has many faces. Restaurants, cafés, record shops, fashion outlets — and the bucket fountain. Cuba Street has iconic status in Wellington – its colour and character over the last few decades have made it a favourite spot for locals and visitors alike. From the late lamented Matterhorn and Mighty Mighty, to Midnight Espresso, Logan Brown and Ombra, the street is filled with places and people worth remembering." (Catalogue)
Get your burger on!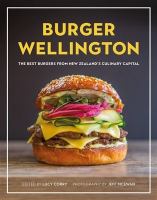 Burger Wellington : the best burgers from New Zealand's culinary capital.
"Burger Wellington has long been an integral part of the WOAP experience. Weve gathered together 47 of the regions best burger recipes from some of its most celebrated eateries. The recipes are edited by Lucy Corry, award-winning Wellington writer and columnist. Lucy regularly writes on food for Fairfax Media, Cuisine (incl restaurant reviews), NZ Life & Leisure, Frankie and Smith magazines and for her own blog The Kitchen Maid. Safe to say, she's a passionate foodie!" (Catalogue)
Burger lab.
"Burger Lab examines the precise elements that make up the ultimate burger: the perfect squishy bun; a pickle that has just the right level of crunch; the exact quantity of mayonnaise and ketchup to deliver maximum flavour; and the ultimate wagyu beef pattie that's meaty, juicy and umami-intense. Featuring the sought-after recipes from the menu of a cult burger joint, as well as 18 additional mouthwatering constructions that include: soft-shell crab with green mango salad; tonkatsu pork with fennel & apple; Reuben with corned beef, sauerkraut, Swiss cheese & thousand island dressing, and more, plus recipes for condiments, chips and milkshakes to wash it all down – Burger Lab will change everything you thought you knew about burgers." (Catalogue)

XXL : epic food, street eats & cult dishes from around the world.
"Through 70 incredible dishes – covering snacks, burgers, mains, desserts and drinks – Billy taps into the contemporary street food scene. This is not food for the faint-hearted or those into 'clean eating' or 'the paleo lifestyle.' These are honest-to-goodness recipes that are bold on flavour, size and, yup, calories. Dig in if you love great comfort food and street eats from all corners of the globe as well as pimped-up classic dishes." (Catalogue)

Hot dogs, hamburgers, tacos and margaritas.
"With more than 100 recipes, from quick and easy to classic to more gourmet fare, including some more unusual ingredients, this book brings all of your fast-food favourites together in one place (alongside some awesome accompaniments like fries, coleslaw, mash, and milk shakes) — making it the perfect companion for casual weekends and entertaining friends (or just yourself, if you're feeling greedy)." (Adapted from Catalogue)

For all you veggies and vegans, check out: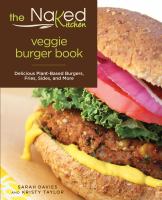 The Naked Kitchen veggie burger book : delicious plant-based burgers, fries, sides, and more.
"The Naked Kitchen Veggie Burger Book celebrates the burger in all its versatile glory–served on freshly baked buns, crumbled atop salads, added to pasta sauces, baked into taquitos, and more! Spanning a number of different ethnic influences, from Mexican to Mediterranean to Asian, these burgers are as nutritious as they are fun, flavorful, and redolent of homey goodness. The Naked Kitchen duo also present their favorite burger buns, condiments and toppings, sides and salads, fresh beverages, and "beyond burgers" recipes — for a superlative burger experience." (Catalogue)

Vegan junk food : a down and dirty cookbook.
"Not all vegans do yoga thrice daily or thrive on kale juice. This book is for anyone curious about cooking meat-free, who DGAF about carbs. This is the anti-vegan cookbook for vegans. Almost every vegetarian and vegan cookbook focuses on the whole wheat/kefir/green cleanse/salt lamp/lentil aspect of living a cruelty-free diet. But what about those of us who actually dream of a greasy burger all day and all night, but simply can't justify eating animal products? Or those of us who just wanted to opt out of the environmentally unsustainable meat industry? Or anyone who is just keen to broaden their culinary horizons and dip a toe in the waters of veganism? If any of these ring bells, then this is the cookbook for you." (Adapted from Catalogue)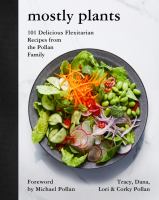 Mostly plants : 101 delicious flexitarian recipes from the Pollan family.
"Following the advice of family member Michael Pollan –"Eat food, not too much, mostly plants"–this book offers an approach to eating which doesn't give up meat entirely but builds a diet that shifts the ratio from animals to plants, creating delicious and nutritious meals sure to appeal to everyone." (Catalogue)

Green burgers : creative vegetarian recipes for burgers and sides.
"Whether you're vegetarian, vegan, or just trying to cut down on meat, veggie burgers make a tempting, filling meal. And as Martin Nordin explains, they're far from boring – in fact, because there are no rules or blueprint, you're free to push the burger boundaries. In Green Burgers, Martin shares recipes packed full of flavour and nutrition – from the classic BBQ Portobello Burger to the Courgette Burger with Wild Garlic. Experiment with unexpected flavours such as Courgette Kimchi and Deep-Fried Plantain. The delicious patties are just the beginning – try making your own Charcoal Burger Buns, top your burgers with Purple Cabbage and Apple Sauerkraut, and serve with Roasted Sweet-Potato Chips. With chapters on burgers, buns, sides, pickles and sauces, Green Burgers has all you need to make the perfect plant-based burgers and sides at home." (Catalogue)