"I am woman, hear me roar!" Cruella comes to the big screen! Is evil born or (self) made?
The wonderful world of Disney comes to life, (literally) with the release of a prequel to the classic and entertaining film, 101 Dalmatians, released both in animation and in live action (who could forget Glenn Close is the staring role!), that focuses on the villainess you love to hate. None other than Cruella de Vil! However the question is who and how does she become Cruella de Vil? Is evil born or (self) made? Cruella's film (or should I say story) focusses on Cruella when she was a teen then called Estella, played by Emma Stone (a far cry from her previous good girl roles) and her dream to become a fashion designer. Estella is gifted with talent, innovation, and ambition all in equal measures but cannot seem to achieve her goals. When a chance encounter vaults Estella into the world of the young rich and famous, however, she begins to question the existence she's built for herself in London and wonders whether she might, indeed, be destined for more after all. But what is the cost of keeping up with the fast crowd- and is it a price Estella is willing to pay?
Is evil born or (self) made? Watch the film and find out.
This is one film to watch this coming winter. Check out the trailer down below.


Ladies, this is one movie (trailer) to to learn from. How to be talented, ambitious, and be successful… without ending up losing yourself and becoming known as a Disney villainess. However, if you want to unleash your inner Cruella without being evil and sacrificing poor, innocent Dalmatian puppies, then go down to your local library and read these books!
Enjoy!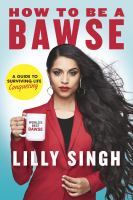 How to be a bawse : a guide to conquering life / Lilly Singh
"From the 2017 People's Choice Award winner for Favourite YouTube Star comes the definitive guide to being a bawse: a person who exudes confidence, hustles relentlessly, and smiles genuinely because he or she has fought through it all and made it out the other side. Lilly Singh isn't just a superstar. She's Superwoman–which is also the name of her wildly popular YouTube channel. Funny, smart, and insightful, the actress and comedian covers topics ranging from relationships to career choices to everyday annoyances. It's no wonder she's garnered more than a billion views. But Lilly didn't get to the top by being lucky–she had to work for it. Hard. Now Lilly wants to share the lessons she learned while taking the world by storm, and the tools she used to do it. How to Be a Bawse is the definitive guide to conquering life. Told in Lilly's hilarious, bold voice and packed with photos and candid stories from her journey to the top, How to Be a Bawse will make you love your life and yourself–even more than you love Beyonce." (Catalogue)

Every girl needs a plan / Bianca Chatfield
"Every Girl Needs a Plan gives you the tools, tricks and tips to make the small adjustments that will get you to where you really want to be. Contents include: Emotional fitness, Inner critics and tyre-kickers, Fear, Creating your own BOD (Board of Directors), Teamwork, Where are you heading?, Own it, Choose you, Make things happen. Topics include: The gratitude attitude, picturing success, the comparison game, the paradox of perfectionism, switch on to switch off, 20 seconds of courage, sleep, social media." (Catalogue)

Well, this is growing up / Megan Street.
"This book helps young women today go through some of the tough stuff that life sometimes throws at them. Includes sections on bullying, failing, drugs, boys, heartbreak, shyness, etc. This book will help you view life differently, more positively and help you to achieve what you and everyone truly wants. By reading you will become more confident, happy in your own skin and comfortable being your true self. Also included : Why people hate you! ; The one thing that instantly makes you more attractive ; The 4 characteristics that lead to success! ; How to make friends anywhere!" (Catalogue)

Feel good 101 / Emma Blackery
"'Only you can take the steps you need to help yourself become the strong, independent, fearless person you dream of being. It took me a long time – and a lot of real lows, excruciating heartaches and countless mistakes – to get there. The sole purpose of this book's existence is the hope that it may speed up that journey to happiness for you.' YouTube's most outspoken star Emma Blackery is finally putting pen to paper to (over)share all her hard-learned life lessons. From standing up to bullies and bad bosses to embracing body confidence and making peace with her brain, Emma speaks with her trademark honesty about the issues she's faced – including her struggles with anxiety and depression. This is the book Emma wishes she'd had growing up… and she's written it for you." (Catalogue)

Release your inner drive : everything you need to know about how to get good at stuff / Bradley Busch
"A book of infographics that shows teenagers how they can excel at school and in life. This book will enable all teenagers to improve their mindset, performance under pressure, motivation and learning. We now know more than ever about the science of learning. The research explains why some people flourish and others never truly fulfil their potential." (Adapted from Catalogue)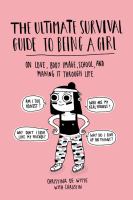 The ultimate survival guide to being a girl : on love, body image, school, and making it through life / Christina de Witte
"Navigating young adulthood can seem impossible: social media, body image, high school…. De Witte provides humorous and relatable advice on topics such as bullying, and dealing with (and loving!) your body." (Catalogue)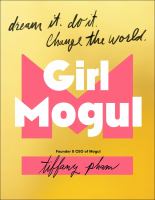 Girl mogul : dream it, do it, change the world / Tiffany Pham
"No matter who you are or where you come from, this book can help you define success, envision it, and make it happen–in school, in your personal life, and at work. Get ready to awaken all the awesomeness that is already inside of you." (Catalogue)