Well, we're a fortnight into 2021 and hoo mama what a time it has been.  It's full on for anybody right now looking around at what is going on in the world, particularly in America, and trying to just understand what on earth it all means.  In times like these, I turn books to get answers, but I know there are so many dry and dull books out there that just make the whole topic all that more confusing!  So I thought I'd put together a bit of a list of some that are interesting and topical to help you get some answers and perspective on the events of the world around us.
Eyes wide open : going behind the environmental headlines / Fleischman, Paul
This book is an excellent explainer for the position we find our world in environmentally.  It takes a deep dive into capitalism, world politics, consumerism and our everyday lives to look at just how we got here, and how we can think about moving forward.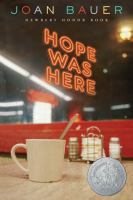 Hope was here / Bauer, Joan
A powerful story about a young woman finding her place in a new society and how her everyday choices draw her further into local politics.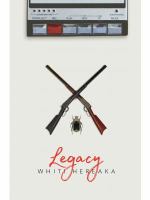 Legacy / Hereaka, Whiti
"Seventeen-year-old Riki is worried about school and the future, but mostly about his girlfriend, Gemma, who has suddenly stopped seeing or texting him. But on his way to see her, hes hit by a bus and his life radically changes. Riki wakes up one hundred years earlier in Egypt, in 1915, and finds hes living through his great-great-grandfathers experiences in the Maori Contingent. At the same time that Riki tries to make sense of whats happening and find a way home, we go back in time and read transcripts of interviews Rikis great-great-grandfather gave in 1975 about his experiences in this war and its impact on their family. Gradually we realise the fates of Riki and his great-great-grandfather are intertwined." (Catalogue)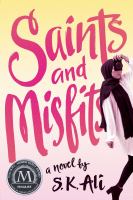 Saints and misfits : a novel / Ali, S. K
Janna divides the world around her into three categories – saints, misfits and monsters, to try to make sense of the events happening in her life.  She is trying to fit into her community and deal with a recent traumatic event that she has been through.
The tyrant's daughter / Carleson, J. C.
"When her father is killed in a coup, Laila and her mother and brother leave their war-torn homeland for a fresh start in the suburbs of Washington, D.C. At her new high school, Laila makes mistakes, makes friends, and even meets a boy who catches her eye. But this new life brings unsettling facts to light. The American newspapers call her father a brutal dictator and suggest that her family's privilege came at the expense of innocent lives. Meanwhile, her mother would like nothing more than to avenge his death, and she'll go to great lengths to regain their position of power. As an international crisis takes shape around her, Laila is pulled in one direction, then another, but there's no time to sort out her feelings. She has to pick a side now, and her decision will affect not just her own life, but countless others. . . . Inspired by the author's experience as a CIA officer in Iraq and Syria, this book is as timely as it is relevant." (Catalogue)
The dharma punks / Sang, Anthony
"Auckland, New Zealand, 1994. A group of anarchist punks have hatched a plan to sabotage the opening of a multi-national fast-food restaurant by blowing it sky-high come opening day. Chopstick has been given the unenviable task of setting the bomb in the restaurant the night before the opening, but when he is separated from his accomplice, Tracy, the night takes the first of many unexpected turns. Chance encounters and events from his past conspire against him, forcing Chopstick to deal with more than just the mission at hand. Still reeling after the death of a close friend, and struggling to reconcile his spiritual path with his political actions, Chopstick's journey is a meditation on life, love, friendship and blowing things up!" (Catalogue)
Bernie Sanders guide to political revolution / Sanders, Bernard
"Adapted for young readers from Our Revolution: A Future to Believe In, from political revolutionary and cultural icon Bernie Sanders comes an inspiring teen guide to engaging with and shaping the world–a perfect gift and an important read. Adapted for young readers from "Our Revolution: A Future to Believe In, " this inspiring teen guide to engaging with and shaping the world is from political revolutionary and cultural icon Senator Sanders." (Catalogue)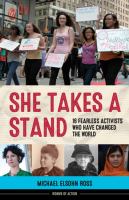 She takes a stand : 16 fearless activists who have changed the world / Ross, Michael Elsohn
"She Takes a Stand offers a realistic look at the game-changing decisions, high stakes, and bold actions of women and girls around the world working to improve their personal situations and the lives of others.
This inspiring collection of short biographies features the stories of extraordinary figures past and present who have dedicated their lives to fighting for human rights, civil rights, workers' rights, reproductive rights, and world peace. Budding activists will be inspired by antilynching crusader and writerIda B. Wells, birth control educator and activist Margaret Sanger, girls-education activist Malala Yousafzai, Gulabi Gang founder Sampat Pal Devi, who fights violence against Indian women, Dana Edell, who works against the sexualization of women and girls in the media, and many others." (Catalogue)
Dawn Raid / Smith, Pauline
"Like many 13-year-old girls, Sofia's main worries are how to get some groovy go-go boots, and how not to die of embarrassment giving a speech at school! But when her older brother Lenny starts talking about marches and protests and overstayers, and how Pacific Islanders are being bullied by the police for their passports and papers, a shadow is cast over Sofia's sunny teenage days. Through her heartfelt diary entries, we witness the terror of being dawn-raided and gain an insight into the courageous and tireless work of the Polynesian Panthers in the 1970s as they encourage immigrant families across New Zealand to stand up for their rights." (Catalogue)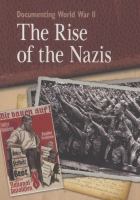 The rise of the Nazis / Tonge, Neil
Learn about the Nazi occupation through visually stimulating primary sources taken from the War era; readers will be engaged as they discover authentic newspapers, broadcasts, propaganda, letters, and diary entries.
Persepolis / Satrapi, Marjane
"The intelligent and outspoken child of radical Marxists, and the great-grandaughter of Iran's last emperor, Satrapi bears witness to a childhood uniquely entwined with the history of her country. Persepolis paints an unforgettable portrait of daily life in Iran and of the bewildering contradictions between home life and public life. Amidst the tragedy, Marjane's child's eye view adds immediacy and humour, and her story of a childhood at once outrageous and ordinary, beset by the unthinkable and yet buffered by an extraordinary and loving family, is immensely moving. It is also very beautiful; Satrapi's drawings have the power of the very best woodcuts." (Adapted from Catalogue)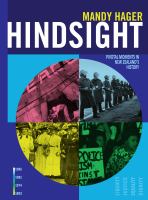 Hindsight : pivotal moments in New Zealand history / Hager, Mandy
Hindsight is a good look at four key moments in New Zealand history and how they affected our society as a nation.