Information overload is what we are trying to avoid, and by growing up with digital experiences, you are well on your way to interpreting the right information from the wrong or misleading.
Information literacy can be paired with Visual literacy skills. It is part of a process called Paratextual reading. Paratextual means accompanying the text with other forms of literacy, or texts. For instance, a mixed media approach to books could be aligning renditions of Pride and Prejudice and Zombies graphic novel with the original novel format.
Relatable Content
Paratextual reading is about utilising any known facet of literature, or media and comparing and analysing the information together. It is about relatable themes, pulling out the best bits of each work (whether a music video, podcast or book) and integrating that relatable content with the thing you're writing about now.
It's about relatable themes, pulling out the best bits of each work
An example is a book review about Jane Austen's Pride & Prejudice. Most of you know the story before, and in your book review or report you can relate the content of the book with the movie adaption featuring Kiera Knightley (2005) for instance. Or using the beloved BBC TV series adaptation featuring the extremely likeable Colin Firth as Mr. Darcy. Or in fact, you can cross-reference the adaptation Pride and Prejudice and Zombies book (all of these items are in the library FYI).
But what about visual literacy?
Yes, this too can be intertwined in information literacy skills. Mixed media approaches to understanding information are key to any scholarly report, or school subject. Being critical of graphic and illustrative examples of works is a great way to show breadth and depth of understanding. It also highlights the critical nature of understanding texts. Film critics rely heavily on these skills to understand the emotion of a film, its historical accuracy and the music which ties in the ultimate rendition of the text being portrayed. It can really make or break a film as to the message it is trying to convey through story-telling.
Visual literacy is about reading, with your senses – mostly your eyes, it is the visual clues within a text (be it video, book or game) that allows you to pick up on the right information and to interpret the results appropriately. It conveys the message of the text, and can be instrumental in ordering how you understand a text and how you use a text.
It is the visual clues within a text that allows you to pick up on the right information
This includes the colour of the book, its font, the illustrations used or not used, and the layout of the text – even across movies, these factors determine your understanding and comprehension. It allows us to be lulled into a false impression of the information it contains, by being advertised as wholesome or eye-catching. Some colours represent shock and awe, such as most military books, or lighter tones for cooking books. This breathes an intimacy of trust to a text and it helps you determine what is trustworthy information and where it is to be avoided.
Read (and watch) more
Test out your newfound visual and paratextual literacy skills today with the complete Pride and Prejudice Info Lit Bundle™ below:
Pride and prejudice / Austen, Jane
The OG classic in all its glory.
---
Pride & prejudice (2005)
Let your visual exploration of this text begin here. Keira Knightley and Matthew MacFadyen await!
---
Pride and prejudice (1995)
The famous BBC adaptation. Look Colin Firth in the eyes and tell him you aren't going to watch it. Can't do it? Yeah. We thought so.
---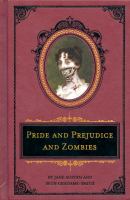 Pride and prejudice and zombies : the classic Regency romance — now with ultraviolent zombie mayhem / Grahame-Smith, Seth
I mean it pretty much does what it says on the tin.
---