If you're as excited about Tūhono, our new poetry journal for young Wellington writers, as we are, you'll have been working away furiously on your submission piece for weeks already. But we all need a bit of inspiration from time to time, so I asked the arcane sorcerers (and sorceresses) who stare into the metaphorical crystal ball of publisher summary releases and buy our books to choose some of their favourite poetry books from the YA collection for you to sink your claws into and extract whatever poetical life-force you need.
 Amen.
Some of these books come from the deepest, darkest depths of our collection warehouse — feel free to place a reserve, and our shelf-hopping minions will locate the book you crave and send it forth to whichever library location you choose. Some call it magic; we call it the Dewey Decimal System.
---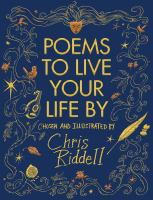 Poems to live your life by
In this gorgeous anthology, award-winning illustrator (and friend to libraries — yeah, we love this guy!) Chris Riddell has selected 46 poems to live your life by. Poems by both classic and modern poets sit alongside each other, including works from Shakespeare, Carol Anne Duffy, Neil Gaiman, Nick Cave, and W.B. Yeats. The poems are dividing into sections covering musings, youth, family, love, imagining, nature, war, and endings. A great place to start your poetic journey.
---
Poems to fall in love with / Riddell, Chris
Look, we admit it. We're suckers for a good old love poem, okay? And we're suckers for anything by Chris Riddell. This is, you guessed it, a whole anthology dedicated to LURRRVVVEEEE. Selected and edited by our boy Chris, this is another beautiful book that you won't want to return to the library any time soon! Featuring classic love poems alongside more modern offerings, this book is an inspiring and heart-warming celebration of love in all its forms. <3
---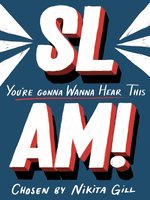 SLAM! You're Gonna Wanna Hear This, Nikita Gill (ebook)
If you're not familiar with slam poetry, um, get enlightened, folks. It's a form of performance poetry that combines elements of performance, writing, competition, and audience participation. In this eBook collection, Nikita Gill brings together a group of well-known and emerging poets from the spoken word scene who share their poetry and tips for creating awesome, inspiring, high energy slam poetry!
---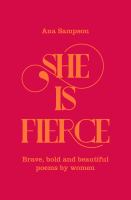 She is fierce : brave, bold and beautiful poems by women
This is a powerful collection of 150 poems written by women, that was published to celebrate the centenary of women's suffrage. A range of different voices are represented — suffragettes, schoolgirls, slam poets, mothers, kitchen maids, and activists. We couldn't recommend it more highly!
---
For everyone / Reynolds, Jason
This inspirational long-form poem was written and performed by Jason Reynolds as a tribute to Martin Luther King Jr. and Walter Dean Myers. Like the title says, though, it is for everyone — everyone who is a dreamer, who dreams of being more than they are, and wants to make their dreams come true. Sometimes your dreams take time to take shape. You just have to remember that sometimes, all it can take is a poem, a nod, a nothing to lose.
---
I thought I'd finish by sharing with you one of my favourite poems of all time, by the late, great Tom Leonard. Read it out loud — as all poetry should be read. Read it to someone you love. It just might change your life!
A Summer's Day

yir eyes ur
eh
a mean yir

pirrit this wey
ah thingk yir
byewtifl like ehm

fact
fact a thingk yir
ach a luvyi thahts

thahts
jist thi wey it is like
thahts ehm
aw ther iz ti say

(© Tom Leonard, 1996)