We understand it's been a dark time for many manga fans. The books you were able to borrow before our libraries closed are long finished, their covers growing thick with the dust of disappointment. Your days are growing heavy with the weight of unresolved cliffhangers. Thankfully, our eLibrary is absolutely stuffed full of manga series to keep you going until you can get your hands on printed material once again. Below are some of our faves, but be sure to check out the Comics, Graphic Novels, and Manga section on OverDrive/Libby for more gold.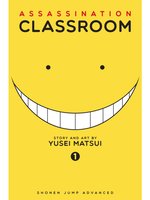 Assassination Classroom, Volume 1, Yusei Matsui (ebook)
Volumes 1 – 5 available on OverDrive.
One of the most popular manga series currently publishing outside Japan, in Assassination Classroom we join Nagisa, Sugino, Karma, Okuda, and the other would-be assassins of Class 3E as they navigate life, death, and education under their moon-killing, pseudo-octopoid, super-organism teacher, Koro-sensei. Sound weird? Well, strap in. This is shōnen sci-fi manga at its best we're talking about here — pretty much anything goes.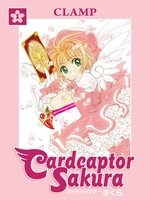 Cardcaptor Sakura Omnibus, Volume 1, CLAMP (ebook)
Omnibus Volumes 1 and 2 available on OverDrive.
I love Cardcaptor Sakura unreservedly, and once you read it, you will too — and not just for its super awesome anime adaptation that aired in the late '90s. This series has everything you're looking for in a shōjo 'magical girl' manga — namely, an awesomely strong and compellingly-rendered magical girl to lead the cast, vicious beasts to fight, mythological dreamscapes to explore, complex characters that grow into their roles, and of course it can all be pulled together into a largely unknown trading card game from the year 2001 that I wish I owned. Some day, some day.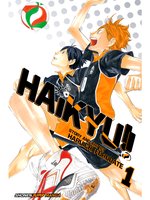 Haikyu!!, Volume 1, Haruichi Furudate (ebook)
Volumes 1 – 8 available on OverDrive.
Okay, I admit it. I was skeptical about Haikyu!! at first. I mean, I'm not really one for the whole sportsball thing, so a manga about one boy's drive to become the greatest volleyball player in Japan didn't really sound like my cup of tea. With that out of the way, if you read one thing from this list, read this. The characters are expertly-drawn, both in terms of line and in terms of personality. The whole gamut of human experience is explored and poignantly rendered: hubris, ambition, disappointment, determination, loss, commitment, betrayal, hurt, unity — but ultimately it is this series' big-heartedness that will win you over. Do yourself a favour and read it now.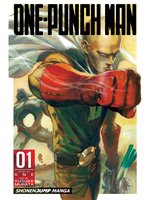 One-Punch Man, Volume 1, ONE (ebook)
Volumes 1 – 5 available on OverDrive.
I still remember the first time my friend showed me the One-Punch Man webcomic. Even then, in the summer of 2010, it seemed legendary, destined for greater things. And so it was — the manga remake is full of the charm, the absurdity, the inexplicable baldness, and the manic, supercharged energy of the original webcomic, but distilled, whisked, blended, and baked into the extended manga form. It's a superhero story like no other, and we couldn't recommend it more highly.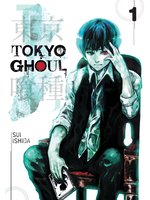 Tokyo Ghoul, Volume 1, Sui Ishida (ebook)
Volumes 1 – 8 available on OverDrive.
Sui Ishida's Tokyo Ghoul may just be one of the greatest tales in contemporary fantasy. The premise is simple — in the shadow of our regular human world there dwell mysterious, powerful, and cannibalistic demi-humans known as ghouls, kept at bay by the powerful but shadowy government-controlled CCG (Commission of Counter Ghoul), who will go to any length to exterminate ghouls from the face of the planet. The morals of each party? Grey. The storytelling? Immersive, dark, and intense. The characters? Deeply human and beautifully flawed, with motivations that gradually unwind as we get to know them. The result? A series you must read. Not for the faint of heart.
This is just the barest sliver of excellent manga you can find on OverDrive and Libby. If we don't have what you're after, you can always use the handy-dandy 'Recommend to Library' tool to suggest we purchase what you're after. At the moment you can only recommend one title every 30 days, to make sure our librarians aren't overwhelmed, so choose wisely!