So, school is still a thing? Right?! I'm betting it is pretty hard to do school stuff from home as well as be around your family/bubble crew all day, as well as deal with what's going on in the world. Lots of stuff happening, we can all agree. As I'm sure you know your teachers are doing everything they can in these hard times to keep your education ticking so be sure to say a massive thank you to the teachers in your life whenever you get a chance!
I thought I would put together a list of resources for anyone who is a CLASSICS student and is studying The Big Three.
…Zeus, Poseidon and Hades, you ask?… (remembering the good 'ol days of Percy Jackson)
No. The Odyssey, The Iliad and The Aeneid. These are three really common texts for senior High School Classics students to come across. If you're doing something else at school -I'm sorry!- I'll include some general resources in the bottom of this post.
Note: just like Shakespeare there are lots of different versions of ancient texts, with different page numbers, line numbers and even order of events. If you remember that a lot of these works are actually works of epic poetry it makes sense that depending on interpretation there might be quite different methods of presentation.  Remembering that some of it is poetry helps with reading it too, stick to the beat and rhyme rather than getting caught up in all the particulars and then later on go back and look up individual words you need to.
So: Check with your teacher what version of the text you are meant to be using!!!
Also: Heads up! Lots of ancient texts contain stories and imagery of violence and sexual violence, so look after yourself and check ratings of stuff (or avoid it completely if you need, talk to your teacher) if you are watching film versions.
---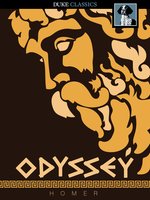 Mini bio: Odysseus, after fighting in the Trojan War, tries to return back home to Ithaca and his wife Penelope, but because a lot of weird stuff happens to him, it takes ten years…you heard that right: ten years! 
This is a foundational example of a heroes quest.         
Odysseus is repeatedly shown to have the traits of Ancient Greek heroism through the ways that he defeats and overcomes the trials/tasks of his journey.
This story has been incredibly influential on storytelling since and is considered a fundamental text in our understanding of the time and ideas around manhood, heroism and what a quest is. In the end this is ultimately an adventure romp with villains, monsters, hot women with ulterior motives and a fair bit of magic.
In the context of this time and story, Odysseus' decisions (somehow including the seven year fling) are meant to show that he is ultimately faithful to his his wife and overcomes temptation. I know, I know…MASSIVE double standards for men and women around sex and marriage… but back then they thought he did good!
---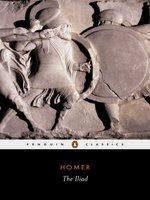 Wee bit back in time from The Odyssey. Essentially a prequel to it with overlapping characters but different leads. Takes place during the Trojan War.
Mini bio: This book is set in the final weeks of the Trojan War, which if you think about it it a pretty interesting plot device, to start at the end of something. Lots of previous events are spoken of and implied but not shown. Essentially the Greeks are surrounding Troy because Paris, a prince of Troy took Menelaus, the King of Sparta's wife Helen back with him from Greece to Troy. She is 'the most beautiful woman in the world blah blah blah.' Spoiler: the Greek side wins because of the horse, you know the rest. It's in pop culture big time.
Featuring famous characters like: our old friend Odysseus, Achilles, Hector, Paris, Helen, many other mortals and a whole bunch of gods such as Zeus, Hera, Athena, Aphrodite…
If you want to see a film version of this with some seriously famous leads watch 2004's TROY. Not a substitute for reading the text, the plot varies a bit, but a pretty fun movie.
---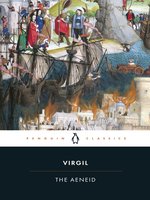 While the other two are GREEK stories this one is ROMAN. This story is written to detail the story of the founding of Rome. So basically when the Greeks storm Troy via a very crafty wooden horse, most of the Trojans are killed but Aeneas gets together a group of survivors who escape and sail out of Troy go on an adventure and eventually make it to Italy where he founds Rome. Dido, who is the Queen of Carthage falls in love with Aeneas for a period, eventually the gods remind him of his destiny and he leaves her to continue on his journey to Italy.
Importantly this story has as much to do with the Roman politician and ruler at the time, AUGUSTUS, as it does the foundation of Rome. There are constantly parallels made between Augustus and Aeneas and the Roman political state of the time this text was being written. It can be understood as political propaganda in this way, a statement and praise of Virgil's political moment in time. This said, Virgil's motives and ideas are not that straightforward and he also uses this text to comment negatively on the politics of his time, it's a double whammy.
---
In summary
Episode one: The Iliad, The Greek armies win the war against Troy with a wooden horse. Lots of other stuff happens.
Episode two: The Odyssey, Odysseus takes a really ridiculously long amount of time to get home after fighting in the Trojan War. He does get home eventually. Lots of stuff happens.
Episode three (takes place at the same time as The Odyssey, kind of in a wiggly ancient history way, well at least starts after the Trojan War like The Odyssey): The Aeneid, Aeneas takes a really ridiculously long time to get to Italy and found Rome after he escapes from Troy after the Trojan War. Lots of other stuff happens.
If you want to learn things and read something entertaining check out Stephen Fry's Mythos and Heroes! For something less serious, Courtney Carbone's Greek Gods (#squadgoals) really hits the spot.