You bring the distant near, Mitali Perkins
Five girls. Three generations. One great American love story. You Bring the Distant Near explores sisterhood, first loves, friendship, and the inheritance of culture–for better or worse. Ranee, worried that her children are losing their Indian culture; Sonia, wrapped up in a forbidden biracial love affair; Tara, seeking the limelight to hide her true self; Shanti, desperately trying to make peace in the family; Anna, fighting to preserve her Bengali identity–award-winning author Mitali Perkins weaves together a sweeping story of five women at once intimately relatable and yet entirely new. (Goodreads)
First lines: The swimmers have finished their races and are basking in the sun. It's almost time for the beginners' event. Tara kneels at the shallow edge, giving her little sister last-minute instructions. Floating inside her ring, Sonia pretends to listen. Their mother stands alone by the deep end, sari-clad under the red monsoon umbrella she carries as a portable shade from the West African sun.
In other lands, Sarah Rees Brennan
The Borderlands aren't like anywhere else. There are elves, harpies, and — best of all as far as Elliot is concerned — mermaids. Elliot is thirteen years old. He's smart and just a tiny bit obnoxious. Sometimes more than a tiny bit. When his class goes on a field trip and he can see a wall that no one else can see, he is given the chance to go to school in the Borderlands. It turns out that on the other side of the wall, classes involve a lot more weaponry and fitness training and fewer mermaids than he expected. On the other hand, there's Serene-Heart-in-the-Chaos-of-Battle, an elven warrior who is more beautiful than anyone Elliot has ever seen, and then there's her human friend Luke: sunny, blond, and annoyingly likeable. There's the chance Elliot might be able to change the world. In Other Lands is the exhilarating book about surviving four years in the most unusual of schools, about friendship, falling in love, diplomacy, and finding your own place in the world — even if it means giving up your phone. (Publisher information)
First lines: So far magic school was total rubbish. Elliot sat on the fence bisecting two fields and brooded tragically over his wrongs. He had been plucked from geography class, one of his most interesting classes, to take some kind of scholarship test out in the wild. Elliot and three other kids from his class had been picked into a van by their harassed-looking French teacher and driven outside the city. Elliot objected because after an hour in a moving vehicle he would be violently sick. The other kids objected because after an hour in a moving vehicle they'd be violently sick of Elliot.
The day the angels fell, Shawn Smucker
It was the summer of storms and strays and strangers. The summer that lightning struck the big oak tree in the front yard. The summer his mother died in a tragic accident. As he recalls the tumultuous events that launched a surprising journey, Samuel can still hardly believe it all happened.
After his mother's death, twelve-year-old Samuel Chambers would do anything to turn back time. Prompted by three strange carnival fortune-tellers and the surfacing of his mysterious and reclusive neighbor, Samuel begins his search for the Tree of Life–the only thing that could possibly bring his mother back. His quest to defeat death entangles him and his best friend Abra in an ancient conflict and forces Samuel to grapple with an unwelcome question: could it be possible that death is a gift? (Goodreads)
First lines: I am old now. I still live on the same farm where I grew up, the same farm where my mother's accident took place, the same farm that burned for days after the angels fell. My father rebuilt the farm after the fire, and it was foreign to me then, a new house trying to fill an old space. The trees he planted were all fragile and small, and the inside of the barns smelled like new wood and fresh paint. I think he was glad to start over, considering everything that summer was taken from us.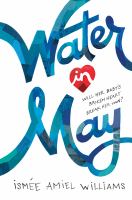 Water in May, Ismée Williams
Fifteen-year-old Mari Pujols believes that the baby she's carrying will finally mean she'll have a family member who will love her deeply and won't ever leave her—not like her mama, who took off when she was eight; or her papi, who's in jail; or her abuela, who wants as little to do with her as possible. But when doctors discover a potentially fatal heart defect in the fetus, Mari faces choices she never could have imagined. Surrounded by her loyal girl crew, her off-and-on boyfriend, and a dedicated doctor, Mari navigates a decision that could emotionally cripple the bravest of women. But both Mari and the broken-hearted baby inside her are fighters; and it doesn't take long to discover that this sick baby has the strength to heal an entire family. (Goodreads)
First lines: "His name ain't Dr. Lobe. Coño. You're messing with me, right?"
Yaz smacks me in the shoulder. She's doubled over, fingers clamping her mouth shut. Her purple silver-studded nails press dimples into her cheek. She's trying not to laugh.
"What?" I ask her. My cell slips as I shrug my shoulders. "They expect me to believe this guy's name is Cr. Love? A heart doctor? How stupid do they think I am?"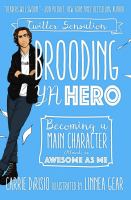 Brooding YA hero, Carrie Diriso, illustrated by Linnea Gear
Have you ever wished you could receive a little guidance from your favorite book boyfriend? Ever dreamed of being the Chosen One in a YA novel? Want to know all the secrets of surviving the dreaded plot twist? Or maybe you're just really confused about what "opal-tinted, luminous cerulean orbs" actually are?
Well, popular Twitter personality @broodingYAhero is here to help as he tackles the final frontier in his media dominance: writing a book. Join Broody McHottiepants as he attempts to pen Brooding YA Hero: Becoming a Main Character (Almost) as Awesome as Me, a "self-help" guide (with activities–you always need activities) that lovingly pokes fun at the YA tropes that we roll our eyes at, but secretly love. As his nefarious ex, Blondie DeMeani, attempts to thwart him at every turn, Broody overcomes to detail, among other topics, how to choose your genre, how to keep your love interest engaged (while maintaining lead character status), his secret formula for guaranteed love triangle success, and how to make sure you secure that sequel, all while keeping his hair perfectly coiffed and never breaking a sweat. (Goodreads)
First lines: Alone in his room, Broody McHottiepants contemplated his future. He was the best of all fictional characters ever created- that he knew. His phone never stopped ringing (playing his theme song, from his latest hit movie adaptation, of course) with Authors begging him to star in their latest novels. An endlessly talented man, he'd been everything from a vampire to a quarterback. Into each novel he brought his incredibly adjective-filled beauty; his gemstone-coloured gaze; his strong, strong arms; and his potent blend of wish fulfillment and slightly toxic masculinity.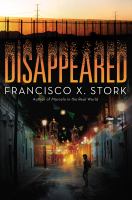 Disappeared, Francisco X. Stork
Four months ago: Sara Zapata's best friend disappeared, kidnapped by the web of criminals who terrorize Juàrez.
Four weeks ago: Her brother, Emiliano, fell in love with Perla Rubi, a girl whose family is as rich as her name.
Four hours ago: Sara received a death threat…and her first clue her friend's location.
Four minutes ago: Emiliano was offered a way into Perla Rubi's world—if he betrays his own.
In the next four days, Sara and Emiliano will each face impossible choices, between life and justice, friends and family, truth and love. But when the criminals come after Sara, only one path remains for both the siblings: the way across the desert to the United States. (Goodreads)
First lines: On the morning of November 14, the day she was kidnapped, Linda Fuentes opened the door to my house and walked into the kitchen, where my family was having breakfast. As usual, I wasn't ready. Linda and I had an ongoing argument: She said I was always late, and I said she got to my house early to bask in the adoration of my younger brother, Emiliano.
All about Mia, Lisa Williamson
One family, three sisters. GRACE, the oldest: straight-A student. AUDREY, the youngest: future Olympic swimming champion. And MIA, the mess in the middle.
Mia is wild and daring, great with hair and selfies, and the undisputed leader of her friends – not attributes appreciated by her parents or teachers.
When Grace makes a shock announcement, Mia hopes that her now-not-so-perfect sister will get into the trouble she deserves. But instead, it is Mia whose life spirals out of control – boozing, boys and bad behaviour – and she starts to realise that her attempts to make it All About Mia might put at risk the very things she loves the most. (Goodreads)
First lines: Everyone in Rushton knows the Campbell-Richardson sisters. Grace is the oldest and destined for a first from Cambridge. Signature scent: grapefruit shampoo, secondhand books, and perfection. Audrey is the youngest and destined for the Olympics. Signature scent: chlorine, Lucozade Sport, and discipline. Then there's me, Mia. I'm in the middle. I have no idea what my destiny is. Signature scent: coconut oil, Haribo, and TROUBLE.
The hollow girl, Hillary Monahan
Bethan is the apprentice to a green healer named Drina in a clan of Welsh Romanies. Her life is happy and ordered and modest, as required by Roma custom, except for one thing: Silas, the son of the chieftain, has been secretly harassing her. One night, Silas and his friends brutally assault Bethan and a half-Roma friend, Martyn. As empty and hopeless as she feels from the attack, she asks Drina to bring Martyn back from death's door. "There is always a price for this kind of magic," Drina warns. The way to save him is gruesome. Bethan must collect grisly pieces to fuel the spell: an ear, some hair, an eye, a nose, and fingers. She gives the boys who assaulted her a chance to come forward and apologize. And when they don't, she knows exactly where to collect her ingredients to save Martyn. (Goodreads)
First lines: My chin rested in my palm. My eyelids were heavy. Gran's arm darted out, her liver-spotted hand whacking in the inside of my elbow to knock it off the table. It pulled me out of my stupor, but almost cost me my teeth.
"I am not saying this twice." She reached for a cluster of herbs hanging from a hook in the ceiling and snapped off two sprigs of green with dusky-purple flowers. "Dwayberry."
"Nightshade," I said, fairly certain I had it right.
The grave keepers, Elizabeth Byrne
Lately, Athena Windham has been spending all her spare time in her grave. Her parents—owners of a cemetery in Upstate New York—are proud of her devoutness, but her younger sister, Laurel, would rather spend her time exploring the forest that surrounds the Windham's' property than in her own grave. The Windham girls lead secluded lives—their older sister died in a tragic accident and their parents' protectiveness has made the family semi-infamous. As the new school year begins, the outside world comes creeping in through encounters with mean girls, a new friend, and a runaway boy hiding out in the cemetery. Meanwhile, a ghost hangs around the Windham property—the only grave keeper never to cross over—plotting how to keep the sisters close to home and close to her…forever. (Goodreads)
First lines: You should know that I died a long time ago, and that I was young when I died. But that doesn't matter much to me anymore. I've been in the Catskills far longer than Rip Van Winkle. I've seen a town flooded for a reservoir. I've watched beetles chew leaves all the summer until the mountain's scalp showed. I've seen people step out of second-storey windows in snowshoes and walk down the middle of Main Street; I've found a lost child hours before the authorities and waited with him until the first ranger arrived.
It's not like it's a secret, Misa Sugiura
Sixteen-year-old Sana Kiyohara has too many secrets. Some are small, like how it bothers her when her friends don't invite her to parties. Some are big, like that fact that her father may be having an affair. And then there's the one that she can barely even admit to herself — the one about how she might have a crush on her best friend. When Sana and her family move to California she begins to wonder if it's finally time for some honesty, especially after she meets Jamie Ramirez. Jamie is beautiful and smart and unlike anyone Sana's ever known. There are just a few problems: Sana's new friends don't trust Jamie's crowd; Jamie's friends clearly don't want her around anyway; and a sweet guy named Caleb seems to have more-than-friendly feelings for her. Meanwhile, her dad's affair is becoming too obvious to ignore anymore. Sana always figured that the hardest thing would be to tell people that she wants to date a girl, but as she quickly learns, telling the truth is easy … what comes after it, though, is a whole lot more complicated. (Publisher information)
First lines: "Sana, chotto…hanashi ga arun-ya kedo."
Uh-oh.
Something big was about to go down.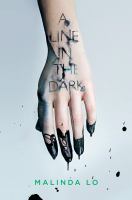 A line in the dark, Malinda Lo
Jess Wong is Angie Redmond's best friend. And that's the most important thing, even if Angie can't see how Jess truly feels. Being the girl no one quite notices is OK with Jess anyway. While nobody notices her, she's free to watch everyone else. But when Angie begins to fall for Margot Adams, a girl from the nearby boarding school, Jess can see it coming a mile away. Suddenly her powers of observation are more curse than gift. As Angie drags Jess further into Margot's circle, Jess discovers more than her friend's growing crush. Secrets and cruelty lie just beneath the carefree surface of this world of wealth and privilege, and when they come out, Jess knows Angie won't be able to handle the consequences. When the inevitable darkness finally descends, Angie will need her best friend. (Goodreads)
First lines: The air conditioner at the creamery is going full blast but it doesn't make much of a dent in the sticky heat. Every time Angie opens the freezer case to scoop another cone I want to duck my head inside to cool off. She's been opening the case a lot today. It's the first Friday after Labour Day, and the shop is full of students from West Bedford High. When Angie has a break between customers, she glances at me, where I'm sitting on a stool on the corner. There's a little counter back there where I've propped up my history textbook, pretending to study.
We are okay, Nina La Cour
Marin hasn't spoken to anyone from her old life since the day she left everything behind. No one knows the truth about those final weeks. Not even her best friend, Mabel. But even thousands of miles away from the California coast, at college in New York, Marin still feels the pull of the life and tragedy she's tried to outrun. Now, months later, alone in an emptied dorm for winter break, Marin waits. Mabel is coming to visit, and Marin will be forced to face everything that's been left unsaid and finally confront the loneliness that has made a home in her heart. (Goodreads)
First lines: Before Hannah left, she asked if I was sure I'd be okay. She had already waited an hour past when the doors were closed for winter break, until everyone but the custodians were gone. She had folded a load of laundry, written an email, searched her massive psychology textbook for answers to the final exam questions to see if she had gotten them right. She had run out of ways to fill time, so when I said, "Ye, I'll be fine," she had nothing left to do but believe me.
Now is everything, Amy Giles
The McCauleys look perfect on the outside. But nothing is ever as it seems, and this family is hiding a dark secret. Hadley McCauley will do anything to keep her sister safe from their father. But when Hadley's forbidden relationship with Charlie Simmons deepens, the violence at home escalates, culminating in an explosive accident that will leave everyone changed. When Hadley attempts to take her own life at the hospital post-accident, her friends, doctors, family, and the investigator on the case want to know why. Only Hadley knows what really happened that day, and she's not talking. (Goodreads)
First lines: Emergency first responders scramble up and down the hill around me like ants, trying to see what can be salvaged. We're on different frequencies. Theirs is manic and frenzied, searching for life, while I watch without seeing. What I escaped below eclipses everything. Blank eyes. A blood-soaked Cornell sweatshirt. Necks bent unnaturally. Angry fists of heat pounding at my back as I crawled away from the wreckage.
Devils and thieves, Jennifer Rush
In Jemmie Carmichael's Hawthorne, New York, magic users are called "kindled," and Jemmie would count herself among them if only she could cast a simple spell without completely falling apart. And she's been snubbed by Crowe, the dangerous and enigmatic leader of the Black Devils kindled motorcycle gang and the unofficial head of their turf. During an annual festival, a rumor begins spreading that someone is practicing forbidden magic. Then people start to go missing. Jemmie and Crowe will have to put aside their tumultuous history to find their loved ones. And the only thing that might save them is the very flaw that keeps Jemmie from fully harnessing her magic. (Publisher summary)
First lines: I hated the mall. I hated the smell of fast, cheap food. I hated the windowless walls, the cavernous space that makes me feel trapped. Most of all, I hated the echoing cacophony of a thousand voices. There was already enough noise in my own head.
"Jemmie?" Alex called. "What do you think?" She spun around in the tenth dress she'd on in the past hour.
Alone, Cyn Balog
When her mom inherits an old, crumbling mansion, Seda's almost excited to spend the summer there. The grounds are beautiful and it's fun to explore the sprawling house with its creepy rooms and secret passages. Except now her mom wants to renovate, rather than sell the estate—which means they're not going back to the city…or Seda's friends and school. As the days grow shorter, Seda is filled with dread. They're about to be cut off from the outside world, and she's not sure she can handle the solitude or the darkness it brings out in her.Then a group of teens get stranded near the mansion during a blizzard. Seda has no choice but to offer them shelter, even though she knows danger lurks in the dilapidated mansion—and in herself. And as the snow continues to fall, what Seda fears most is about to become her reality…
First lines: Sometimes I dream I am drowning.
Sometimes I dream of bloated faces, bobbing on the surface of misty waters.
And then I wake up, often screaming, heart racing, hands clenching fistfuls of my sheets.