We are happy to see that five copies of Glass Sword by Victoria Aveyard have just arrived in a pallet load of books from the United States, with three more coming soon, so good news for fans of Red Queen! Calamity by Brandon Sanderson arrived yesterday-ish also, yay.
Today we're highlighting a batch of new realistic fiction we've ordered for the Overdrive eBook collection.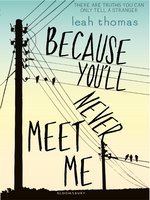 Because You'll Never Meet Me, Leah Thomas. "Ollie and Moritz are two teenagers who will never meet. Each of them lives with a life-affecting illness. Contact with electricity sends Ollie into debilitating seizures, while Moritz has a heart defect and is kept alive by an electronic pacemaker. If they did meet, Ollie would seize, but turning off the pacemaker would kill Moritz. Through an exchange of letters, the two boys develop a strong bond of friendship which becomes a lifeline during dark times—until Moritz reveals that he holds the key to their shared, sinister past, and has been keeping it from Ollie all along." (Overdrive catalogue)
Nowhere But Here, Katie McGarry. "Seventeen-year-old Emily likes her life the way it is: doting parents, good friends, good school in a safe neighborhood. Sure, she's curious about her biological father—the one who chose life in a motorcycle club, the Reign of Terror, over being a parent—but that doesn't mean she wants to be a part of his world. But when a reluctant visit turns to an extended summer vacation among relatives she never knew she had, one thing becomes clear: nothing is what it seems. Not the club, not her secret-keeping father and not Oz, a guy with suck-me-in blue eyes who can help her understand them both. Oz wants one thing: to join the Reign of Terror. They're the good guys. They protect people. They're… family. And while Emily—the gorgeous and sheltered daughter of the club's most respected member—is in town, he's gonna prove it to her. So when her father asks him to keep her safe from a rival club with a score to settle, Oz knows it's his shot at his dream. What he doesn't count on is that Emily just might turn that dream upside down. No one wants them to be together. But sometimes the right person is the one you least expect, and the road you fear the most is the one that leads you home." (Overdrive catalogue)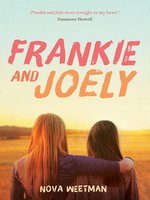 Frankie and Joely, Nova Weetman. "Frankie and Joely are best friends. They love each other like no one else can. It's summer and, together, the girls are escaping the city and their mums for a week of freedom in the country. But when Joely introduces Frankie to her country cousins, Thommo and Mack, it soon becomes clear that something other than the heat is getting under their skin. As the temperature rises, local boy Rory stirs things up even more and secrets start to blister. Will they still be 'Frankie and Joely' by the end of their holiday?" (Overdrive catalogue)
Overdrive eBooks are free to borrow and reserve, and are issued for three weeks. There are no overdue fees associated with them either, so they're great for mildly disorganised people.