John Corey Whaley is my absolute favourite contemporary YA author at the moment. I was in awe of his first novel Where Things Come Back (if you frequent this blog, you may have noticed me raving about its awesomeness before) and I just finished reading his second novel, Noggin.
JCW (as I like to call him for short) has this amazing way of writing situations that so many people would completely relate to, yet he never sounds like he is merely churning out a thinly veiled trope or cliche. Every situation he puts his characters in feels like it could only happen to them, and we're privileged to get a small glimpse into their lives.
His first novel Where Things Come Back won the Printz Award in 2012 – this is a huge honour! The Printz Award is an American Library Association literary award that annually recognizes the "best book written for teens, based entirely on its literary merit". So basically, they thought it was the best YA book written that year of ALL the YA books. All of them. That's a lot. It also means it's a slightly more "literary" book, but don't let that put you off! As a first novel it's pretty ambitious – it follows Cullen Witter, a 17 year old boy living in a small town in Arkansas during the summer before his senior year. All kinds of strange things begin to happen, starting with the sighting of a rare Lazarus woodpecker that has been extinct for more than 60 years. The townspeople become obsessed with the bird, and the whole town turns into a woodpecker carnival, celebrating it with haircuts, burgers, and anything else you can think of. Amid the strange carnival atmosphere, Cullen's contemplative and sensitive younger brother Gabriel suddenly disappears.
In alternating chapters the novel also follows the tale of a young missionary in Africa who is questioning his faith after things fail to turn out as he had prepared for. He begins to search for meaning anywhere he can find it, grasping onto the last strands of hope and familiarity of his former life. Meanwhile, Cullen and his family are distraught and drift aimlessly through the sudden loss of Gabriel. While the two stories at first seem very distant, they eventually entwine with one another, leading to the shocking climax (which I had to read three times to believe).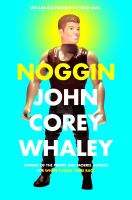 His second novel, Noggin, is very different. Get this – and don't let me lose you too quickly – Travis Coates used to be dead. Now he's not. But this is not exactly a sci-fi novel. Travis's old body was riddled with cancer, so they chopped his head off and cryogenically froze it so that maybe at some point in the distant future it could be reattached to someone else's body. The scientists told his parents that if they were lucky they might get to see Travis again before they died. But science moved much faster than expected and just five years after his first death, Travis, with the aid of Jeremy Pratt's body, is ready to give life a second try. The problem is things have changed but Travis hasn't. His best friend Kyle and girlfriend – well ex-girlfriend, kind of? – Cate are both 21 now and it's difficult for Travis to accept that five years passed during what he felt was a short nap.
Travis has to figure out how to handle that the love of his life is suddenly engaged to somebody else, and how to face the unwanted attention he's receiving from all over the world on account of him being the latest scientific miracle. There's only one other person in the world who has any idea what Travis is going through. Lawrence, who was reanimated six months earlier than Travis, is the only one who can assure him yes, this IS all very weird.
Despite the bizarre premise, Noggin is probably the more accessible of JCW's two books but I highly, highly recommend both. You can also follow John Corey Whaley on Twitter under @corey_whaley and the same on Instagram. If you've read or are planning to read either of these books, let me know what you think in the comments!