so claims a song by CSS (they're pretty rad).
For some people, music is what keeps them going. It can be an essential part of coping and survival and can help people in ways even they can't understand. It could be the melody, an intense beat or the maybe lyrics blasting through your headphones which make you think the song was written just for you. For whatever reason, music makes us feel things both good and bad. For some characters in the books below, music is what keeps them going through some especially difficult times.
Eleanor & Park, Rainbow Rowell
"Set over the course of one school year, this is the story of two star-crossed sixteen-year-olds—smart enough to know that first love almost never lasts, but brave and desperate enough to try." (goodreads.com)
Eleanor has a pretty difficult home life, and Park enables and encourages her obsession with music. It helps her get through some pretty traumatic times and the 80s tunes Eleanor connects with relate just so to her life and surroundings. AND Rainbow Rowell herself published some playlists on her blog that inspired and represent each of the main characters, so you could listen to those while you read this amaaaazing book and truly immerse yourself in the experience! Just a suggestion. (You can find the playlists here at Rainbow Rowell's blog)
P.S. We also have this as a book on cd!
Nick & Norah's Infinite Playlist, Rachel Cohn & David Levithan
"It all starts when Nick asks Norah to be his girlfriend for five minutes. He only needs five minutes to avoid his ex-girlfriend, who's just walked in to his band's show. With a new guy. And then, with one kiss, Nick and Norah are off on an adventure set against the backdrop of New York City—and smack in the middle of all the joy, anxiety, confusion, and excitement of a first date." (goodreads.com)
Nick and Norah's first connection is formed via the playlists Nick makes for his then-girlfriend Tris, who is also Norah's friend. Tris couldn't care less about the thought and effort put into these playlists for her, but Norah feels a connection to the person who compiled them and… well you'll see when you read it 🙂 We also have the dvd, which is just 80c to issue using your YA library card!
The Perks of Being a Wallflower, Stephen Chbosky
"Charlie is attempting to navigate his way through uncharted territory: the world of first dates and mix tapes, family dramas and new friends; the world of sex, drugs, and The Rocky Horror Picture Show, when all one requires is that perfect song on that perfect drive to feel infinite. But he can't stay on the sideline forever. Standing on the fringes of life offers a unique perspective. But there comes a time to see what it looks like from the dance floor." (goodreads.com)
We have the movie version of this too! These music books sure lend themselves well to film adaptations, huh?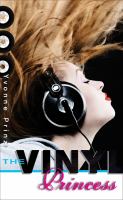 The Vinyl Princess, Yvonne Prinz
"Allie, a sixteen-year-old who is obsessed with LPs, works at the used record store on Telegraph Ave. and deals with crushes–her own and her mother's–her increasingly popular blog and zine, and generally grows up over the course of one summer in her hometown of Berkeley, California." (WCL catalogue)
The Vinyl Princess covers a bunch of niche areas – LP collecting, zine-making, blogging (although these are all becoming pretty ubiquitous) – so if you relate to any of these pasttimes, this may just be the book for you!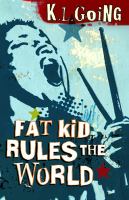 Fat Kid Rules the World, K. L. Going
Troy Billings is seventeen, 296 pounds, friendless, utterly miserable, and about to step off a New York subway platform in front of an oncoming train. Until he meets Curt MacCrae, an emaciated, semi-homeless, high school dropout guitar genius. Soon, Curt has recruited Troy as his new drummer, even though Troy can't play the drums. Together, Curt and Troy will change the world of punk, and Troy's own life, forever. (edited from goodreads.com)
Fat Kid Rules The World achieves something great in the way music, and particularly the energy of drumming is described. It could so easily fall flat, but Going really captures the energy and essence of a punk drummer.
Chopsticks, Jessica Anthony & Rodrigo Corral
This one looks like it'll all be sunshine and happiness, but don't be fooled: "In a love story told in photographs and drawings, Glory, a brilliant piano prodigy, is drawn to Frank, an artistic new boy, and the farther she falls, the deeper she spirals into madness until the only song she is able to play is 'Chopsticks.'" So it's kind of a graphic novel – there's something for everybody!
We hope you've enjoyed NZ Music Month 2014, maybe came to one (or more!) of our library music events and we look forward to doing it all over again next year! If there were any highlights of NZMM that you'd like to tell us about, please do so in the comments! I'll be back to regular scheduled posting next week – who's excited for TFIOS? 😉