Do you use Goodreads? It's a great way to keep track of what books you've read as well as what you would like to read in the future. You can give books ratings and write reviews, as well as follow the reviews and blog posts of your favourite authors.
So many books pass by my gleaming, book-loving eyes every day that it's impossible to read them all. But I keep a to-read list on Goodreads so that perhaps one day I can try. Here are some I'm particularly curious about but haven't gotten around to reading yet: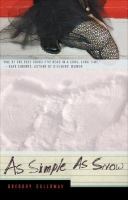 As Simple As Snow, Gregory Galloway
I originally wanted to read this because it was recommended by John Green, whether it was via his Youtube channel, his blog, or somewhere else entirely I just can't remember. It's about the narrator and his girlfriend Anna who is full of energy and enthusiasm. She's complicated and interesting and fun, and all of sudden, a week before Valentines Day, she disappears. A dress placed beside a hole in the frozen river is the only clue to what may have happened. Mysterious!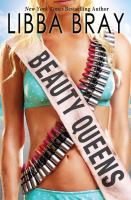 Beauty Queens, Libba Bray
When I first saw this one I wasn't immediately drawn towards it. That was until I read another of Libba Bray's books (A Great and Terrible Beauty) and discovered how fantastic it was, after which I very much wanted to read Beauty Queens as well. As for the story, fifty contestants from the Miss Teen Dream pageant are stranded on an island together after their plane crashed on the way to the pageant. Do they continue to practice for the talent portion of the contest, or just try and survive the island?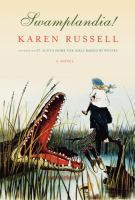 Swamplandia, Karen Russell
I have read a couple of Karen Russell's short stories before, including the one this novel is based on. They are both wonderful and whimsical and a wee bit creepy. Swamplandia! is about Ava, a resourceful but terrified twelve-year-old who is tasked with single-handedly caring for the seventy 'gators of her family's declining alligator wrestling dynasty. A more sophisticated competitor known as the World of Darkness is encroaching on the land and business of Swamplandia and it's a lot for young Ava to handle. Not to mention her mother has just died, her father is AWOL, her sister is having an affair with a ghost and her brother has defected to the World of Darkness to try and save their own family business. To save her family, Ava must embark on a harrowing and perilous journey to the part of the swamp known as the Underworld and make it back in one piece.
Brooklyn Burning, Steve Brezenoff
When you're sixteen and no one understands you, sometimes you just have to run. This is what Kid does, and ends up in the streets of Greenpoint, Brooklyn. These streets provide the background for Kid to fall hopelessly in love and then nearly lose it all. This is the tale of two summers of fires, music, loss and love in Brooklyn.
The thing that stood out to me about this book is that you are never told the gender of the protagonist. It's left fluid, which allows anyone to fit themselves into the protagonist's proverbial shoes.
The Clockwork Scarab, Colleen Gleason
Evaline Stoker and Mina Holmes are the sister and niece, respectively, of Bram Stoker and Sherlock Holmes, so vampire hunting and mystery solving is in their blood, like it or not. When two society girls go missing, who better to investigate than this team of two? The only clue to solving the mystery is a strange Egyptian scarab. The stakes are high – if Evaline and Mina can't figure out why the belles of London are in grave danger, they're next.
I love the concept of extending known and classic stories into new territories, so I have high expectations for this one!
My Fat, Mad Teenage Diary, Rae Earl
This one caught my attention when I began watching the show My Mad Fat Diary, which I hadn't realised was based on a book, specifically this one by Rae Earl. Sharon Rooney does an amazing job at portraying Rae in the TV show and I'm intrigued to see what the writing is like and compare and contrast the differences to the show. A main divergence is that the show is set in the mid-90s, whereas the book is set in the mid-80s. This makes quite a difference to the feel of the story, as Rae is very reliant on music as a coping mechanism for her depression. Rae is a strong, sassy and very relatable teenage girl dealing with friends, boys and her mum, just like so many of us.
There are heeeeaps more books on my to-read shelf so I'll follow up with another installment in the future. What books are you excited to read, new or old?