Bloodsong, Melvin Burgess (355 pages)Sigurd has a fabulous but frightening future predicted: even to start, he must leave everything he knows to go and fight a dragon, and from there descend into the Underworld. Sounds bad enough, but when you know that the dragon lives on a futuristic, industrially-ruined moonscape that was once Hampstead Heath, the scene is set for a staggeringly brutal fight on an epic scale. Unhappily for him, he meets the love of his life in the underworld, and Sigurd's efforts to rescue his lover will cause huge heartache and grief for both of them, and also for everyone who ever meets them. (Goodreads)
First lines: Regin said, "It's time." He smacked his lips. An old guy like him, it's all he can talk about. Adventure! And all the time there he is scowling away like it was a problem with the carburettor. "A monster, Sigurd. A real live un. It's perfect. " He licked his face like it was dipped in gravy.
Overpowered, Mark H. Kruger (423 pages) Nica Ashley is accustomed to traveling the globe with her journalist mother, so when she gets sent to live in a small town with the father she barely knows, she's in for a bit of a culture shock. Barrington prides itself on being a sleepy, family community with the lowest crime rates in the state of Colorado. There's even a private security force run by Barrington Technology (BarTech) and a nightly curfew for all residents.On Nica's first day at school, she meets Jackson Winters and finds out he went from school superstar to living ghost after his girlfriend disappeared a few months ago. When Nica follows him out after curfew one night, they both witness a mysterious green flash-and the next morning the power has gone out and all the birds are dead. But secrets are well and alive, and as Nica and some of her friends discover they now have abilities best described as "super," they also realize that Barrington might not be so safe. And that BarTech is looking for them.(Goodreads)
First lines: It all started with a stupid sandwich. Chicken curry and spinach stuffed inside a homemade pita pocket. I found it one Friday Morning in my backpack when I was getting ready for school. Neatly wrapped inside a neon-green plastic bag, one of those flimsy sacks used by the local Bangkok markets, along with a handwrittem note, which tumbled out: "Nica: remember to recycle!"
Unhinged, A. G Howard, (387 pages) Alyssa Gardner has been down the rabbit hole and faced the bandersnatch. She saved the life of Jeb, the guy she loves, and escaped the machinations of the disturbingly seductive Morpheus and the vindictive Queen Red. Now all she has to do is graduate high school and make it through prom so she can attend the prestigious art school in London she's always dreamed of.That would be easier without her mother, freshly released from an asylum, acting overly protective and suspicious. And it would be much simpler if the mysterious Morpheus didn't show up for school one day to tempt her with another dangerous quest in the dark, challenging Wonderland—where she (partly) belongs.As prom and graduation creep closer, Alyssa juggles Morpheus's unsettling presence in her real world with trying to tell Jeb the truth about a past he's forgotten. Glimpses of Wonderland start to bleed through her art and into her world in very disturbing ways, and Morpheus warns that Queen Red won't be far behind.If Alyssa stays in the human realm, she could endanger Jeb, her parents, and everyone she loves. But if she steps through the rabbit hole again, she'll face a deadly battle that could cost more than just her head. (Goodreads)
First lines: My art teacher says that a real artist bleeds for her craft, but he never told us that blood can become your medium, can take on a life of its own and shape your art is vile and gruesome ways.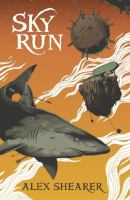 Sky Run, Alex Shearer (277 pages) In a world where islands float above the sun and Cloud Hunters sail the skies for water, orphans Gemma and Martin live with their 120-year-old great, great, grand aunt Peggy and the sky-cat Botcher on a remote rock miles from civilisation. When Peggy decides they should visit City Island to register at school, the group embarks on a trip that will take them through uncharted territories, navigating a very dangerous sky. Encountering cloud pirates, sky rats and an axe murdering motel owner, Gemma and Martin must learn to fend for themselves, and fight for what's right in a perilous world.
(Goodreads)
First lines: I was one hundred and twenty years old last birthday. Which is a good age in some places, although it's not so much around here. But it's no time of life to be looking after teenagers. I can tell you that.
Uncrashable Dakota, Andy Marin (309 pages)In 1862, Union army infantryman Samuel Dakota changed history when he spilled a bottle of pilfered moonshine in the Virginia dirt and stumbled upon the biochemical secret of flight. Not only did the Civil War come to a much quicker close, but Dakota Aeronautics was born.Now, in Andy Marino's Uncrashable Dakota, it is 1912, and the titanic Dakota flagship embarks on its maiden flight. But shortly after the journey begins, the airship is hijacked. Fighting to save the ship, the young heir of the Dakota empire, Hollis, along with his brilliant friend Delia and his stepbrother, Rob, are plunged into the midst of a long-simmering family feud. Maybe Samuel's final secret wasn't just the tinkering of a madman after all. . . .What sinister betrayals and strange discoveries await Hollis and his friends in the gilded corridors and opulent staterooms? Who can be trusted to keep the most magnificent airship the world has ever known from falling out of the sky?(Goodreads)
First lines: Hollis Dakota was ten years old when his parents took him to the shipyard that sprawled like a bucket of as across the river from New York City. His family owned the shipyard, but Hollis had never been there, because he lived in the sky.
The Lazarus Machine, Paul Crilley (261 pages) An alternate 1895… a world where Charles Babbage and Ada Lovelace perfected the Difference engine. Where steam and tesla-powered computers are everywhere. Where automatons powered by human souls venture out into the sprawling London streets. Where the Ministry, a secretive government agency, seeks to control everything in the name of the Queen.It is in this claustrophobic, paranoid city that seventeen-year-old Sebastian Tweed and his conman father struggle to eke out a living.But all is not well…A murderous, masked gang has moved into London, spreading terror through the criminal ranks as they take over the underworld. as the gang carves up more and more of the city, a single name comes to be uttered in fearful whispers.Professor Moriarty.When Tweed's father is kidnapped by Moriarty, he is forced to team up with information broker Octavia Nightingale to track him down. But he soon realizes that his father's disappearance is just a tiny piece of a political conspiracy that could destroy the British Empire and plunge the world into a horrific war. (Goodreads)
First lines: Tonight, seventeen-year-old Sebastian Tweed was going to be the voice of a fifty-year-old woman. More specifically, he was going to be the voice of Mrs. henrietta Shaw-missing and presumed dead for over a year now.
Conquest, John Connolly and Jennifer Ridyard (407 pages)Earth is no longer ours. . . .It is ruled by the Illyri, a beautiful, civilized, yet ruthless alien species. But humankind has not given up the fight, and Paul Kerr is one of a new generation of young Resistance leaders waging war on the invaders. Syl Hellais is the first of the Illyri to be born on Earth. Trapped inside the walls of her father's stronghold, hated by the humans, she longs to escape. But on her sixteenth birthday, Syl's life is about to change forever. She will become an outcast, an enemy of her people, for daring to save the life of one human: Paul Kerr. Only together do they have a chance of saving each other, and the planet they both call home. For there is a greater darkness behind the Illyri conquest of Earth, and the real invasion has not yet even begun. . .(Goodreads)
First lines: In the beginning was the wormhole. It bloomed like a strange flower at the edge of the solar system, dwarfing Pluto in size and majesty. It was beautifal: theory become real. One it was discovered, the eyes of the Earth turned upon it, and the space telescope Walton eas redirected to examine it more closely. Within days, images were being sent back to Earth.
Alliance, Mark Frost (338 pages) After exposing the sinister underground society of students known as the Knights of Charlemagne, Will West stays at the Center over the summer to explore his newly developing physical and mental abilities. Meanwhile, his roommates investigate the Knights' shadowy purpose and discover unsettling information about their own backgrounds. Will and his friends must quickly figure out what's going on and separate friend from foe as they prepare for the coming fight. (Goodreads)
First lines: Lyle Ogilvy had trouble staying dead. During the past seven months, the medical staff had given up on him half a dozen times, only to realise that he was a xase for which they could find no precedent in the history of medicine. They finally had to admit that the question Is he dead or alive? had them baffled.
These Broken stars, Amie Kaufman and Meagan Spooner, (374 pages)It's a night like any other on board the Icarus. Then, catastrophe strikes: the massive luxury spaceliner is yanked out of hyperspace and plummets into the nearest planet. Lilac LaRoux and Tarver Merendsen survive. And they seem to be alone. Lilac is the daughter of the richest man in the universe. Tarver comes from nothing, a young war hero who learned long ago that girls like Lilac are more trouble than they're worth. But with only each other to rely on, Lilac and Tarver must work together, making a tortuous journey across the eerie, deserted terrain to seek help. Then, against all odds, Lilac and Tarver find a strange blessing in the tragedy that has thrown them into each other's arms. Without the hope of a future together in their own world, they begin to wonder—would they be better off staying here forever?Everything changes when they uncover the truth behind the chilling whispers that haunt their every step. Lilac and Tarver may find a way off this planet. But they won't be the same people who landed on it.
(Goodreads)
First lines: Nothing about this room is real. If this were a party at home, the music would draw your eye to human musicians in the corner. Candles and soft lamps would light the room, and the wooden tables would be made of actual trees. People would be listening to each other instead of checking to see who's watching them.