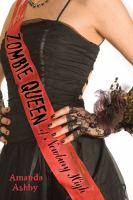 Amanda Ashby is a New Zealand author whose books are published to critical praise in the U.S. Her newest book, Zombie Queen of Newbury High  – about what happens when a teenage girl accidentally turns her entire senior year into zombies and has to try and find a cure before she ends up at the top of their menu – will be available from the library soon. We have scored an exclusive interview with Amanda!
1. At what age did you begin writing? How old were you when you first had something published?
I wish I could say that I wrote my first book when I was five, but the truth is that while I loved English and creative writing when I was at school it never occured to me that normal, regular people could be writers and so I contented myself with reading as many books as I could get my hands on. But sometime in my mid-twenties I had a terrible thought on how sad my life would've been if my favorite writers hadn't taken the time to sit down and tell their stories.
This thought continued to stick with me until I finally decided that perhaps I should sit down and try telling a few stories myself. Unfortunately, as many writers know, writing stories and getting stories published are two different things and it wasn't until I was 38 that I got to see my first book come out. Yay!
2. Do you write professionally, or do you need to work a regular day-job? And does it interfere with your writing?
I'm sort of a full-time writer and mother all rolled into one and I also have a part time job working at the Napier library (which I love because there is nothing a writer likes more than to talk books with people!!). Right now I feel quite lucky because I have a nice balance in my life and I hope it can continue!
3. Where do you get your ideas for writing from?
The idea for my first book, You Had Me At Halo, actually came from my father's funeral (which as a rule isn't the best time to be getting book ideas), somehow the idea of writing a book that was inspired my dad's death certainly helped with the grieving process. The idea for my zombie book actually started out as a bit of a joke because whenever I was stuck for ideas I used to say to my friends that I could always write a book called 'I was a zombie killer bride'. Unfortunately, you know what happens when you say things too many times…
4. Who are your favourite authors?
So, so, so many that I couldn't possibly list them all so here is a selection: Jane Austen, Georgette Heyer, Raymond E Feist, PC Cast and Kristin Cast (if you haven't read the House of Night books yet then you really must), Jill Mansell, Janet Evanovich, Eoin Colfer, Christopher Paolini, Jonathan Stroud.
5. We really like haiku – can you summarise Zombie Queen of Newbury High in haiku form?
Okay, so when I get arrested for crimes against haiku then I'm going to blame you entirely. Don't think I won't! Anyway, here is my butchered offering – no pun intended!
one simple mistake
entire school now living dead
feeding time is near