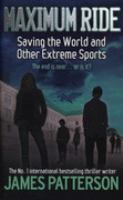 The Maximum Ride series by James Patterson is just about the hottest thing at the moment (the CHERUBs excluded*). The books are about a genetically altered teenager (the name's Ride, Maximum Ride) who just happens to be able to fly. Because of the flying thing, she's very useful (and so are the other Flock-six kids) to all sorts of people (as you can imagine), from environmental scientists to government agencies, to people who want to control the world…
But you probably know all that, since everyone seems to be reading the series at the moment! If you haven't had the chance, reserve the latest book Maximum Ride: The Final Warning – you shouldn't be waiting too long. But while you are, you could visit James Patterson's website – you'll find all the information you ever wanted to know (the books are going to be made into a movie, for example) and probably some stuff you didn't know you wanted to know. There's news, interviews and much more.
* Which is better: Robert Muchamore's CHERUB series or Maximum Ride? Hm.