Nau mai ki te Wiki o Te Reo Māori!
Welcome to Māori Language Week!
Today we will be sharing a few ways that you can kōrero (speak), waiata (sing) and pānui (read) in Te Reo Māori with Wellington City Libraries, Te Matapihi ki te o Ao Nui.
Click the button below to get more celebration ideas from  Te Rangaihi Reo Māori, the Māori Language Movement! You can sign up for updates and opportunities to get inspired and learn more. Be sure to register to take part in the Māori Language Moment on Thursday 14 September! 
Here's a few of our special Wellington City Libraries events for the whole whānau this week, but you can read a full list of events over on our news blog!
Nohinohi Reorua 
This week, join us for extra special sessions of our bilingual programme Nohinohi Reorua.
Nohinohi Reorua: whāngaia tō Tama Toa ki te pānui pukapuka! E toru tekau meneti pakiwaitara, rotarota, waiata hoki i roto i te reo Māori me te reo Ingarihi, nō ngā kōhungahunga me ō rātou mātua kaitiaki.
Get your superhero hooked on books with our special bilingual storytimes! Featuring stories, rhymes, and songs in te reo Māori and English, these 30-minute sessions are open to anyone, whether you're fluent in te reo Māori or just starting out.
Recommended for tamariki aged 2-6 with their caregivers.
Taniwha Tinker Time (STEAM-based play)
This week, we have special Tinker Times at the ARTS stage of our STEAM journey, and we'll be exploring collage… with a Te Reo twist! We will kōrero and learn more about the taniwha in this week's special session of Tinker Time. This is an event for older preschoolers.
Recommended for children aged 2 – 5 years with their caregivers.
More special events!   
CRAFTerschool Te Ao Māori Special – Tuesday 12 September, 3:30-4:30pm — Waitohi | Johnsonville Library 
Enjoy a te Ao Māori focus on today's craft activities for Te Wiki o te Reo Māori!  All tamariki are welcome with their mātua (parents) or kaitiaki (caregiver).
CRAFTerschool is a free art and craft session aimed at school aged children. Join us for a different project every week during term time! Crafting starts at 3.30pm, please arrive by 4pm so you have time to complete the craft.
Suitable for children age 5+
Caregivers must remain onsite during sessions
Te Reo Baby Rock and Rhyme – Wednesday 13 September, 10:30-11am — Waitohi | Johnsonville Library
Nau mai hoki mai. Join us in Waitohi Library for a special morning celebrating te reo Māori for Te Wiki o te Reo Māori. A fun and free programme for parents and caregivers to interact with their pēpē through waiata, huariti, and pukapuka.
Recommended for children aged 0 – 2 years and their caregivers.
Kēmu, Kai, Kōrero, Saturday, 16 September 2023, 11am-12pm— Waitohi | Johnsonville Library
Join us for an hour of fun and sharing as part of Celebrating Te Wiki o Te Reo Māori . Let's learn and build our te reo Māori skills together. Wherever you are in your te reo journey, come to this event for a friendly kōrero and kai!
FREE, no bookings required!
Award Winning Pukapuka in Te Reo Māori 
Last month, we celebrated the 2023 NZCYA Book Awards, so we thought we could take a moment this week to look back on the last five books that won the Wright Family Foundation Te Kura Pounamu Award for Te Reo Māori.
2023 Winner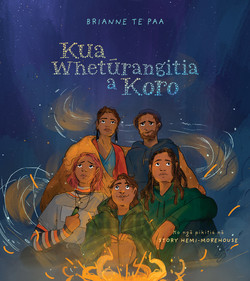 Kua whetūrangitia a koro / Te Paa, Brianne
"A young boy learns about the customs around celebrating Matariki from his grandfather. They watch the stars from the top of a mountain, prepare their offering of food for the gods, and the boy learns about Te Waka o Rangi and the tradition of calling out the names of loved ones who have passed away so that they can become stars. Just before Matariki the following year, the boy's Koro suddenly dies. The boy gathers and prepares the food offering and asks each family member to come with him up the mountain when Matariki is due to rise, but they all make excuses, and he is disheartened. But when he tells them what Koro taught him, they all climb the mountain before sunrise, follow the rituals Koro carried out and call out Koro's name so that he can become a star"–Publisher information. (Catalogue).

2022 Winner
I waho, i te moana / Morrison, Yvonne
"Out in the moana, underneath the sparkling sun, lived a mother sea lion and her little pup one … A playful retelling of the much-loved traditional story, Over in the Meadow. This companion title to Morrison's Down in the Forest features fascinating and lovable creatures from the seas that surround these islands of ours"–Publisher information." (Catalogue)

2021 Winner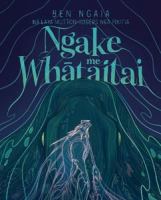 Ngake me Whātaitai / Ngaia, Ben
"A traditional story told in te reo Māori from the perspective of the Kāhui Maunga people about Ngake and Whātaitai. These two taniwha inhabited Te Whanganui-a-Tara, Wellington Harbour, long before the ancestral migrations. The story tells how the shape and landscape of Wellington, its harbour and the Lower Hutt area came about because of the actions of Ngake and Whātaitai"–Publisher information." (Catalogue)

2020 Winner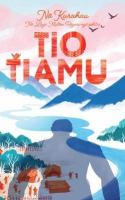 Tio Tiamu / Kurahau
"Gentle, clever Toe Jam grows to be huge, and this causes a problem because his feet smell. The bigger he gets the worse the smell. Toe Jam is kind, but the people tease him and avoid him, and finally, they make him leave and live far away. Toe Jam never loses his kind heart, and when there are floods, wild winds and droughts, he returns to help his people. But afterwards, the people always send him away again. Until, one day, when Toe Jam saves the people from an eruption, they finally see Toe Jam's goodness"–Publisher information." (Catalogue)

2019 Winner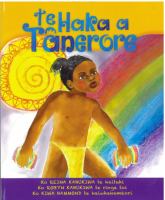 Te Haka a Tānerore / Kahukiwa, Reina
"A story about the first haka. Long ago, a boy named Tanerore loved to dance every day. See what happens when Tanerore dances his special dance for his mother." (Adapted from catalogue)
Kia kaha Te Reo Māori!