All the world's a stage, and all the men and women merely players. Well, that was certainly the case during William Shakespeare's life. This year marks Shakespeare's, or the Bard of Avon, (assumed) 457th birthday on the 26th of April and 405th death anniversary on the 23rd April.

And pray tell, who was William Shakespeare?
Well, he was an English poet, playwright and actor who is widely regarded as the greatest writer in the English language and the world's pre-eminent dramatist. People all over the world have come to recognise the image of William Shakespeare and would heard of his plays, but what do we know about the man himself, or even what went on behind the scenes during the performance of his plays, or even who his plays were being performed for?

How dost thou celebrate?
In addition to the traditional birthday party, cake and presents, why not read all about his life, from his early and humble beginnings in Stratford upon Avon, England to conquering the stage in Queen Elizabeth's court and the Globe Theatre.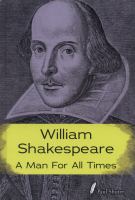 William Shakespeare : a man for all times.
Who was William Shakespeare? How much do we really know about him, and why is he so famous? This book takes the reader step-by-step through Shakespeare's life, looking at the evidence.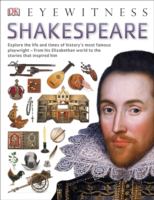 Shakespeare.
A spectacular and engaging non-fiction Eyewitness guide to one of history's most iconic writers, William Shakespeare. Did you know special effects were used in Shakespeare's plays? That devils and ghosts came up through trapdoors in the stage? Find out how in Eyewitness Shakespeare and discover the fascinating life and times of one of the world's greatest playwrights. Travel back in time and follow Shakespeare from his birth in the small town of Stratford-upon-Avon to theatre life in 16th century London. Eyewitness reference books are now more interactive and colourful, with new infographics, statistics, facts and timelines, plus a giant pull-out wall chart, you'll be an expert on Shakespeare in no time. Great for projects or just for fun, learn everything you need to know about Shakespeare.

Much ado about Shakespeare : the life and times of William Shakespeare : a literary picture book.
Take a peek behind the curtain to discover the boy, the youth, the man behind some of the greatest works of literature. The life and times of William Shakespeare are richly imagined in this unique biography told using quotes from the Bard himself.
Also search our catalogue for more biographies about Shakespeare and his remarkable life.

Read Shakespeare's plays!
Read and relive your favourite Shakespeare plays. Wellington City Libraries holds a huge array of plays which is part of the Orchard book of Shakespeare Stories series written by Andrew Matthews. Plays include A Midsummer Night's Dream, Romeo and Juliet, Much Ado About Nothing and King Lear.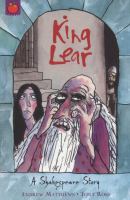 Also search our catalogue for more plays from the Orchard book of Shakespeare Stories series. Also, check out: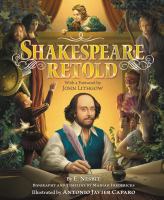 Shakespeare retold.
A beautifully illustrated collection of prose retellings of seven Shakespeare plays will bring the Bard to life for young readers. Not only is this a beautiful keepsake edition, full of gorgeous illustrations by Antonio Javier Caparo, but the prose retellings by beloved classic children's book author E. Nesbit are an excellent tool to introduce children to the complex language of Shakespeare.
A foreword by John Lithgow touches on his own childhood as a Shakespearean actor and the importance of Shakespeare. The book contains extensive support materials, including a biography, a timeline of Shakespeare's life, and further recommended readings.

Mr William Shakespeare's plays.
Seven classic Shakespeare plays presented in an accessible comic strip format. Take your place in the Globe Theatre of Shakespeare's day to see seven of his best-loved plays in performance. Romeo and Juliet, Hamlet, A Midsummer Night's Dream, Macbeth, Julius Caesar, The Winter's Tale and The Tempest are all brought vividly to life in Marcia Williams' gloriously accessible comic-strip versions, which include the bard's own dialogue and the rowdy remarks of the audience.

Shakespeare stories II.
By skillfully weaving his own prose with Shakespeare's language, Leon Garfield has refashioned nine of the Elizabethan playwright's dramas into stories, capturing all the richness of the characters, plot, mood, and setting. This format will delight both those who know the great dramatist's works and those who are new to them. Plays included are: Much Ado About Nothing, Julius Caesar, Antony and Cleopatra, Measure for Measure, As You Like It, Cymbeline, King Richard the Third, The Comedy of Errors, and The Winter's Tale.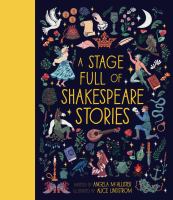 A stage full of Shakespeare stories.
Step on to a stage full of stories with this beautiful anthology of 12 stories from Shakespeare, rewritten to be accessible to children ages 7+. A section at the back gives details about Shakespeare's life and further information about the plays. Each story is rewritten in a comprehensive way that is accessible for children and stunningly illustrated by collage artist Alice Lindstrom.

Recite some poetry!
Shakespeare edited by Marguerite Tassi.
A collection of thirty-one of playwright and poet William Shakespeare's most famous verses, sonnets and speeches.
He was the world's greatest playwright, and the English language's finest writer, Shakespeare is the man the Oxford English dictionary credits as having invented over 1700 common words, and to whom we owe expressions such as 'fair play', 'break the ice', and 'laughing stock'. The continued timelessness and genius of his work will be celebrated the world over on his special day.

Have some fun with William Shakespeare!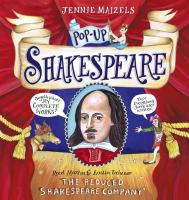 Pop-up Shakespeare.
"Discover beloved playwright William Shakespeare's plays and poetry in this spectacular novelty book from the Reduced Shakespeare Company comedy troupe. Featuring dramatic pop-ups and foldouts and loaded with jokes and fascinating facts, this hilariously informative and fully immersive look into the Bard's world invites you to experience Shakespeare's works as you've never seen them before!" — Back cover.

Where's Will? : find Shakespeare hidden in his plays.
Each play in this book begins with a summary of the plot and descriptions of the characters. On the following page is a detailed picture showing the setting of the play and within it you can find the characters, William Shakespeare , and a spotted pig.

Watch movies inspired by Shakespeare's plays:
The Lion King… and The Lion King inspired by Hamlet.
You can never go wrong with an oldie but a goodie.
Tricked into thinking he caused his father's death, Simba, a guilt ridden lion cub flees into exile and abandons his identity as the future King. However when the fate of his kingdom is threatened, he is forced to return and take his place as King.

Gnomeo & Juliet… inspired by Romeo and Juliet.
Caught up in a feud between neighbors, Gnomeo and Juliet must overcome as many obstacles as their namesakes. But with flamboyant pink flamingoes and epic lawnmower races, can this young couple find lasting happiness?

Also check out the sequel, Sherlock Gnomes.
Garden gnomes, Gnomeo and Juliet, recruit renowned detective Sherlock Gnomes to investigate the mysterious disappearance of other garden ornaments.

Where to find more information?