Fakaalofa lahi atu!
This week, from Sunday 16 October to Saturday 22 October, we are celebrating Faahi Tapu he Vagahau Niue, Niue Language Week.
Our theme this year is:
Fakatūleva e Vagahau Niue mo e Tau Aga Fakamotu ma e Tau Atuhau | Sustain Niue Language and Culture for Future Generations.
This theme supports the overarching 2022 Pacific Language Weeks theme of sustainability.
Click the button below to find out about online events and activities!
You can stay up to date with events on the Niue Language Week Facebook page too.
All about Niue
Niue is one of the South Pacific Islands, which is located in the centre of a triangle formed by Tonga, Samoa and the Cook Islands. Niue is famous for one of the largest upraised coral atolls in the world. The distance between Niue and the northeast of New Zealand is 2,400km, and it takes around 3 hours to fly from New Zealand to Niue. The population of Niue is around 1,600 people in 2022 (Source: Worldmeters). The official languages of Niue are Niuean and English. The theme for this language week aims to help encourage all Niue people to work together to sustain Vagahau Niue and cultures for future generations.
Books
We have some Niue language books in our library collection, and you are most welcome to borrow them today!
We are the rock / Riley, David
"In We are the Rock contemporary Niueans, historical and legendary figures tell their stories of focus, expression and achievement." (Catalogue)

Tau kukukuku ha Ako = Ako's hugs / Fuemana-Foaʿi, Lisa 
"Ako shows his affection towards his family by giving them hugs, including the family cat and his cuddly toy, Kuku, the fruit bat." (Catalogue)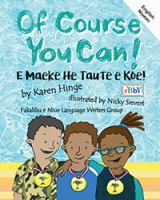 Of course you can! = E maeke he taute e koe / Hinge, Karen
"Jeremy is starting at a new school. He's not too sure about how he will fit in. But the other students make him welcome and every time he thinks he can't do something they say … "Of course you can!" That is until the day they go to the swimming pool." (Blurb)

Tau matatohi Faka-Niue : Niue alphabet with English translation / Ikenasio-Thorpe, Bettina  
A short introduction to the alphabet! In the same series, we also have an introduction to colours and counting numbers!
The woman who was swallowed by a whale : a tale from Niue / Wilton, Briar
"The woman who was swallowed by a whale is a folktale ; Niue : rock of Polynesia is a short factual introduction to the country and culture." (Catalogue)
Kuaka visits Niue / Peterson,Vanessa
"Uses a story format and the concept of bird migration to introduce places in Niue, food and customs." (Catalogue)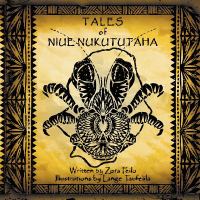 Tales of Niue nukututaha : in Niuean and English / Feilo, Zora
"A collection of twelve stories in both English and Niuean set on the island if Niue, this is the author's reinterpretation of myth, legend and storytelling from her native land. Each story is lavishly illustrated by Niuean artist Lange Taufelila." (Catalogue)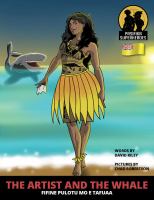 The artist and the whale = Fifine pulotu mo e tafuā : a Niue legend / Riley, David
"Mataginifale is a Niue superhero with a difference. She isn't known for her super powers, but for her super creativity. One day she had an argument with a whale that tested her thinking skills too"" (Catalogue)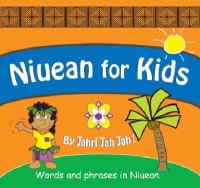 Niuean for kids / Jahri Jah Jah
"Learn to speak words and phrases in Niuean. This book packs in many common words and phrases., including greetings, colours, numbers, body parts, animals and farewells. It is a great resource for anybody wanting to learn some basic words in Niuean. Suitable for ages 1+." (Catalogue)

Also, visit this link to find hundreds of children's books in Vagahau Niuē at your local library.
That's it from us today! We hope you enjoy our Niue Language Week 2022! Fakaaue Lahi oue tulou.