Fakaalofa lahi atu ki a mutolu oti! Welcome to Faahi Tapu he Vagahau Niuē | Niuē Language Week 2021. With over 30,000 people of Niuean descent living in New Zealand, the Niuean population is our fourth largest Pasifika community.
The theme for Faahi Tapu he Vagahau Niuē this year is:
"Kia Tupuolaola e Moui he Tagata Niuē" | "May the Tagata Niuē thrive."
Join us at Wellington City Libraries as we celebrate this special time by exploring Niuē's unique culture and language through books and other resources below!
---
Books
Check out some of these books from our children's section from and about Niuē, and in Vagahau Niuē:
The woman who was swallowed by a whale : a tale from Niue / Wilton, Briar
"The woman who was swallowed by a whale is a folktale ; Niue : rock of Polynesia is a short factual introduction to the country and culture." (Catalogue)

Kuaka visits Niue / Peterson,Vanessa
"Uses a story format and the concept of bird migration to introduce places in Niue, food and customs." (Catalogue)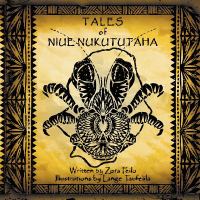 Tales of Niue nukututaha : in Niuean and English / Feilo, Zora
"A collection of twelve stories in both English and Niuean set on the island if Niue, this is the author's reinterpretation of myth, legend and storytelling from her native land. Each story is lavishly illustrated by Niuean artist Lange Taufelila." (Catalogue)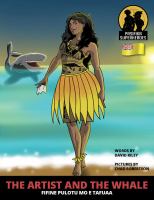 The artist and the whale = Fifine pulotu mo e tafuā : a Niue legend / Riley, David
"Mataginifale is a Niue superhero with a difference. She isn't known for her super powers, but for her super creativity. One day she had an argument with a whale that tested her thinking skills too"" (Catalogue)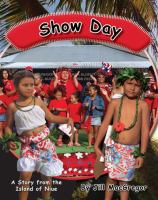 Show day / MacGregor, Jill
"Livisia, who lives in the village of Alofi South on the island of Niue, describes how her village hosts Show Day, a day of celebrations for the whole island. Includes some Niuean words and a glossary. In picture book format." (Catalogue)

We are the rock! / Riley, David
"In We are the Rock, contemporary Niueans, historical and legendary figures tell their stories of focus, expression and achievement. They are Niuean tāoga (treasure) and include: * Dr Vili Nosa – the first Niuean awarded a Phd* Tutina Pasene – business woman and fashion designer* Sully Paea – youth worker* Pero Cameron – basketballer* John Pule – artist and writer* Frank Bunce – All Black* Stephanie Tauevihi – actress and singer* Che Fu – rapper/ singer* Fao and Huanaki – discoverers of Niue* Leveimatagi and Leveifualolo – legendary explorers." (Catalogue)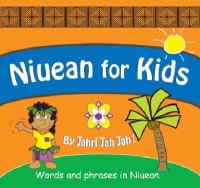 Niuean for kids / Jahri Jah Jah
"Learn to speak words and phrases in Niuean. This book packs in many common words and phrases., including greetings, colours, numbers, body parts, animals and farewells. It is a great resource for anybody wanting to learn some basic words in Niuean. Suitable for ages 1+." (Catalogue)

Illustrated history of the South Pacific / Stenson, Marcia
"The South Pacific is not only our geographic environment, it is also our cultural environment, and many New Zealanders trace their ancestry to Polynesian seafarers. This book is an introduction to the history of the South Pacific. A companion book to Illustrated History of New Zealand, also written by Marcia Stenson, it covers the following topics: geology and geography, the arrival of the first people to the Pacific, European exploration, war in the Pacific, political issues both historic and current." (Catalogue)

Also, visit this link to find hundreds of children's books in Vagahau Niuē at your local library.
---
Virtual Storytime
Head on over to our YouTube channel where you can watch and listen to our librarian Lewis read a special bilingual story — Fifine pulotu mo e tofuā | The artist and the whale by David Riley — in English and Vagahau Niuē. We would like to thank David for allowing us to share this beautiful story with you throughout Niuē Language Week this year — fakaaue lahi, David! Make sure to check out the Reading Warrior website to find more stories of the Pacific from David and his collaborators.
---
More Resources
Check out the following websites to find out more about Niuē and its culture, language and history: