Kia Orāna! It's Te ʻEpetoma ō Te Reo Māori Kūki ʻĀirani | Cook Islands Language Week 2022!
Pacific Language Weeks are about all New Zealanders learning more about Pacific people that make up a big part of our population and are some of our closest neighbours!
The overarching theme for the 2022 Pacific Language Weeks is sustainability. Cook Islands Language Week has been celebrated every year in Aotearoa since 2012, with events running this year from Sunday 31st July to Saturday 6th August.
This year's theme is:
'Ātuitui'ia au ki te Oneone o tōku 'Ui Tupuna | Connect me to the soil of my ancestors.
Help us celebrate this special time for the community by learning more about the unique culture, language and history of the Cook Islands through the information, books, and other resources below!
Where are the Cook Islands?
They are located in the South Pacific neighbouring Sāmoa, Niuē and French Polynesia. There are 15 islands altogether with a total land area of 240 square kilometres.
How many people speak Cook Islands Māori, and where do they live?
Te Reo Māori Kūki ʻĀirani (Cook Islands Māori) refers to several dialects (slightly different versions of the same language) spoken in the Cook Islands, with the most common language dialect being spoken in Rarotonga. In New Zealand, about 80,500 people are Cook Islanders, or of Cook Islands descent. Peoples of Cook Islands descent make up a significant portion of Te Whanganui-a-Tara (Wellington) and Aotearoa's Pasifika population, with significant numbers living in our Northern suburbs and nearby Porirua. (Source: 2018 Census)
Why are they called the Cook Islands?
The area was first settled around 1000CE by Polynesian people who probably came from Tahiti, which is where the famous navigator Tupaia would come from over 700 years later. You can learn more about Tupaia here: Tupaia | Te Ara Encyclopaedia of New Zealand. They gave the islands names like Rarotonga, Aitutaki, and Rakahanga.
The first European contact with the islands took place in 1595, but the Cook Islands name comes from the British navigator Captain James Cook, who arrived first in 1773 and again in 1777. Strangely enough, the name 'Cook Islands' first appeared on a Russian map in the 1820s.
There is still a lot of debate today about whether the Cook Islands should take a new name that reflects the Polynesian history and heritage of the area. Visit Britannica Online to learn more about the history and people of the Cook Islands: Cook Islands | Encyclopaedia Britannica
---
Books
Visit your local library and have a look at our amazing books to learn more about Cook Islands cultures and practice the language. At Newtown Library we also stock the Cook Islands News.
If you don't have a library card, you can sign up for free!
Te 'anga'anga 'ōu 'ā māmā = Mum's new job / Tainui, Bronwyn
"Tiāki finds it difficult when his mother goes back to work, but discovers it is fun to help out at home by making lunch." (Catalogue)

Kua kitea 'a māmā = Finding mum / Long, Don
"In the supermarket, a little boy retraces his footsteps in order to find his mum." (Catalogue)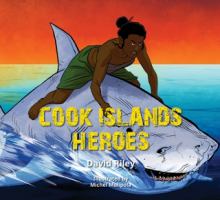 Cook Islands heroes / Riley, David
"Cook Islands Heroes tells the inspirational stories of achievers who have Cook Islands ancestry. It includes legends like Ina, Maui, Ngaru and Ru; historical figures such as […] Alistair Te Ariki Campbell; and contemporary heroes Kevin Iro […] The book is written to inspire young Cook Islanders, to encourage reading and promote literacy." (Publisher description)

'Ei for the day / MacGregor, Jill
"Yvette and Kiikii wear an 'ei and an 'ei katu when their dance group performs at the Saturday Morning Market in Rarotonga​​." (Catalogue)

Also, visit this link to find even more children's books in Te Reo Māori Kūki 'Āirani at your local library.
---
More Resources
This is a good time to learn some Te Reo Māori Kūki ʻĀirani. Here are some useful phrases to help get started. Pronunciation is mostly similar to Te Reo Māori – so don't be shy, give it a go!
Kia orāna – Greetings/Hello
ʻAere rā / ʻĒ noʻo rā – Goodbye (to those going/to those staying)
ʻInē? – Please
Meitaki maʻata – Thank you very much
Tatarāʻara – Sorry
Inā ake ana – Excuse me
Pēʻea koe/kōrua/kōtou? – How are you?
Meitaki maʻata au/māua/mātou – I am/We are well
There are lots of cool things happening across the country to celebrate this time. For more information on events and ideas on how to celebrate, visit these websites: