חנוכה שמח! Happy Hanukkah! חג אורים שמח! Happy Festival of Lights!
Hanukkah 2021, also known as Festival of the Lights, will fall this year on the 28th November until 6th December.

What is Hannukah?
Hanukkah, or Chanukkah, is a Jewish festival that is observed for eight days and eight nights. It officially starts on the 25th day of the month of Kislev in the Hebrew calendar, which can occur anywhere from late November to mid-December.
Did you know? Hannukah can be broken down into חנו כ"ה, "[they] rested [on the] twenty-fifth", referring to the fact that the Jews ceased fighting on the 25th day of Kislev, the day on which the holiday begins.
To learn more about Hannukah, check out this clip from Clarendon Learning on YouTube down below:
How do people celebrate Hannukah?
To commemorate this, Jewish people who celebrate Hanukkah light candles in special nine-branch candelabrum known as a Hanukkah menorah (מנורת חנוכה).  One candle is lit on the first night of Hanukkah, two on the second, and then this continues until all the candles are lit. The candles themselves are not used for any other purpose, even to light the other candles in the Menorah, so the ninth candle is used to light all the others. During Hanukkah, Jewish people make music together, share food (especially yummy fried foods like latkes and sufganiyot jam-filled doughnuts), exchange gelt, or gift money, and spend time with family and loved ones. A game is also traditionally played during Hanukkah that involves a driedel, which is a spinning top.
For more craft and gift ideas, have a read of: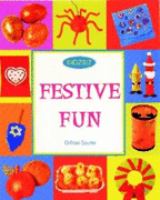 Festive fun.
"Presents craft projects relating to special days and festive occasions: Chinese New Year, Valentine's Day, Passover, Easter, April Fool's Day, May Day, Halloween, Thanksgiving, Hanukkah, Christmas and Kwanzaa. Includes step-by-step instructions. Suggested level: junior, primary." (Catalogue)

Where can I find information about Hannukah?
ManyAnswers has a page dedicated to websites, resources and ways to search for information about Judaism.
Also check out these amazing books!
Non fiction about Hannukah, Judaism and other religious festivals:
Celebrate! : a book of Jewish holiday.
"This wonderful charmingly illustrated book celebrates Jewish holidays all year long. From Rosh Hashanah, the Jewish New Year, to Sukkot, the celebration of the harvest, to Hanukkah, the festival of lights, this is the perfect book for families to enjoy together." (Catalogue)

A Jewish life.
"A Jewish Life explores some of the cornerstones of what it means to be Jewish today, through Passover and Hanukkah celebrations, christening and wedding ceremonies, what happens in a synagogue and why many Jewish people go on pilgrimages to Israel." (Catalogue)

The big book of festivals.
"Kids aged 7+ with an interest in the world around them will adore this collection of fantastic festivities, crazy celebrations and happy holy days from across the globe. The big book of festivals introduces young people to some major festivals and some lesser-known regional festivals from around the world. This gorgeously illustrated hardback features a total of 38 festivals, including: Lunar New Year, Day of the Dead, Kumbh Mela, Holi, Diwali, Gelede, Christmas, La Tomatina, Eid-ul-Fitr, Konaki Sumo, Carnaval, Hanukkah, Anastenaria, Festival of Giants, Matariki, Halloween, The Birthday of Guru Nanuk, Buddha's Birthday, Bunya Cone Harvest Festival, Easter, Inti Raymi, Venetian Masquerade Ball, and more." (Catalogue)

A faith like mine : a celebration of the world's religions– seen through the eyes of children.
"Using revealing photography and detailed personal accounts to give unique insight into the diversity of religious faith as experienced by children across the world, this is an ideal book for families to read together." (Catalogue)

Religious celebrations.
"This interesting book is part of a series written for young students that focuses on a wide variety of celebrations and festivals held for special occasions throughout the world. It focuses on religious celebrations. Written in simple language, this colourful book takes a global approach highlighting similarities and differences between how events are celebrated within different cultures." (Catalogue)

Picture Books and fiction about Hannukah.
Nonna's Hanukkah surprise.
"When Rachel loses the special menorah her mother gave her so she could share Hanukkah with her cousins, Rachel's grandmother comes to the rescue with a creative and crafty solution." (Catalogue)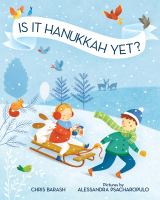 Is it Hanukkah yet?
"From snow on the ground to making applesauce and latkes to lighting the menorah, this story shows the seasonal and traditional ways we know Hanukkah is on its way." (Catalogue)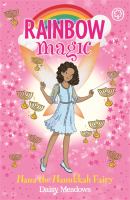 Hana the Hanukkah fairy.
"When Hana the Hanukkah Fairy's hanukkah is stolen by naughty Jack Frost, Hanukkah celebrations everywhere are at risk. Rachel and Kirsty must help Hani find her magical object!" (Catalogue)

The latke who couldn't stop screaming : a Christmas story.
"Latkes are potato pancakes served at Hanukah. Lemony Snicket is an alleged children's author. For the first time in literary history, these two elements are combined in one book. People who are interested in either or both of these things will find this book so enjoyable it will feel as if Hanukah is being celebrated for several years, rather than eight nights." (Catalogue)