Kia ora! We have loved receiving all of your entries so far for Tūhono, our brand new poetry journal for young Wellington writers! If you need a refresher on what Tūhono is, feel free to check out our first blog post about it.
Over the next few weeks, we'll be posting some useful tips and tricks on writing poetry on this blog, to help you with your submission! We thought we would start by recommending some really good books you can borrow from our libraries that are all about how to write poetry, and what poetry is all about. Big thanks to Stephanie, the wonderful librarian who buys all of our books for children and teenagers, for putting this list together for us!
How to write poems / Coelho, Joseph
Our first books is packed with exciting activities and starting points to get you creating your own poetic masterpieces! This book is really great for beginners as well as more experienced poets. There are many different types of poetry covered in this comprehensive 'how to' guide. If you want to reserve it, you can click on the book's title, and then the orange "Place Reserve" button — then just choose which library you would like to collect the book from!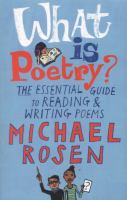 What is poetry? : the essential guide to reading & writing poems / Rosen, Michael
Michael Rosen is a well-known and popular British poet. In this book, he draws on his many years of experience to share information and tips on how you can become a poet too. What makes this book especially interesting is that he takes the time to walk you through a number of his own poems, explaining how and why he wrote them. Understanding the 'why' and 'how' of poetry is really important if you want to write your own some day!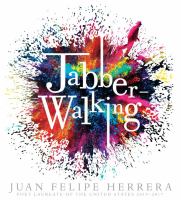 Jabberwalking / Herrera, Juan Felipe
What exactly is 'Jabberwalking'? The author Juan Felipe Herrera (a well-known American poet) explains that jabberwalking poets aim to create something that's not like a typical poem. To be a jabberwalking poet you must move and write at the same time! You must write everything that comes into your head — things you see, things you hear, and things you feel. The challenge then is to interpret all your scribbles and turn them into a poem. This is an incredibly creative and unusual way to craft a weird, wild poem — just the kind of poetry we'd love to see in Tūhono.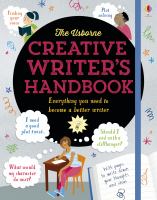 The Usborne creative writer's handbook / Daynes, Katie
This super useful handbook covers many different forms of creative writing, including a useful section on poetry. You will find though that much of the advice you can find throughout this books is relevant to crafting poems — for example, coming up with ideas, planning, grammar, and punctuation. With this book in your poetic toolbelt, you'll be well on your way to becoming a super successful writer!