"Spring forward
"Fall backwards" 
On Sunday 4 April at 3am all the clocks in New Zealand will "fall backwards" ONE HOUR to 2am as Daylight Saving time finishes. But why do we do this strange practice? Well… to explain Daylight Saving, we first really need to understand modern time:

A brief history of time
Today we tell the time by cell phones, computers and radios, as well highly accurate clocks and watches. Time rules our lives much more than in the past. Before Europeans arrived, Māori told the time by the rising and setting of the sun, the seasons, and the phases of the moon. When settlers began arriving from Britain in the 1840s, not many could afford clocks or watches, so they used bells to ring the times for school, work and church. But each town would often have a slightly different time, which was confusing for everyone. So in 1868 the New Zealand government decided it was time to have a nationwide time for everyone to follow. We were the first country in the world to do this. We made our time 11½ hours ahead of the time set at the Royal Observatory at Greenwich in England (known as Greenwich Mean Time). Towns and cities built public clocks, and by the 1880's people were using clocks at home, and wearing watches.
In 1941 the clocks were set 12 hours ahead of Greenwich Mean Time. And since 1974 Kiwis have enjoyed daylight saving during summer, when the clocks are put forward one hour.
What Are Time Zones?
Without time zones, it would be impossible for all countries on Earth to have the sun at the highest point in the sky at noon. Why? Because Earth rotates by 15 degrees every hour. This is exactly why time zones were created. Basically, the planet was split into 24 slices of 15 degrees each. Each slice is a time zone.
So…What is Daylight Saving Time (DST)?
Daylight Saving Time (DST) is the practice of adjusting clocks so that we humans can enjoy more daylight hours during the summer to pursue our activities . Typically clocks are adjusted forward one hour near the start of spring and are adjusted backward in autumn. So, in New Zealand we put our clocks FORWARD 1 HOUR at the end of September (beginning of our Spring), and on Sunday 4 April 2021, at 3am we will all be putting our clocks BACK 1 HOUR (beginning of our Autumn / Fall). And you'll be pleased to know that your cell phones will do all this automatically for you – Smartphones!
Here's a quick tutorial on Daylight Saving – a practice first suggested by New Zealand entomologist, George Hudson, so that he'd have more daylight hours available to study bugs!
---
If you've got time to kill, why not check out some of these great reads all about time:
The Time Wreccas / Tyler, Val
"The Guardians look after time for all people. Humans always rush around claiming that they do not have enough time, but no one thinks of guarding it. The Guardians do this and in every region of the world there is one who protects time for us all. In Greenwich, it is Old Father Tim. When the Wreccas, who populate the Underneath (below ground), send Snot to steal the Tick, their only intention is to wreak havoc on the Guardians who live Topside (above ground). They don't expect Snot to find out that she feels more at home Topside and that she really rather likes Tid (Old Father Tim's grandson) who she has to trick. And little do they know that without the Tick, time will stop forever…" (Catalogue)

The terrible truth about time / Arnold, Nick
"Find out what happens if you go too close to a black hole and how flies tell the time! With a fantastic new cover look and extra horrible bits at the back of the book, this best-selling title is sure to be a huge hit with a new generation of Horrible Science readers. If you think you can stomach the sick side of science, then read on as we clock up some terrible time secrets. Find out who was killed for changing the calendar, make your own crazy clock, meet the tortured time geniuses and check out your chances of a time-travel trip." (Catalogue)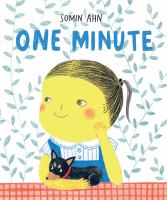 One minute / Ahn, Somin
"In one minute, you can blink your eyes twenty times, hug your dog, plant seeds, say good-bye, watch the rain, or even save a life. So much can occur in this sliver of time one minute can feel like a singular experience. This poignant picture book is at once an introduction to time for young readers, an ode to living each moment with purpose, and a thoughtful exploration of how children experience one minute (may it seem short or long) playfully, profoundly, and with a boundless sense of possibility." (Catalogue)

Time, tides and revolutions / Brasch, Nicolas
"This fascinating series poses and answers intriguing science questions that students are often curious about. Each book takes one theme or topic and explores it via thirteen engaging questions. The highly visual content assists students' understanding of the sometimes quite complex concepts and processes. Focusing on time related issues it presents information via 13 engaging question-and-answer spreads." (Catalogue)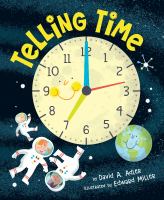 Telling time / Adler, David A
"Readers follow along as a loveable crew of kid astronauts and their Martain friends go about their daily routine, exploring the differences between seconds, minutes, and hours; what A.M. and P.M. mean; and how to tell time on both digital and analog clocks. Ten seconds to lift-off Are you ready? Veteran children's nonfiction author David Adler incorporates math concepts, such as addition and subtraction, into this fun narrative with problem-solving exercises for readers to tackle at their own pace. Edward Miller's vibrant cartoon art depicts the happy group of friends embarking on space walks, working together on projects, and settling in for bed.  A glossary explains time zones, daylight savings time, and more. An out-of-this-world STEM book." (Catalogue)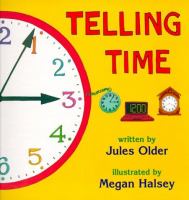 Telling time : how to tell time on digital and analog clocks! / Older, Jules
"Time isn't an easy concept for kids to grasp, but young readers will delight in learning all about it with the fun and lively lessons in TELLING TIME. Exploring what time is and discovering why we need to tell time, young readers certainly learn more than 'the big hand is on the one and the little hand is on the two'. With the help of a whole lot of clocks, a dash of humor, and a few familiar circumstances, learning to tell time is a lot of fun. It's about time." (Catalogue)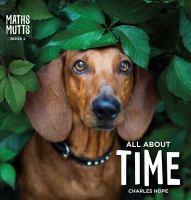 All about time / Hope, Charles
"Time is a key component of mathematics. It helps us make sense of an enormous amount of information, and it can have many practical applications in our everyday lives. Join our maths mutts as they learn all about the wonderful world of Time!" (Catalogue)

One day : around the world in 24 hours / Din, Suma
" 'One Day' follows fifteen different children from around the world through a 24 hour period. Not only will readers learn about their different lives and cultures, but they will also discover how time zones work, and what's happening on one side of the world while the other sleeps. This is a fantastic and accessible introduction to the concept of time and time zones for a younger audience." (Catalogue)