Happy 90th Birthday Nancy Drew!
This teen sleuth has been solving mysteries in and around her fictional home town of River Heights since April 1930! 
Starting with The Secret of the Old Clock, The Hidden Staircase, and The Bungalow Mystery which were all released on April 28, 1930, there have been over 500 (what!?) books written by a variety of authors under the pen name of Carolyn Keene. 
Since the original 56 tales, there have been multiple rewritings and spin offs including the most recent series of 'Nancy Drew Diaries' which can be found as eBooks and eAudio on OverDrive/Libby (and on library shelves when we reopen) These stories are reimagined in the 21st century and have been updated to consider technology and other modernities that didn't exist when the original series was written. After all, many of Nancy's original exploits could easily have been solved simply by owning a cellphone!
Nancy has been a strong female role-model on screen as well, with a film series starting in the 1930s, a TV series (with the Hardy Boys) in the 1970s, a film in 2007, and a new series whose first season aired just last year!
There are also cool Nancy Drew computer games by HER interactive – which are full of tricky logic puzzles and mini games. I'm halfways through "The Tomb of the Lost Queen" set in Egypt, where Nancy is working as an intern on an archaeological dig, and I'll admit it's a struggle to pull myself away. I'll also admit I've had to Google walkthrough instructions at least twice when I've gotten stuck! Sadly, the games aren't free, but a bunch of them are discounted during lockdown, so if you're looking for something that will balance homeschool learning, and educational screen time – they're challenging and fun for adults and kids! 
If you haven't read and Nancy yet – give her a go, if you like mysteries and strong female characters – she's still an awesome read – even after 90 years. Here are some of our favourite Nancy Drew titles available now on OverDrive: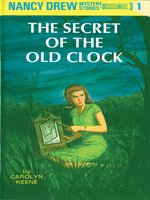 The Secret of the Old Clock, Carolyn Keene (ebook)
A special treat for Nancy Drew fans! Out just in time for Nancy's 80th anniversary, we're releasing a limited number of copies of The Secret of the Old Clock, the first book in the series. It's the exciting mystery that readers have fallen in love with for 80 years, with a terrific new look and bonus material! Collectors won't want to miss this.
(Overdrive description)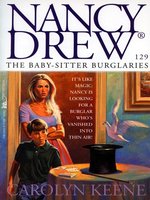 The Baby-Sitter Burglaries, Carolyn Keene (ebook)
Nancy tries to prove that a babysitter is being framed when three houses in River Heights are robbed–and the only connection the police can find is that the babysitter was employed at each.
(Overdrive description)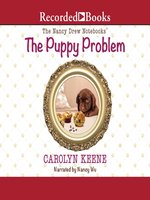 The Puppy Problem, Carolyn Keene (Audiobook)
The Nancy Drew Notebooks enchant listeners with the antics of 8-year-old supersleuth Nancy Drew and her friends George and Bess. Nancy has a new puppy that needs lots of training, patience, and love. But when the chocolate-chip muffins go missing, Nancy's new puppy is blamed. The girls know that the puppy is innocent and they are determined to find the real thief.
(Overdrive description)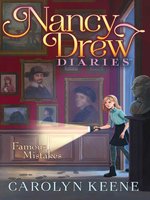 Famous Mistakes, Carolyn Keene (ebook)
Nancy and her friends are out to find a comedian's saboteur in this seventeenth book of the Nancy Drew Diaries, a fresh approach to the classic mystery series. Complex social media charts, undercover outfits, and intense button study send Nancy, Bess, George, and Ned on a wild ride through River Heights to uncover the truth about missing comedian Brady Owens. But nothing is what it seems in this game of comedic timing. Can Nancy find the culprit before it's too late?
(adapted from Overdrive description)