Fakamālo atu kia te koutou uma! Welcome to Te Vaiaho o te Gagana Tokelau | Tokelau Language Week 2021. Tokelauan is spoken by around 1,600 people on the three atolls of Tokelau — Nukunonu, Fakaofo, and Atafu — and over 2,000 people in Aotearoa. Tokelauan people are an important part of our community here in Wellington, with over 4,000 people of Tokelauan descent living in the region — around half of the whole Tokelauan population in Aotearoa. (Source: 2018 Census)
This year, the theme for Te Vaiaho o te Gagana Tokelau is:
"Tokelau! Tapui tau gagana ma tau aganuku, i te manaola ma te lautupuola." | "Tokelau! Preserve your language and culture, to enhance spiritual and physical wellbeing."
Help us celebrate this special time for the community by learning more about Tokelau's unique culture, language and history through the books and other resources below!
---
Books
Check out some of these books from our children's section from and about Tokelau, and in Gagana Tokelau: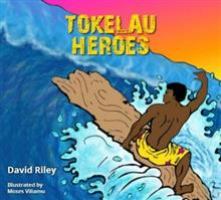 Tokelau heroes / Riley, David
"Tokelau Heroes tells the inspirational stories of achievers who have Tokelauan ancestry. It includes legends like Hina; historical figures such as Ihaia Puka; and contemporary heroes like Opetaia Foa'i. It's written to inspire young Tokelauans, to encourage reading and promote literacy." (Catalogue)

Illustrated history of the South Pacific / Stenson, Marcia
"The South Pacific is not only our geographic environment, it is also our cultural environment, and many New Zealanders trace their ancestry to Polynesian seafarers. This book is an introduction to the history of the South Pacific. A companion book to Illustrated History of New Zealand, also written by Marcia Stenson, it covers the following topics: geology and geography, the arrival of the first people to the Pacific, European exploration, war in the Pacific, political issues both historic and current." (Catalogue)

Ko te aho mālie o Filipo = Filipo's fun day / Swan, Epi
"Describes Filipo's full-on day at ʻakoga kāmata." (Catalogue)

Te faitauga o nā ika : ko he tala faka-Tokelau mai Niu Hila / Lemisio-Poasa, Nila
"Amanaki is taught the Tokelau way of counting fish by his uncle. Suggested level: primary, intermediate, junior secondary." (Catalogue)

Ko te tokotoko o toku tupuna = Papa's tokotoko / Sione, Emeli
"Alo, the eldest grandson, initially rejects, but in the end takes on his responsibility to be a support for his grandfather." (Catalogue)

Valigā magō : Painting sharks / Baker, Vaitoa
"It's painting day at school. Hale and his best friend Ioane choose to paint pictures of sharks." (Catalogue)

Also, visit this link to find even more children's books in Gagana Tokelau at your local library.
---
Virtual Storytime
Head on over to our YouTube channel where you can watch and listen to our librarian Lewis read a special story — Lightning Boy from Tokelau Heroes by David Riley, a modern retelling of a traditional Tokelauan legend. We would like to thank David for allowing us to share this beautiful story with you throughout Tokelau Language Week this year — fakafetai, David! Make sure to check out the Reading Warrior website to find more stories of the Pacific from David and his collaborators.
---
More Resources
Check out the following websites to find out more about the atolls of Tokelau and this beautiful country's culture, language and history: