Talofa koutou!
Tuvalu Language Week | Vaiaso o te Gana Tuvalu will be celebrated this year from Sunday, 25 September to Saturday, 1st October 2022.
This year's theme is Fakamautu ke mautakitaki te Gagana Tuvalu mo te atafai, fakaaloalo mo te amanaiagina, which means 'nurture with sustainability the Tuvalu language with care, respect and dignity'.
The country of Tuvalu is located about 4, 000 kilometres north-east of Australia, approximately half-way between Australia and Hawaii.  It is made up of nine small coral island groups. Five of the groups are atolls, (ribbons of islets, small islands, made of coral reef which surround a pool of water) and the others are reef islands.  The islands are all low-lying with most around 4.5 metres above sea level.  Tuvalu's highest point is only about 5 metres above sea level, which is about the same as standing in Ruth Gotlieb, Kilbirnie Library in Wellington. It is hot and humid all year round and is also very rainy.
Tuvalu is about 26 square kilometres and is the fourth smallest country in the world.  The population is around 10,000 people (which is about the same number of people as live in Hawera).
Most people in Tuvalu speak the language of Tuvaluan, which is closely related to the language of Samoa.
Find Out More:
You can also visit your local library and borrow some amazing books to learn more about Tuvalu. If you don't have a library card- you can sign up for free.
Check out some great Tuvalu books in our Collection:
Tuvalu toku atufenua pele / published by Auckland Tuvalu Community Trust
Eight Tuvaluan young people worked with teacher-writer David Riley, to bring you this book – Tuvalu Toku Atufenua Pele. The stories they've written demonstrate their immense pride in being Tuvaluan. You'll read about Grandma's weaving, kaleve, te ano, how to make a kahoa, their Olympic heroes, and their love for their language, legends, clothing, fatele and culture! Come and share the beauty of Tuvaluan culture with them. (blurb).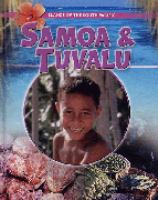 Samoa & Tuvalu / Guile, Melanie
A comprehensive introduction to the life, history, and people of Samoa and Tuvalu for middle and upper primary students, including information about Tuvaluan land, people, food, customs and traditions, music, and lifestyle

Time & tide : the islands of Tuvalu / Wheeler, Tony
"A tiny Pacific nation made up of low-lying coral atolls and islands, Tuvalu possesses a unique culture and environment. But climate change causing rising sea levels threatens the existence of this island paradise. The government has sold its web designation (.tv) to real-video websites to assist in the publication of this book. Tuvalu is an evocative portrait in words and photographs of a tiny nation in danger of being lost forever." (Catalogue)
Illustrated history of the South Pacific / Stenson, Marcia
"This book is an introduction to the history of the South Pacific… it covers the following topics: geology and geography, the arrival of the first people to the Pacific, European exploration, war in the Pacific, political issues both historic and current. There is also specific information on these island groups: Cook Islands, Fiji, French Polynesia, Niue, Samoa, Tokelau, Tonga, Tuvalu and the Polynesian outliers."" (adapted from catalogue)

What plants need : a poem from Tuvalu / Molu, Easter
An early reader picture book featuring a beautiful poem from a Tuvaluan author, about the lifecycle of plants from seed to flower. Perfect for very young readers of English.

Learn some simple words and phrases  with these Tuvalu Language Cards
Talofa – Greetings/Hello
Talofa koutou – Greetings Everyone
Tofa-Fano La – Goodbye (to those who are leaving)
Tofa-Nofo La – Goodbye (to those who are staying)
Fakamolemole – Please
Fakafetai – Thank you
Happy Tuvalu Language Week!