Wellington is home to thousands of people of Ukrainian and Russian descent, as well as people from Polish, Belarusian, and other Eastern or Central-Eastern European backgrounds. The current conflict between Ukraine and Russia means that people who have moved here from those countries, or who have family there, are probably feeling pretty anxious, scared, or upset right now. And of course, whenever there is conflict happening somewhere in the world, it tends to find its way into our everyday lives — through the news, through TV or internet content, or through our friends or teachers at school talking about it — and it's completely normal for that to make us feel a bit scared or anxious as well.
One way that we can help ourselves, and others, is by learning as much as we can about the history and culture of those places, and how news gets created and reported. If we learn about that, we can understand more about what's going on at the moment in Ukraine and Russia — which means we'll be more aware of, and better able to process, what's being reported in the media and what our friends, whānau, and the wider community are talking about.
The good news is that the library has a whole heap of resources — books and other things — to help you learn more about Ukraine, Russia, international conflict, and the media more generally. Read on to find out how the library can help you understand what's going on in the world at the moment.
---
HINT: Many of the links in this blog go to the Encyclopaedia Britannica for Kids. This is accessible to all Wellington City Libraries patrons. But to access this wonderful resource, and the others mentioned in this blog, you'll need to login using your library card number (on the back of your card) and 4 digit pin (last FOUR numbers of the phone number listed on your library account), and the link will take you straight there.

---
Learning about Ukraine
Ukraine is a country located in eastern Europe, and it's the second largest country on the continent by land area. Ukraine is home to about 43,879,000 people — almost 10 times as many people as live in New Zealand. Its capital, and largest city, is Kyiv (written Київ in the Ukrainian language). People have been living in the area that is now Ukraine for thousands of years, and Kyiv is both one of the oldest, and one of the most culturally and economically important cities in all of Europe.
Learn more about the people, history, and culture of Ukraine by using some of these library resources:
Websites and Online Resources
Books
Find books about Ukraine in our collections, including these titles on the history and folklore of the Ukrainian people, as well as stories set in Ukraine: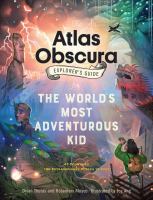 The Atlas Obscura explorer's guide for the world's most adventurous kid / Thuras, Dylan
This beautifully-illustrated book takes you to many different amazing places around the world. Chapter 8 brings you to Ukraine, where you will find out about some of the many features — cultural, geographical, and historical — that make it unique.
Hint: If you're interested by what you see, you might like to borrow one of our Ukraine travel guides — because they're written for tourists who are travelling around the country, they often have lots of interesting information about the land and people!

Chernobyl, 1986 : an explosion at a nuclear power station / Parker, Victoria
The explosion of the nuclear reactor at the Chernobyl power plant in northern Ukraine in April 1986 is one of the most important and impactful events in recent European history. This book is a good place to start learning about it, but you can find even more books about Chernobyl on our catalogue.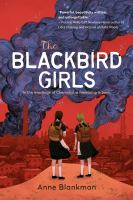 The blackbird girls / Blankman, Anne
One way you can start to learn about a country is to read books set in that country! The blackbird girls is about two Ukrainian girls who become unlikely friends in the wake of the Chernobyl disaster. This book gives us a unique perspective on lots of important parts of Ukraine's culture and history, and is based partially on the story of one of the author's friends who lived in Ukraine during this time. Plus it's just a cracking good read!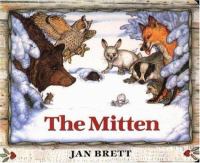 The mitten : a Ukrainian folktale / Brett, Jan
Reading traditional stories and folklore is another way you can get to know a country and its people. The mitten is a classic Ukrainian story which shares an important message about how sharing resources is so central to Ukrainian culture. We also get to meet lots of the special animals that call Ukraine home! You can find more books about Ukrainian folklore here.

Голосно, тихо, пошепки / Romanyshyn, Romana
If you speak or would like to learn Ukrainian, we have a small collection of books in Ukrainian and about the Ukrainian language you can borrow, including this beautiful book all about sound, music, the human voice, and how important it is to listen to each other. Our Ukrainian-language books are currently held in off-site storage, but can be reserved and sent to any branch.

---
Learning about Russia
Russia is a country than spans across eastern Europe and northern Asia, and is the largest country in the world by land area, covering 11 time zones. Russia is home to nearly 140,000,000 people — 28 times as many as live in New Zealand. Its capital, and largest city, is Moscow (written Москва in the Russian language). Because of its size, economic and military power, and political and cultural influence, Russia is considered a global superpower, and decisions made by the Russian government can often influence other countries around the world.
Learn more about the people, history and culture of Russia by using some of these library resources:
Websites and Online Resources
Books
Find books about Russia in our collections, including these titles on the history and culture of the Russian people, as well as stories set in Russia:
Russia / Howell, Izzi
We have a lot of books to get you started learning about Russian history and geography — this is just one of them! You can find more books about Russia written for kids here, or if you're looking for more in-depth information, we have literally hundreds of books written for adults as well.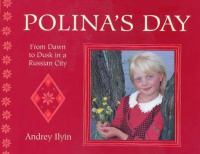 Polina's day : from dawn to dusk in a Russian city / Ilyin, Andrey
What's it like growing up as a kid in Russia? In some ways it might be different to how you've grown up if you've lived in Aotearoa your whole life, but there are also many similarities! Although this is an older book, it's still interesting to see what it's like as a child to live in different places around the world.

Breaking Stalin's nose / Yelchin, Eugene
Reading fiction books set in Russia is another way we can learn about the people and culture of this country. This book is set during the period when Russia was led by Joseph Stalin, and is quite a dark and complex read that tries to help the reader understand what it was like to be a young person living in that time. Because Russia is such an influential country, a lot of authors write books that are set there. You can find more of them on our catalogue here.

Masha and the firebird / Bateson-Hill, Margaret
This is a traditional Russian folk story featuring the famous witch Baba-Yaga, a character who often turns up in stories from this part of the world. This tale helps to explain some Russian cultural traditions, such as the painting of eggs around Eastertime — a custom that's actually shared with Ukrainian people! Find more Russian folktales on our catalogue here.

Плюша, не болей! Полезные сказки / Fedulova, Anna
If you speak Russian, or are learning how to speak Russian, we have a lot of children's books written in Russian in our collection, like this beautifully illustrated fairy tale about the adventures of a young mouse named Plush (Плюша). You can find our Russian-language children's collection at Karori Library, or on our catalogue here.

---
Learning about Conflict and the News
There is so much information flying around these days on the internet and through the media that it can be hard to understand what's being reported, why it's important, and even whose stories are being told. Here are a range of books from our collection that touch on international conflict and the impact that has on people who are displaced or affected by it; how news is made and told in the internet age; and how we can be responsible consumers of news.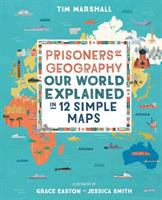 Prisoners of geography : our world explained in 12 simple maps / Marshall, Tim
"How did the USA become a superpower? Why do people go to war? And why are some countries rich while others are so poor? The answers to these questions and many more in this eye-opening book, which uses maps to explain how geography has shaped the history of our world." (Catalogue)
Note: Among other conflicts, this book explores the history and geography of the Russia-Ukraine conflict.

Frontline Ukraine : crisis in the borderlands / Sakwa, Richard
"The unfolding crisis in Ukraine has brought the world to the brink of a new cold war. As Russia and Ukraine tussle for Crimea and the eastern regions, relations between Putin and the west have reached an all-time low. How did we get here?" (Adapted from Catalogue)
Note: This book is written for an adult audience, so it may have words and concepts that are a little tricky for kids to fully understand. Adults: read ahead if you can, and think about how to explain some of the complicated issues to your child. Some of the books below might help.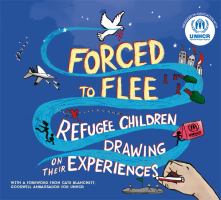 Forced to flee : refugee children drawing on their experiences / Padoan, Laura
"Refugee children explain in their own words and pictures their thoughts, feelings and experiences about having to flee from their home countries. Produced in association with UNHCR, this highly emotive title focuses on three current refugee crises in Syria, South Sudan and Central America. The book gives background information about how each crisis came about, why families had to flee and what life is like for them now is given in a clear and easy-to-understand way." (Adapted from Catalogue)

The displaced : refugee writers on refugee lives
"Pulitzer Prize-winning author Viet Thanh Nguyen, himself a refugee, brings together a host of prominent refugee writers from around the world [including Ukraine] to explore and illuminate their experiences. Poignant and insightful, this collection of essays reveals moments of uncertainty, resilience in the face of trauma, and a reimagining of identity. The Displaced is a powerful look at what it means to be forced to leave home and find a place of refuge." (Adapted from Catalogue)

Breaking the news : what's real, what's not, and why the difference matters / Brown, Robin Terry
"Headlines leap out at us from mobile phones, TV screens, computers, newspapers, and everywhere we turn. Technology has opened up exciting new ways to tell interesting stories, but how much of it is news … and how much is just noise? This refreshing and up-to-date media literacy book gives kids the tools they need to distinguish what is fact from what is fiction so that they can make smart choices about what to believe." (Catalogue)

The breaking news / Reul, Sarah Lynne
"When devastating news rattles a young girl's community, her normally attentive parents and neighbors are suddenly exhausted and distracted. At school, her teacher tells the class to look for the helpers-the good people working to make things better in big and small ways. […] Both timely and timeless, this charmingly illustrated debut picture book from Sarah Lynne Reul touches on themes of community, resilience, and optimism with an authenticity that will resonate with readers young and old." (Adapted from Catalogue)

What to do when the news scares you : a kid's guide to understanding current events / Toner, Jacqueline B
"Scary news is an inevitable part of life. Whether from television news reports, the car radio, digital media, or adult discussions, children are often bombarded with information about the world around them. When the events being described include violence, extreme weather events, a disease outbreak, or discussions of more dispersed threats such as climate change, children may become frightened and overwhelmed. What to Do When the News Scares You provides a way to help children put scary events into perspective. And, if children start to worry or become anxious about things they've heard, there are ideas to help them calm down and cope" (Adapted from Catalogue)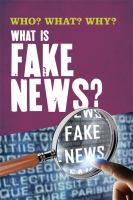 What is fake news? / Howell, Izzi
"The term 'fake news' may be relatively new, but the idea of presenting false information as a legitimate news story in an attempt to influence public opinion certainly isn't. Aimed at young tweens and teens, this is a clear, factual and accessible explanation of what fake news is and what motivates people to create it. The book looks at the various ways in which people receive information and the risks of being manipulated by half-truths, rumours or lies. It considers what motivates those who create and disseminate fake news and asks what societies and individuals can do to spot and stop fake news." (Catalogue)