For the first time since it was established in 2005, the annual Bird of the Year competition has not been won by a bird!
Bird of the Year/Te Manu Rongonui o te Tau is a competition organised by Forest & Bird every year to raise awareness of our native birds and the threats they face. This year was the first time a non-bird has been part of the competition when the pekapeka-tou-roa (long-tailed bat) was allowed to enter. Some people weren't very happy that a bat was allowed to enter Bird of the Year, but since Aotearoa only has two native land mammals, and they're both bats, holding a "Bat of the Year" wouldn't be much of a competition!
Our native birds and our native bats face a lot of the same threats. They both have to deal with predators, pollution, habitat loss, and climate change. We do have a lot more birds than bats though, since there are 168 species of native New Zealand birds, and only two native species of bat. And Bird of the Year means that the competing birds get a lot of attention as people choose their favourite birds to vote for. When the pekapeka-tou-roa was allowed to compete in Bird of the Year it started getting a lot more attention as well, which is a very good thing since it is classed as "nationally critical" – the term used for the most threatened species in New Zealand. All this attention and newfound competitive spirit led up to…
Earlier this week the 2021 Bird of the Year competition was won by the pekapeka-tou-roa!
Congratulations to the 2021 Bird (Bat) of the Year!
One very interesting and adorable fact about the pekapeka-tou-roa is that they're tiny. It's hard to know how big the bat in this photo is because there isn't much to show the scale of it, but it really is much smaller than you'd expect – this bat weighs about the same as a $2 coin, and its body is only the size of your thumb! That's so small! Our other native bat, the pekapeka-tou-poto (short-tailed bat) is slightly bigger, but only by a few grams.
If you'd like to know more about our native pekapeka, here are a few places you can go to learn more:
The Department of Conservation (DOC) looks after New Zealand's natural and historic heritage, and has a lot of information about our National Parks, Great Walks, Conservation, and our native plants and animals! They've got a great section on our native pekapeka, and have even caught them on video!

Te Ara: The Encyclopedia of New Zealand
Te Ara is a wonderful online encyclopedia with information on all things Aotearoa. You can find stories about the history of our cities, biographies of historical New Zealanders, as well as about our native animals and plants. Check out their story about our two native bats – full of facts and pictures!

Bats / Arkins, Alina
If you'd rather not read about our pekapeka on a website and would prefer a book, this book is a great introduction to both of our native bats. It describes them both and where they live, how they raise their babies, what they eat and how they manage to catch their food.

---
While the top award this year was taken out by the pekapeka-tou-roa, the other four competitors rounding out the top five were all (unsurprisingly) birds.
Second place went to the kākāpō, which won Bird of the Year in both 2020 and 2008.
The kākāpō is the world's heaviest parrot and is also classed as nationally critical.
The titipounamu (rifleman) came in third place.
Titipounamu are New Zealand's smallest bird and were recently seen in Wellington for possibly the first time in a century!
Photo: 124445324 by thibaudaronson on iNaturalist, licensed under CC BY-SA 4.0
Fourth place went to the kea, which won Bird of the Year in 2017.
Kea are the only alpine (mountain-living) parrot in the world, and are well-known for their cheeky natures.
The toroa (antipodean albatross) came in fifth and is the only seabird in the top five.
Toroa spend most of their lives at sea, and only come in to land when it is time to raise their young.
If you want more information about the many native birds of Aotearoa, New Zealand Native Birds Online lets you look up birds by name, search by location, or browse by conservation status. What's even cooler is that if you've seen a bird out on a walk, you can use the "Identify that bird" feature to figure out exactly what kind of bird you've seen!
---
There are a lot of books that you can find in our libraries all about our native birds and bats. We also have books about our extinct animals and why we have to be so careful caring for the species we still have. Here's a selection of titles you can find at your local libraries:
In the bush : explore & discover New Zealand's native forests / Candler, Gillian
"In the Bush is the fourth in the popular Explore & Discover series. It includes insects and other invertebrates, fungi, ferns and mosses, birds, bats, introduced pests, vines, epiphytes, and trees. Includes removeable, waterproof reference guide." (Catalogue)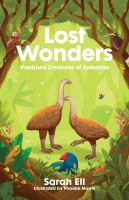 Lost wonders : vanished creatures of Aotearoa / Ell, Sarah
"The story of the lost wonders of New Zealand's natural history: the extinct species which are now gone forever. Lost Wonders also features some key species which are on the brink – critically endangered – and the efforts that are being made to save them for future generations. The stories of these fascinating creatures – birds, insects, reptiles and plants – are told in an entertaining and accessible style, drawing on first-hand accounts and supported with useful illustrations. It draws on accounts of their demise, and of the social climate in New Zealand in which these extinctions occurred." (Abridged from Catalogue)
Also available as an eBook
Bird's-eye view : through the eyes of New Zealand birds / Gill, Maria
"Reveals what 13 New Zealand birds see in their natural habitats, and uses the latest avian-vision research to show various bird's-eye views in a series of panoramic images. Suggested level: primary, intermediate, junior secondary." (Catalogue)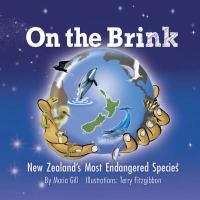 On the brink : New Zealand's most endangered species / Gill, Maria
"Discover our most threatened animals in New Zealand. From the beautiful forest ringlet butterfly to the down-right ugly southern elephant seal, the cheeky kākāpō to the super-sensory-powered ambush hunters the great white sharks. Every one of the unique species in our waters and on our land is threatened by predators, land changes, pollution, and other human-induced disturbances. As well as finding out how unique these animals are, you'll read what is harming them, and most importantly what we can do to help them." (Catalogue)
Also available as an eAudiobook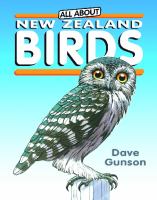 All about New Zealand birds / Gunson, Dave
"This fun and educational book features dozens of vibrant illustrations by talented artist, children's book writer and bird fanatic Dave Gunson. Over 50 of our most interesting and most loved native and introduced birds have been illustrated especially for this book by Dave. Each page features one large illustration of a bird and 100 words of text. All About New Zealand Birds is an ideal introduction to many of the birds of New Zealand for people of all ages." (Abridged from Catalogue)
The cuckoo and the warbler : a true New Zealand story / Warne, Kennedy
"The Cuckoo and the Warbler tells the story of one of the most remarkable wildlife relationships in New Zealand, between pipiwharauroa, the shining cuckoo, and riroriro, the grey warbler. It is a story of tragedy, trickery and faithful care – and it plays out each spring and summer in the forests of Aotearoa. Although rarely seen by humans, the interaction of these two native birds is a striking example of nature's inventiveness." (Catalogue)