You may not have known it, but the 17th of August is Black Cat Appreciation Day. This is a day for us to celebrate, share pictures of, and appreciate black cats. But why should we celebrate black cats, when there are so many cats out there?
Black cats have been considered both lucky and unlucky across the world. Unfortunately for them, a lot of well-known superstitions around at the moment paint them as bad luck so in many places black cats take longer to be adopted or just aren't adopted at all. Over in the UK Cats Protection (who celebrate National Black Cat Day on the 27th of October) found that it took up to a week longer for black cats to find their forever home.
But black cats are great! Quite a few of us who work at the library think so, and some of us share our homes and hearts with a black cat. In honour of Black Cat Appreciation Day, here are some of the black cats who belong to your librarians:
This is Le Beau (right), sitting here with Princess Holly (left).
---
This is Oz, who will snuggle with ANYONE.
---
This is Poot, who quite likes snoozing in the sun.
---
This is Shavana, who likes to think she's too independent to be carried.
---
This is Tove, who was named after the wonderful Moomin author Tove Jansson.
---
This is Wolfram, who doesn't mind being used as a pillow by his friend Tama.
Such an excellent groups of cats! Do any of you have a black cat of your own that you appreciate?
If you don't, or even if you do, you might be interested in some of the literary black cats you can find in the books we have in our libraries.
This one here is a very funny chapter book about the Gaskitt family – which includes their cat!
The woman who won things / Ahlberg, Allan
"One lucky morning …Mrs Gaskitt opens the post and finds she's won a prize! Next she kisses the postman! Never mind, though – the postman is Mr Gaskitt doing his very latest job. Meanwhile, Gus and Gloria get a new teacher, Mrs Plum, with silvery hair, a big smile and a huge suitcase, who's ever so helpful when things start to go missing in the classroom. And then Mrs Gaskitt finds she's won another prize! What happens next?." (Catalogue)

Here's the classic New Zealand black cat – but watch out for Scarface Claw!
Slinky Malinki / Dodd, Lynley
"A rhyming account of the night an adventurous cat goes thieving and becomes entangled in his ill-gotten gains." (Catalogue)
We've got many other books about Slinky Malinki in our collection too!
If you feel like reading a slightly creepy chapter book with a very independent black cat you should try:
Coraline / Gaiman, Neil
"There is something strange about Coraline's new home. It's not the mist, or the cat that always seems to be watching her, nor the signs of danger that Miss Spink and Miss Forcible, her new neighbours, read in the tea leaves. It's the other house ? the one behind the old door in the drawing room. Another mother and father with black-button eyes and papery skin are waiting for Coraline to join them there. And they want her to stay with them. For ever. She knows that if she ventures through that door, she may never come back. 9 yrs+" (Catalogue)
Also available as an audiobook, eAudiobook, and eBook.

This is a lovely New Zealand picture book about a special black cat who befriends a lonely Grandpop:
Blackie the fisher-cat / Pereira, Janet
"An unexpected friendship develops between an adventurous cat and a grandfather who loves to fish. Blackie is no ordinary cat. Blackie is a cat with character and a cat with a kind heart. She also knows what's good for her – food, fishing and friendship! And Grandpop is in need of a friend. He has returned to his favourite camping ground, but this trip is different – Grandpop is alone. One morning, Grandpop discovers Blackie on his caravan step. Over the next few weeks, a very special friendship emerges between Blackie and Grandpop." (Catalogue)

If you feel like reading a chapter book about a girl who accidentally buys a Royal black cat, we recommend: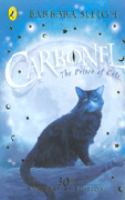 Carbonel : the Prince of cats / Sleigh, Barbara
"This is the story of a cat, a broomstick and an ordinary schoolgirl called Rosemary. She bought them both in the market, quite cheaply. Of course, neither the cat nor the broomstick were just what they seemed, and they turned up just when Rosemary badly needed something nice to happen to her. A good cat is apt to be independent, so she did not have things all her own way, and as Carbonel proved to be a Royal cat in a very special sense, that was understandable. Between the cat and the broomstick, Rosemary picked up some useful spells and magic, and the adventures they brought about turned a dull-looking holiday into one long to be remembered for its unexpected excitements and rewards." (Catalogue)

If you like witches trying to solve problems, you should read this book:
Winnie the witch / Thomas, Valerie
"Winnie shares her big black house with Wilbur her big black cat. So sometimes she accidentally trips over him. Ouch! After some spells that make Wilbur look very silly, Winnie finds just the right magic to make sure she can always see him. It's a colourful Winnie and Wilbur adventure! Korky Paul's intricate artwork is full of madcap humour and crazy details to pore over. The spellbinding new look of this bestselling series celebrates the wonderful relationship that exists between Winnie the Witch and her big black cat, Wilbur. Since Winnie and Wilbur first appeared in 1987 they have been delighting children and adults in homes and schools all over the world and more than 7 million books have been sold. Ages 0+" (Catalogue)
And we've got many more books about Winnie and Wilbur's other adventures!