Betty Gilderdale, the author of the much-loved Little Yellow Digger series of children's books, has passed away this month, just days before her 98th birthday.
Betty was the author of five Little Yellow Digger picture books, which she created alongside her husband, illustrator Alan Gilderdale:
The Little Yellow Digger
The Little Yellow Digger at the Zoo 
The Little Yellow Digger Saves the Whale 
The Little Yellow Digger Goes to School 
The Little Digger and the Bones 
The original Little Yellow Digger picture book is one of New Zealand's all-time bestselling children's picture books with over 500,000 copies in print!
Betty was born in London in 1923 and emigrated to New Zealand with Alan and their three children in 1967.  She was a lecturer at North Shore Teachers' College, Auckland College of Education, and at the University of Auckland as well as being reviewer of children's books (amongst many other things). And from an interview for Christchurch City Libraries in 2002, her favourite food was "apricots – raw, cooked, dried, crystallised!"
You can find out more about Betty's life and achievements HERE.
"But the Little Yellow Digger stayed to finish off the drain. It helped to make a driveway that would stay hard in the rain." — Betty Gilderdale, The Little Yellow Digger, 1992
---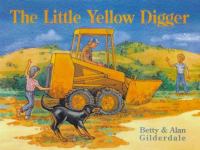 The little yellow digger / Gilderdale, Betty
"When little yellow digger gets stuck in the mud, a range of bigger diggers are sent to finish the job. Suggested level: preschool, junior." (Catalogue)

The little yellow digger at the zoo / Gilderdale, Betty
"The little yellow digger comes to the rescue when hippo pool at the zoo needs to be made bigger. Suggested level: junior." (Catalogue)

The little yellow digger saves the whale / Gilderdale, Betty
""Rolling and leaping at their play, two whales swam in a sunlit bay." But when the tide turns, the baby whale gets stranded on the beach. But don't worry, the Little Yellow Digger is on its way. This is the third story about the much-loved Little Yellow Digger by Betty and Alan Gilderdale." (Catalogue)

The little yellow digger treasury / Gilderdale, Betty
"In the next door garden they were digging out a drain when the weather turned quite nasty and it poured and poured with rain. When digging out a drain, the little yellow digger gets stuck in the mud. So they bring in a bigger digger… Since the publication of the first story more than 20 years ago. the much-loved stories about the Little Yellow Digger have spanned generations of readers to become classics. All five stories have been compiled in this delightful treasury collection, which features a special word from the author, 20-plus years down the track!" (Catalogue)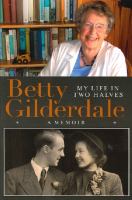 My life in two halves : a memoir / Gilderdale, Betty
"Betty Gilderdale lived the first half of her life in England and the second, in New Zealand. This book follows her early childhood in London, the war years, university study, professional life, marriage and children, through to making a new life in New Zealand when she and her husband Alan and their three children moved here in 1967. It was here that she pursued her interest in teaching, and in 1982 published her ground-breaking work "A sea change : 145 years of New Zealand junior fiction: Her story describes a rich and full life of diverse experiences peopled with teaching colleagues, writers, friends and, most importantly, family." (Catalogue)