Kia ora! Monday, March 8th marks International Women's Day and the theme for 2021 is #ChooseToChallenge.  To celebrate, we've selected a list of books that highlight women and girls who have chosen to challenge themselves and the world to make a difference.  From world leaders to sports women, artists to activists, scientists to pop stars and many many more, there is something for every reader to find inspiration from and celebrate women and girls who #ChooseToChallenge.
Anthology of amazing women / Lawrence, Sandra
"This beautifully illustrated collection tells the aw e-inspiring stories of 50 women who have pushed the boundaries of human excellence and endeavour. Standing out for their achievements in sport, science, the arts, politics, and history, these women have made huge contributions to today's society. Featuring incredible women from the past and present such as Beyonce, Sheryl Sandberg, Mary Anning, Emmeline Pankhurst and Malala. The Anthology of Amazing Women is a wonderful read for anyone wanting to read up on the incredible women who have lived and changed our lives." (Catalogue)

Amazing women of the Middle East : 25 stories from ancient times to present day / Tarnowska, Wafa'
"Discover Sheherazade, the famous storyteller, dive into the musical world of the beautiful singer Fairuz and meet Amal Clooney, an outstanding international lawyer. Feel inspired by twenty-five amazing women from the Middle East, who have created a legacy through strength of vision, leadership, courage, and determination. Written by award-winning author and trailblazer, Wafa' Tarnowska, this stunning collection of life stories is illustrated by a team of internationally recognized artists. This book is an absolute must-have" (Catalogue)

Good night stories for rebel girls. 2 / Cavallo, Francesca
"Good Night Stories for Rebel Girls 2 showcases 100 brand-new bedtime stories of incredible women throughout history and around the world.
In this book, readers will embark on an empowering journey through 100 new bedtime stories, featuring the adventures of extraordinary women through the ages, from Nefertiti to Beyoncé. The unique narrative style of Good Night Stories for Rebel Girls transforms each biography into a fairytale, filling readers with wonder and a burning curiosity to know more about each hero." (Adapted from Catalogue)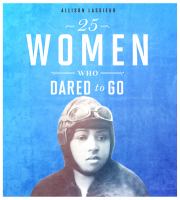 25 women who dared to go / Lassieur, Allison
"From the fearless to the feared, discover 25 women who dared. Dared to conquer their dreams, win wars, discover sights unseen, and more. Readers will learn about bold women who were determined to achieve something great in the face of adversity." (Catalogue)

Like a girl / Degman, Lori
"Create, prevail, change the world…like a GIRL! This celebration of international girl power honours a multitude of women who made a difference.  Once upon a time, "like a girl" was an insult. Not anymore! In every walk of life, girls are demonstrating their creativity, perseverance, and strength. From artist Frida Kahlo and activist Malala Yousafzai to award-winning architect Zaha Hadid and Nobel Peace Prize Laureate and founder of the Green Belt Movement Wangari Maathai, the 24 women profiled here took risks, broke barriers, and transformed the world.  This tribute to girl power will inspire young women everywhere. " (Adapted from Catalogue)

Amazing women : 101 lives to inspire you / Beevor, Lucy
"Discover the stories of 101 extraordinary women of our time. Featuring an international selection of female figures, this carefully curated collection highlights those who have achieved significantly in their fields, ranging from science and politics to sport and the arts. Empowering and inspiring accounts of female pioneers include the likes of Rosalind Franklin, Beyoncé Knowles, Marie Curie, Malala Yousafzai, Angela Merkel and Serena Williams." (Catalogue)

Stories for South Asian supergirls / Khaira, Raj Kaur
"Through the inspirational stories of 50 famous and under-celebrated women from Afghanistan, Pakistan, India, Bangladesh, Nepal and Sri Lanka, South Asian girls will have a chance to dream about lives for themselves that radically differ from the limited narratives and stereotypes written for them by their culture, wider society and the mainstream media. Bringing together illustrious entertainers (Meera Syal, Jameela Jamil, Mindy Kaling), pioneering business leaders (Indra Nooyi, Anjali Sud, Ruchi Sanghvi) and a host of other, equally remarkable yet less well known, figures (including the British Muslim spy, Noor Inayat Khan, and fearless activist, Jayaben Desai), Stories for South Asian Supergirls seeks to redress the imbalance for young girls of colour by empowering them to break new ground for themselves and to inspire others in the process. Illustrated with striking portraits by ten international South Asian female artists, this is a book for all ages – the perfect gift that will be treasured by parents as much as their children will enjoy reading them." (Catalogue)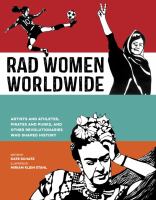 Rad women worldwide : artists and athletes, pirates and punks, and other revolutionaries who shaped history / Schatz, Kate
"Rad Women Worldwide tells fresh, engaging, and amazing tales of perseverance and radical success by pairing well-researched and riveting biographies with powerful and expressive cut-paper portraits. The book features an array of diverse figures from 430 BCE to 2016, spanning 31 countries around the world, from Hatshepsut (the great female king who ruled Egypt peacefully for two decades) and Malala Yousafzi (the youngest person to win the Nobel Peace Prize) to Poly Styrene (legendary teenage punk and lead singer of X-Ray Spex) and Liv Arnesen and Ann Bancroft (polar explorers and the first women to cross Antarctica). " (Adapted from Catalogue)

Muslim girls rise : inspirational champions of our time / Mir, Saira
"Long ago, Muslim women rode into battle to defend their dreams. They opened doors to the world's oldest library. They ruled, started movements, and spread knowledge. Today, Muslim women continue to make history. Once upon a time, they were children with dreams, just like you. Discover the true stories of nineteen unstoppable Muslim women of the twenty-first century who have risen above challenges, doubts, and sometimes outright hostility to blaze trails in a wide range of fields. Whether it was the culinary arts, fashion, sports, government, science, entertainment, education, or activism, these women never took "no" for an answer or allowed themselves to be silenced. Instead, they worked to rise above and not only achieve their dreams, but become influential leaders. Through short, information-rich biographies and vibrant illustrations, Muslim Girls Rise introduces young readers to the diverse and important contributions Muslim women have made, and role models they may never have heard of before, but whose stories they will never forget." (Adapted from Catalogue)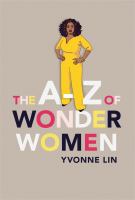 The A-Z of wonder women / Lin, Yvonne
"Celebrate a whole alphabet of trailblazing, groundbreaking wonder women from around the world and through time, taking in Ada Lovelace, J. K. Rowling, Oprah Winfrey and every letter in between.
Men and women, boys and girls need heroes to look up to, and to aspire to be. There are thousands upon thousands of books and films about amazing athletes, scientists, artists and explorers, but they're almost all men. Girls get princesses and mermaids – sure, not necessarily the worst career choices, but there aren't enough castles and beaches for the world's 3.5 billion women. This book brings incredible women out of the shadows, celebrates their success and acknowledges their achievements. " (Adapted from Catalogue)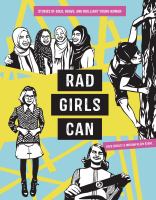 Rad girls can : stories of bold, brave, and brilliant young women / Schatz, Kate
"From the "New York Times"-bestselling authors of "Rad Women Worldwide" and "Rad American Women A-Z" comes a bold and brave collection of stories and art about inspiring and accomplished girls who have made positive impacts on the world before the age of 20. Full color." (Catalogue)

Her story : 50 women and girls who shook the world / Halligan, Katherine
"Move aside history-it's time for herstory. A gloriously illustrated, empowering book about 50 remarkable women who changed the world we live in." (Catalogue)