חנוכה שמח! Happy Hanukkah! חג אורים שמח! Happy Festival of Lights!
Today marks the final day of Hanukkah in New Zealand. Hanukkah, or the Festival of Lights, is a festival celebrated by Jewish people around the world for eight days and eight nights. It offically starts on the 25th day of the month of Kislev in the Hebrew calendar, which can occur anywhere from late November to mid-December. One important part of the festival involves the lighting of candles on a special nine-branched candelabrum called a Hanukkah menorah (מנורת חנוכה). During Hanukkah, Jewish people make music together, share food (especially yummy fried foods like latkes and sufganiyot jam-filled doughnuts), exchange gelt, or gift money, and spend time with family and loved ones.
At the library, we have a bunch of books you can read to learn more about Hanukkah and other Jewish festivals and traditions. We've pulled out a selection for you below, but you can always find more by searching for 'Judaism' on the catalogue, or looking on the shelf in the non-fiction section under J 296.
Celebrate! : a book of Jewish holidays / Gross, Judith
"This wonderful charmingly illustrated book celebrates Jewish holidays all year long. From Rosh Hashanah, the Jewish New Year, to Sukkot, the celebration of the harvest, to Hanukkah, the festival of lights, this is the perfect book for families to enjoy together." (Catalogue)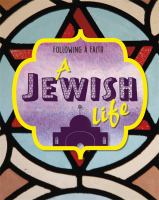 A Jewish life / Senker, Cath
"The faith you follow is with you from the moment you are born, until the moment you die and beyond. Following a Faith: A Jewish Life explores some of the cornerstones of what it means to be Jewish today, through Passover and Hanukkah celebrations, wedding ceremonies, what happens in a synagogue and why many Jewish people go on pilgrimages to Israel. " (Catalogue)

A faith like mine : a celebration of the world's religions– seen through the eyes of children / Buller, Laura
"Using revealing photography and detailed personal accounts to give unique insight into the diversity of religious faith as experienced by children across the world, this is an ideal book for families to read together. A perfect book for children and parents to read together, A Faith Like Mine uses revealing photography and detailed personal accounts to give unique insight into the diversity of religious faith as experienced through the lives of children across the world." (Catalogue)

Judaism / Howell, Izzi
"Explore the religion of Judaism, from what people believe, to a Jewish life, special days and festivals. The Info Buzz series, for age 5+, helps children develop their knowledge and understanding of the world by covering a wide range of topics in a fun, colourful and interactive way. The books have a lively design, engaging text and photos, questions to get children thinking and talking and teaching notes. Each title is written in conjunction with a literacy consultant and features book band guidance and downloadable activity sheets online." (Catalogue)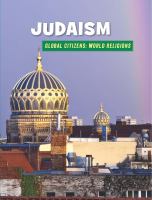 Judaism / Marsico, Katie
This book is part of a series that focusses on the six most popular world religions through their history, geography, civic impact, and economics. It is packed with reliable and up-to-date information about Judaism, its central philosophies, customs and traditions, and how it relates to society today. (Adapted from Catalogue)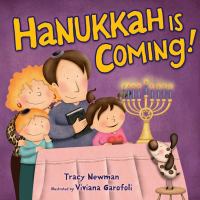 Hanukkah is coming! / Newman, Tracy
"Readers join a cute family and their dog as they light the menorah, eat latkes, unwrap gifts, sing songs, play dreidel, eat chocolate Hanukkah gelt, and march like Maccabees during the eight nights of Hanukkah in this cute 12-page board book. Includes "3D-feeling"art by Viviana Garofoli." (Catalogue)

Nonna's Hanukkah surprise / Fisman, Karen
"Rachel loves visiting her grandmother, even though Nonna celebrates Christmas and Rachel and her parents celebrate Hanukkah. When Rachel's special hanukkiah goes missing, Nonna steps in to save the day." (Catalogue)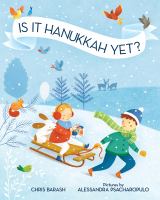 Is it Hanukkah yet? / Barash, Chris
"A family gathers and prepares to celebrate Hanukkah. From snow on the ground to making applesauce and latkes to lighting the menorah, this sweet, lyrical story shows the seasonal and traditional ways we know Hanukkah is on its way." (Catalogue)

The latke who couldn't stop screaming : a Christmas story / Snicket, Lemony
"Latkes are potato pancakes served at Hanukkah, and Lemony Snicket is an alleged children's author. For the first time in literary history, these two elements are combined in one book. A particularly irate latke is the star of The Latke Who Couldn't Stop Screaming, but many other holiday icons appear and even speak: flashing colored lights, cane-shaped candy, a pine tree. Santa Claus is briefly discussed as well. The ending is happy, at least for some. People who are interested in any or all of these things will find this book so enjoyable it will feel as though Hanukkah were being celebrated for several years, rather than eight nights." (Catalogue)