Kia ora and Talofa!
O au I le Faletusi. I am at the library. 
It is raining outside and it is a perfect day for me to look at and share some of our beautiful bilingual, multilingual and monolingual books with you.
E te tautala I se gagana Sāmoa?  Do you speak some Sāmoan?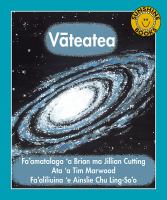 If you read this, it might make you think about some of what surrounds us -our sun, moon and planets.

Learning Colours in Samoan and English
It will be so wonderful to be able to describe the beautiful things around you in more than one language!

 If you listen to the rhyme, it could help you to learn Māori, Fijian, Sāmoan, and Tongan words for the numbers one to ten.
Here are ten readers for Samoān Language Learners.

If you read this, you can learn more about Associate Professor Donna Adis, Judge Ida Mālosi and Tim Cahill.
Haera rā and Tofa!