Hey cool guys! Sometimes it's true – you just don't feel like searching for a book to read. It's hard to find books that are funny, or full of adventure! It's hard to find books that are about cool guys like you. And since school is starting soon the last thing on your mind is trying to raid the library for a sweet read or two. So here's an easy suggestion: if you want to find some great books with a click of a button, check out this list! All of the books are available to download from our eLibrary. And of course they're all super funny, full of adventure and about cool guy characters. As cool as you.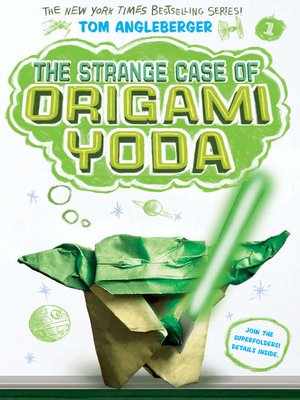 The Strange Case of Origami Yoda by Tom Angleberger
This is a series about origami, star wars, having to deal with school and also finger puppets who can predict the future. Need I say more? "The Strange Case of Origami Yoda" is book one in the Origami Yoda series. You can find a copy in most of our libraries and also borrow an eBook from our eLibrary.
"Meet Dwight, a sixth-grade oddball. Dwight does a lot of weird things, like wearing the same T-shirt for a month or telling people to call him "Captain Dwight." This is embarrassing, particularly for Tommy, who sits with him at lunch every day. But Dwight does one cool thing. He makes origami. One day he makes an origami finger puppet of Yoda. And that's when things get mysterious. Origami Yoda can predict the future and suggest the best way to deal with a tricky situation. His advice actually works, and soon most of the sixth grade is lining up with questions … This is Tommy's case file of his investigation into "The Strange Case of Origami Yoda." Goodreads.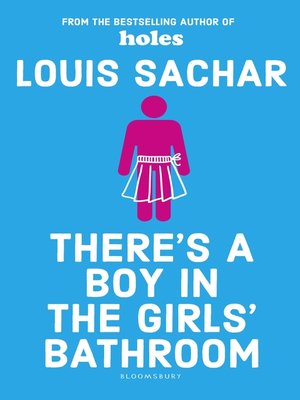 There's a Boy in the Girls' Bathroom by Louis Sachar
Louis Sachar is the author of Holes, that film you probably like and that book that you should totally read because it's awesome! There's a Boy in the Girls' Bathroom is another of Sachar's hilarious books! You can find a copy of this book in our libraries or an eBook version on Overdrive.
"Give me a dollar or I'll spit on you. That's Bradley Chalker for you. He is the oldest child in the class. He tells enormous lies. He picks fights with girls, and the teachers say he has 'serious behaviour problems'. No one likes him – except Carla, the new school counsellor. She thinks Bradley is sensitive and generous, and she even enjoys his far-fetched stories. Carla knows that Bradley could change, if only he weren't afraid to try. Sometimes the hardest thing in the world is believing in yourself. " Overdrive.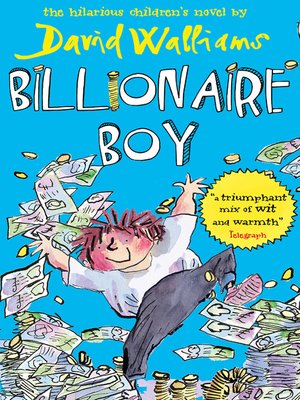 Billionaire Boy by David Waillams
I know you guys love David Walliams but because so many people love his books they're pretty darn popular and sometimes it's tricky to get your hand on a copy from your local library. BUT you can get pretty much ALL the David Walliams books on Overdrive straight to your device. It's pretty cool. Check out what "Billionaire Boy" has in store for you from the synopsis below:
"Joe has a lot of reasons to be happy. About a billion of them, in fact. You see, Joe's rich. Really, really rich. Joe's got his own bowling alley, his own cinema, even his own butler who is also an orangutan. He's the wealthiest twelve-year-old in the land. But Joe isn't happy. Why not? Because he's got a billion pounds… and not a single friend. But then someone comes along, someone who likes Joe for Joe, not for his money. The problem is, Joe's about to learn that when money is involved, nothing is what it seems." Goodreads.
The Hero's Guide to Saving Your Kingdom by Christopher Healy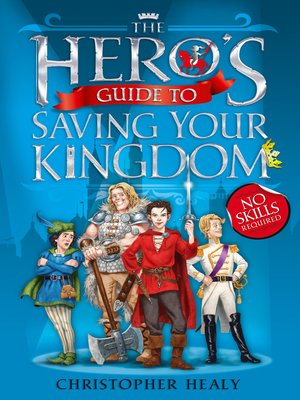 This is book one in the epic and funny adventure series The Hero's Guide . If you're looking for a new series of books to conquer this is definitely the series for you! We have copies in our libraries and also on our eLibrary.
"A fast-paced and hilarious fantasy quest in the grand tradition of Shrek and The Princess Bride, starring four very unlikely, but likeable, heroes. Prince Liam. Prince Frederick. Prince Duncan. Prince Gustav. You've never heard of them, have you? But you've probably heard of Prince Charming, the guy who rides in at the last minute to save the girl. Well that's them, all four of them … Only in reality, they are a little less heroic than you might expect. One day, cast out of their castles for one reason or another, the four Prince Charmings stumble upon each other, then shortly afterwards, upon an evil plot to bring about the downfall of the kingdom. Can the princes stop their bickering, overcome their failings and become the heroes the stories always said they were?" Overdrive.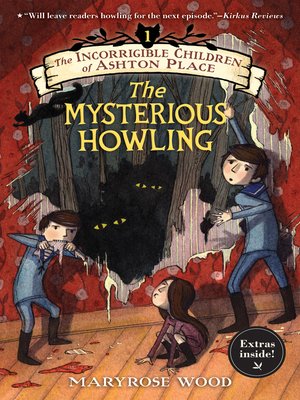 The Mysterious Howling by Maryrose Wood
This is book one in The Incorrigible Children of Ashton Place series. It's a great series for wild boys! Especially if you like a mystery to solve. There are copies of "The Mysterious Howling" in our libraries and also on our eLibrary.
"Found running wild in the forest of Ashton Place, the Incorrigibles are no ordinary children: Alexander, age ten or thereabouts, keeps his siblings in line with gentle nips; Cassiopeia, perhaps four or five, has a bark that is (usually) worse than her bite; and Beowulf, age somewhere-in-the-middle, is alarmingly adept at chasing squirrels … Mysteries abound at Ashton Place: Who are these three wild creatures, and how did they come to live in the vast forests of the estate? Why does Old Timothy, the coachman, lurk around every corner? Will Penelope be able to teach the Incorrigibles table manners and socially useful phrases in time for Lady Constance's holiday ball? And what on earth is a schottische?" Goodreads.