I love reading stories that take me to exciting places and ask me to solve a mystery or two! Often my go-tos are the  Famous Five and the Secret Seven. No doubt those books are full of fun, but it's always cool to be adventurous with your reading and try something new. Here's a list of adventure stories we reckon you'll enjoy:
From the Mixed-Up Files of Mrs. Basil E. Frankweiler by E.L. Konigsburg
This cool kid detective story is available in Central library! You could reserve it on your library card and get it sent to your branch library for free! Here's what the story is about:
"When suburban Claudia Kincaid decides to run away, she knows she doesn't just want to run from somewhere, she wants to run to somewhere — to a place that is comfortable, beautiful, and, preferably, elegant. She chooses the Metropolitan Museum of Art in New York City. Knowing her younger brother Jamie has money and thus can help her with a serious cash-flow problem, she invites him along. Once settled into the museum, Claudia and Jamie find themselves caught up in the mystery of an angel statue that the museum purchased at auction for a bargain price of $225. The statue is possibly an early work of the Renaissance master, Michelangelo, and therefore worth millions. Is it? Or isn't it? Claudia is determined to find out. Her quest leads her to Mrs. Basil E. Frankweiler, the remarkable old woman who sold the statue, and to some equally remarkable discoveries about herself." Goodreads.
Fortunately, the Milk by Neil Gaiman
This funny story is available in pretty much all our libraries! You can also get a copy from our eLibrary collection.
" "I bought the milk," said my father. "I walked out of the corner shop, and heard a noise like this: T h u m m t h u m m. I looked up and saw a huge silver disc hovering in the air above Marshall Road."
"Hullo," I said to myself. That's not something you see every day." And then something odd happened.
Find out just how odd things get in this hilarious story of time travel and breakfast cereal." Goodreads.
The search for WondLa by Tony DiTerlizzi
Wondla is a seriously cool series about a brave girl in a strange world! You can find a copy in our eLibrary, or get one from our many branch libraries!
"Eva Nine is a curious and sensitive twelve-year-old who has existed only in a subterranean home called Sanctuary, cared for by a robot named Muthr. Eva's great desire is to go aboveground, and her wish comes true, though not as she had imagined. On the surface, Eva goes in search of other humans–she has never met one–and soon meets both friend and foe." Goodreads.
39 Clues, Maze of Bones by Rick Riordan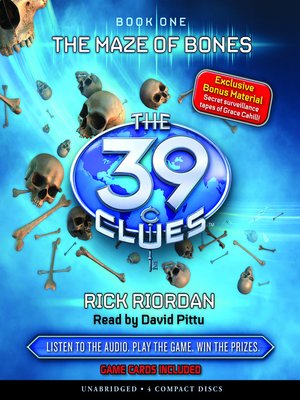 I'm sure you've heard the epic series 39 Clues! But maybe you didn't know that we have copies of it on our eLibrary. You can start from the beginning with book one in the series: The Maze of Bones. It's available to borrow in most of our libraries as well!
"Minutes before she died Grace Cahill changed her will, leaving her descendants an impossible decision: You have a choice – one million dollars or a clue.
Grace is the last matriarch of the Cahills, the world's most powerful family. Everyone from Napoleon to Houdini is related to the Cahills, yet the source of the family power is lost. 39 clues hidden around the world will reveal the family's secret, but no one has been able to assemble them. Now the clues race is on, and young Amy and Dan must decide what's important: hunting clues or uncovering what REALLY happened to their parents." Goodreads.
Cornelia Funke has to be one of my all-time favourite authors! I loved her as a kid, her characters are so courageous and cool. Check out book one from one of her newest series: Mirrorworld. We have copies available in our libraries and eLibrary!
"Ever since Jacob Reckless was a child, he has been escaping to a hidden world through a portal in his father's abandoned study … But life in this other world is about to change. Tragedy strikes when Jacob's younger brother, Will, follows him through the portal. Brutally attacked, Will is infected with a curse that is quickly transforming him into a Goyl–a ruthless killing machine, with skin made of stone.
Jacob is prepared to fight to save his brother, but in a land built on trickery and lies, Jacob will need all the wit, courage, and reckless spirit he can summon to reverse the dark spell–before it's too late." Goodreads
I'm all about these kinds of stories where amazing kids face impossible obstacles to save their family! This is a well-loved book from our collection, I seriously recommend checking it out if you haven't already!
"When her baby brother is kidnapped by crows, seventh-grader Prue McKeel ventures into the forbidden Impassable Wilderness–a dangerous and magical forest in the middle of Portland, Oregon–and soon finds herself involved in a war among the various inhabitants." Goodreads.
And of course I had to mention the awesome adventure series that is Artemis Fowl. I know you guys are probably very familiar with this series but you may not know that it is actually available in our eLibrary collection! So if you can't get a hold of the next one in the series from one of our libraries have a search for it on Overdrive. I know I've done just that when I can't wait for my reserve to come into the library!
"Twelve-year-old Artemis Fowl is a millionaire, a genius—and, above all, a criminal mastermind. But even Artemis doesn't know what he's taken on when he kidnaps a fairy, Captain Holly Short of the LEPrecon Unit. These aren't the fairies of bedtime stories—they're dangerous! Full of unexpected twists and turns, Artemis Fowl is a riveting, magical adventure." Goodreads.