A Funny thing Happened on the Way to School by Benjamin Chaud
A humorous story about imaginative excuses for being late to school. Sophisticated picture book.
Murder Most Unladylike
by Robin Stevens
Daisy Wells and Hazel Wong set up a secret detective agency at Deepdean School for Girls to solve the murder of their Science Mistress, Miss Bell.
Jim's Letters
by Glyn Harper
A moving story of two brothers separated by the First World War, based on the thousands of letters sent by and to Anzac soldiers fighting at Gallipoli.
White Horse of Zennor and other stories
by Michael Morpurgo
"At the furthest edge of Britain where the sea gently washes over the land and myths brush against reality, lies Zennor. Set in a churchtown where men become beasts and ghosts roam freely, are haunting and unforgettable tales where magic lies around every corner." -back cover.
The Leaky Battery Sets Sail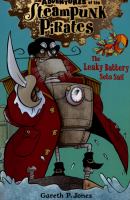 Adventures of the Steampunk Pirates ; 1  by Gareth. P. Jones
Causing chaos wherever they sail, the robotic Steampunk Pirates are roaming the high seas, hunting for gold! But the evil Iron Duke has other ideas…He's determined to capture the pirates in return for a handsome reward from the King.
The Bad Book by Andy Griffiths
'WARNING! This book contains nothing but bad stories,
bad drawings,
bad poems,
bad cartoons,
and bad riddles about bad characters doing bad things. It is a BAD book'- (inside cover).